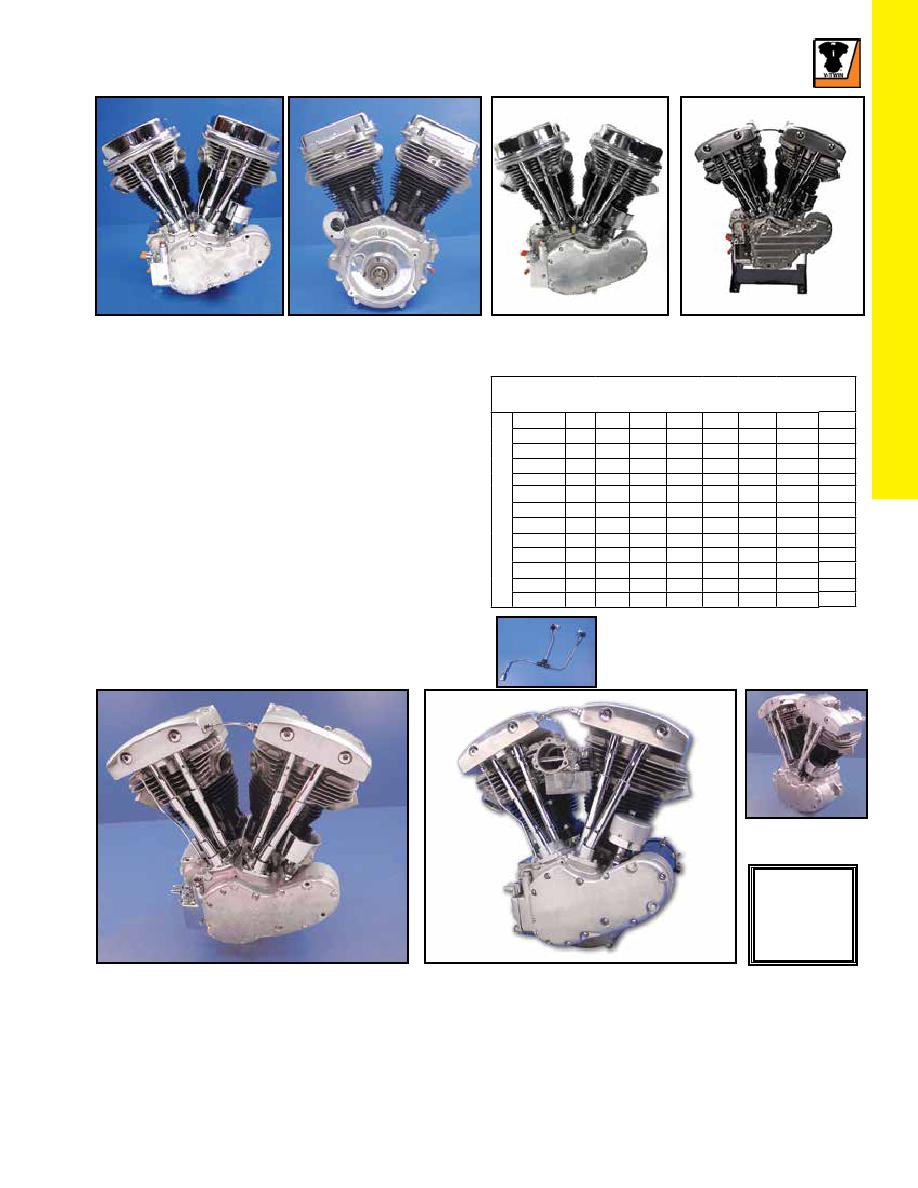 477
CLASSIC
Flatside Shovelhead Long Block is of 74 cubic inch displacement featuring Sifton oil pump/breather assembly, stock stroke
flywheel, tapered bearing assembly, stock FLH cam properly installed with a matched pinion and cam gear with a Torrington full
compliment bearing. Assembly is supplied with a natural finish Flatside 1966‑69 stock style cam cover, chrome lifter blocks which
are fitted with hydraulic tappets and stock style pushrods. Cylinders are stock style with standard compression 8.5:1 cast pistons and
Hastings rings. Top end includes replica stock type single plug heads with chrome steel pushrod covers and polished rocker boxes
with shafts and arms installed. Order manifold (flat seal type), carburetor and 2 brush generator separately. Clamp style automatic
advance distributor is included. Entire unit is pre‑run and factory tested for oil pressure.
All long blocks shipped assembled as pictured to fit 1965-69 transmission.
VT No.
Item
10-2002 74"
10-2013 80"
88" Generator-Alternator Pan or Shovelhead Long Block
Panhead or Shovelhead 88" Generator-Alternator Long
Block features alternator left hand case and generator right hand
case. Each long block is assembled with S&S Crankcases, Sifton
Oil Pump/Breather Assembly, 4¹⁄₄" stroke flywheels, Timken main
bearing, stock FLH cam with matched pinion gear installed with
a Torrington full compliment needle bearing. Assembled with a
cast finish cam cover, automatic advance distributor, chrome
lifter blocks that are fitted with hydraulic tappets and pushrods.
Cylinders are S&S 3⁵⁄₈" type fitted with 7.75:1 compression ratio
cast pistons and rings. Top end also features 3⁵⁄₈ Big Bore single
plug Panheads with Shovelhead exhaust pipe flange and intake
ports, and are fitted with rocker arm assemblies, no lead valves,
chrome pan covers, polished thick D‑Rings,chrome pushrod cov‑
ers and chrome rocker box feed line.
Entire unit is pre‑run and tested for proper oil pump pressure.
Order intake manifold (O‑ring type) and carburetor separately.
Use with 4 speed 1970‑84, 5 speed Rigid Softail 1986‑99 trans‑
mission electric or kick start. VT No. 10‑2018 has chrome cam
cover in addition to chrome pans.
VT No. Finish
Type
10-2014 Natural
10-2018 Polished Panhead
10-1984 Natural
Chrome Y Tube Top Oil Lines fit
Panhead top ends.
VT No. 40-0606
10-2014
10-2014
V-Twin Mfg
Replica Flatside
Shovel
10-2013
10-2013
10-2013
CUBIC INCH CHART
STROKE 3¹⁄₂" 3¹³⁄₁₆ 3.968" 4¹⁄₄"
4¹⁄₂"
4⁵⁄₈"
4³⁄₄"
5.00"
2³⁄₄"
3⁵⁄₁₆"
3⁷⁄₁₆"
3¹⁄₂"
3⁵⁄₈"
3¹¹⁄₁₆"
3¹³⁄₁₆"
3⁷⁄₈"
4.00"
106.8" 113.0" 116.1" 119.3"
4
¹⁄₈
"
"
4¹⁄₄"
"
" 120.5" 127.6" 131.1" 134.7"
Cubic Inch =
πr2 x Stroke
r = 1/2 of Bore
B
O
R
E
10-2018
10-1984