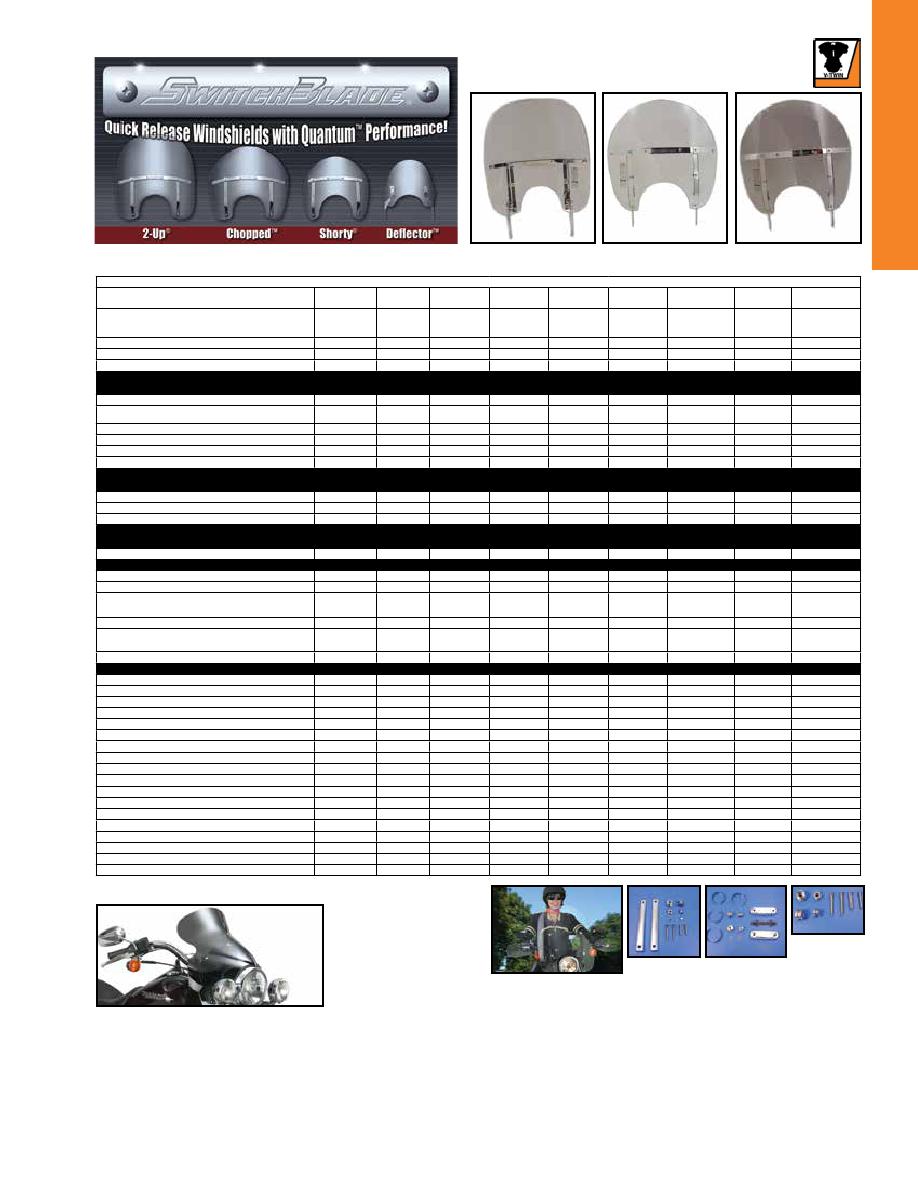 465
BIG TWIN
Switch Blade Removable Windshield allows installation or removal in four seconds without tools. Available in three sizes for three styles of riding and features 4.0
mm Lexan Polycarbonate with quantum coating in either clean or tint. Order mounting system separately.
Windshield
National Cycle Spartan Quick Release Windshield features a full size
quantum clear hand coated polycarbonate windshield, quick release
hardware and a black powder coated mounting frame. Available in 16¹⁄₄"
and 18¹⁄₂" heights. Height is measured from head lamp cutout to top of
shield.
VT No. Height Fits
Mounting Hardware
51-0284 16¹⁄₄"
31-9939*
51-0285 16¹⁄₄"
31-9947
51-0286 18¹⁄₂"
31-9939*
51-0287 18¹⁄₂"
31-9938
*Note: When installing shield with spotlight bar use 31-9938 kit
National Cycle Wave QR Fairing manufactured from dark tint poly-
carbonate that features free flowing lines, adjustable rake partitioning
and quick release mounting. Order mounting hardware separately.
VT No.
Fits
Mounting Hardware
51-0280
31-9947
51-0281
31-9946
51-0282* 1986-up FLST
31-9939
*Note: Will not work with spotlight bar
51-0281
51-0351
51-0356
51-0361
SwitchBlade® Quick-Release Windshields Applications
Model
Name
Year
Mount
Kit
2-up
Clear
Chopped
Clear
Chopped
Tint
Shorty
Clear
Shorty
Tint
Deflector
Clear
Deflector
Tint
FX NARROW GLIDE MODELS
with 39mm Fork Tubes
FXD/FXDL/FXDX/FXDC Dyna
31-9936
51-0331
51-0354
51-0359
51-0332
51-0333
51-0334
51-0335
FXDS Dyna Convertible
31-9936
51-0331
51-0354
51-0359
51-0332
51-0333
51-0334
51-0335
FXLR Low Rider Custom
31-9936
51-0331
51-0354
51-0359
51-0332
51-0333
51-0334
51-0335
FXR/FXRS Low Rider
31-9936
51-0331
51-0354
51-0359
51-0332
51-0333
51-0334
51-0335
FX NARROW GLIDE MODELS
with 49mm Fork Tubes
FXD Super Glide
31-9947
51-0352
51-0357
51-0362
FXD 35th Anniversary Super Glide
31-9947
51-0352
51-0357
51-0362
FXDC Super Glide Custom
31-9947
51-0352
51-0357
51-0362
FXDB Street Bob
31-9947
51-0352
51-0357
51-0362
FXDL Low Rider
31-9947
51-0352
51-0357
51-0362
FXDL Low Rider
31-9947
51-0352
51-0357
51-0362
FX WIDE GLIDE MODELS
with 41mm Fork Tubes
FXDWG Dyna Wide Glide
31-9937
51-0336
51-0355
51-0360
51-0338
51-0339
51-0340
FXWG Wide Glide
31-9937
51-0336
51-0355
51-0360
51-0338
51-0339
51-0340
FXDG Glide
31-9937
51-0336
51-0355
51-0360
51-0338
51-0339
51-0340
FX WIDE GLIDE MODELS
with 49mm Fork Tubes
FXDWG Dyna Wide Glide
31-9947
51-0353
51-0358
51-0363
FXST MODELS
31-9947
51-0352
51-0357
51-0362
31-9937
51-0336
51-0355
51-0360
51-0338
51-0339
51-0340
FXSTB Softail Night Train
31-9937
51-0336
51-0355
51-0360
51-0338
51-0339
51-0340
1987-
99/07-10
31-9937
51-0336
51-0355
51-0360
51-0338
51-0339
51-0340
31-9937
51-0336
51-0355
51-0360
51-0338
51-0339
51-0340
FLS MODELS
Softail (Without Light Bar)
31-9939
51-0341
51-0344
51-0345
31-9939
51-0341
51-0344
51-0345
FLSTC Heritage Softail Classic
31-9939
51-0341
51-0344
51-0345
31-9939
51-0341
51-0344
51-0345
FLSTFB Fat Boy Low/Fat Boy Special
31-9939
51-0341
51-0344
51-0345
31-9939
51-0341
51-0344
51-0345
31-9939
51-0341
51-0344
51-0345
FLSTN Heritage Softail Nostalgia
31-9939
51-0341
51-0344
51-0345
FLSTN/H Heritage Softail Special
31-9939
51-0341
51-0344
51-0345
31-9938
51-0341
51-0344
51-0345
31-9938
51-0341
51-0344
51-0345
FLSTC Heritage Softail Classic
31-9938
51-0341
51-0344
51-0345
31-9938
51-0341
51-0344
51-0345
FLSTFB Fat Boy Low/Fat Boy Special
31-9938
51-0341
51-0344
51-0345
31-9938
51-0341
51-0344
51-0345
FLSTN Heritage Softail Nostalgia
31-9938
51-0341
51-0344
51-0345
FLSTN(H) Heritage Softail Special
31-9938
51-0341
51-0344
51-0345
31-9947
31-9938
31-9939
51-0337 SWITCH BLADE REMOVABLE WINDSHIELD