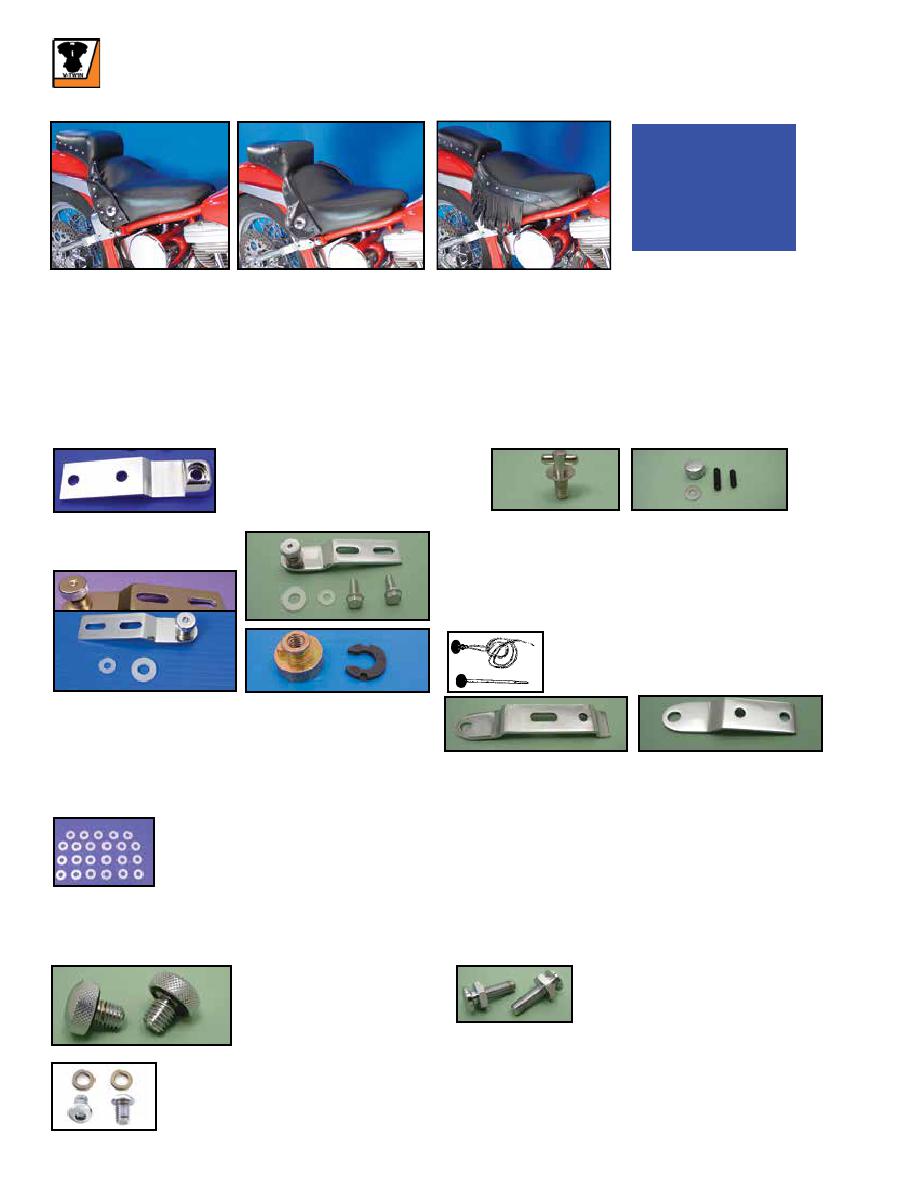 462
Black Button Set with clips, for repairing or
installing on custom seats. Set of six.
VT No. 47-0602
Seat Bracket Mounting Washers. Nylon
¹⁄₄
" inner diameter by ⁹⁄₁₆" outer diameter,
" thick for 1982-up models to prevent seat
bracket from scratching fender. Pack of 25.
VT No. 37-8858
Chrome Seat Mount Tab. When installing a one piece seat
on 1981-84 FXR models, use VT No. 31-4017. Use 31-4018,
on 1979-up XL seats. VT No. 31-0413 fits FXWG-FXE-FXST
1973-up rear. Use nylon washer under seat tab.
VT No.
Fits
31-4018 Rear FXR
31-0413 Rear FXE-FXWG
37-8858 Nylon Washer, 25 Piece
Seat Mount Pins available as quick release push pin in stainless
steel or knurled aluminum in chrome or natural finish with O-Ring
and extra stud. Thread into existing seat mount hole with ¹⁄₄
UNF threads. Replacement pin available for VT No. 37-8902.
VT No.
Type
37-8902 Quick Release with Pin
37-9179 Chrome Knob
31-4018
31-0413
37-8902
37-9179
FXST-FLST Seat Tab Knurled
Screw Sets are available with
½ - 13 UNC. Screw into frame
forward of strut mount. Includes
O-ring for snug fit.
VT No. 37-9125
Seat Mount Kit consists of chrome plated
buttonhead hardware and lockwashers for
1987-up Heritage FLST and Fat Boy.
VT No. 9915-4
Chrome Seat Mount Bolts for FXR and Road King secure rear
of solo. Seat rod holds front of passenger pad firmly in place
and allows quick passenger pad removal.
VT No. Thread
Fits
37-0539 ⁵/
37-0539
Chrome Rear Seat Tab includes chrome spring loaded screw.
Order fender nut insert separately.
VT No. Item
Year
Thread
31-0660 Tab
31-0661 Tab
31-0653 Tab Assembly
31-0652 Nut Insert, 4 pack
Chrome Billet Rear Set Tab fea-
tures contoured rear shape, screw
included. Kits sit where rear tab is
fastened by two screws.
VT No. 31-0767
31-0653
31-0652
31-0660
31-0661
37-9125
Seat Mount Hardware
Victory Series for 1984-05 FX-FLST & Rigid
Victory Smoothie Saddle is a two piece design on a single
steel baseplate.
2000-05 1984-99 # Note
47-2015 —
47-2016 —
47-2017 47-8695 C Fringe, chrome spots
Victory Series Saddle fits 1984-
05 FXST-FLST models and all
Rigid frames. FXST-FLST mod-
els require re-use of existing rear
tab or can be ordered separate-
ly, VT No. 31-0413 for 1984-99
or 31-0653 for 2000-05 models.
Rigid frames require purchase of
31-0562 front mount.
47-2015
A
C
47-2017
47-2016
B
Hardware for FXST-FLST