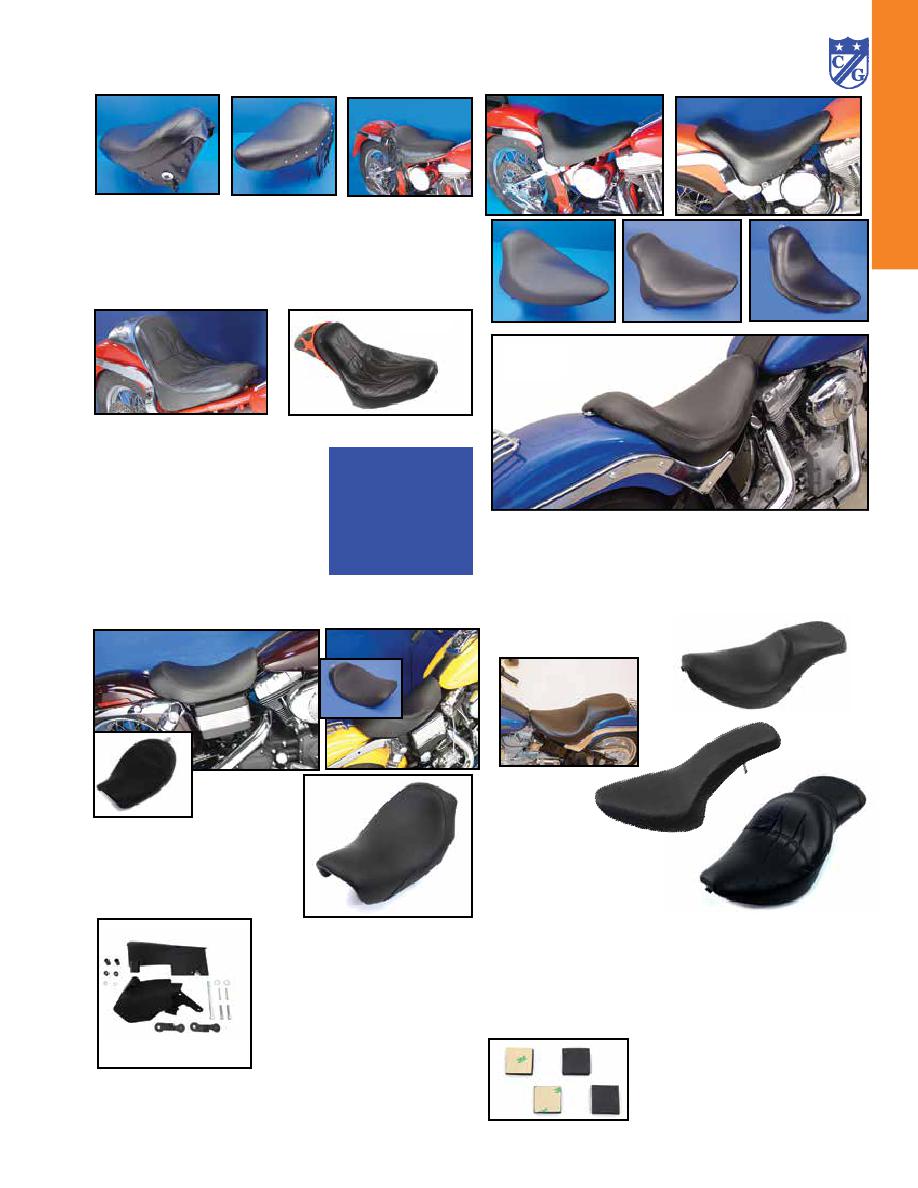 461
BIG TWIN
CG Saddles to fit Softail models. Order rear seat tab assembly
separately.
VT No. Year
Type
47-0987 2007-17 Smoothie
47-0996 1986-05 Smoothie
47-0776 2007-17 Cobra
31-0653
All Corbin-Gentry Saddles
47-0987 Installed
47-0996
47-0776
47-0987
Wyatt Solo Bucket Saddle.
VT No. Year
47-0910 1996-2005 FXDWG
47-0603 2006-2017 FXDWG
47-0604 2006-2017 FXD
47-0603
47-0910
FXDWG Models
Rubber Seat Bumper Pad Set fits
most seats where they rest on the
frame to protect the paint. Includes 4
rubber self stick pads.
VT No. 31-0374
Mid-Frame Dyna Deflector improve
rider comfort during the riding sea-
son. Designed for severe duty and
extreme temperature applications,
these deflectors attach to the frame
and surround the top of the rear
cylinder head. The scoop shape
captures the moving air and uses
the flow to direct the heat down and
away from rider to improve comfort.
Kit includes all required mounting hardware.Fits 2006-17 FXD,
06-11 require the removal of the original equipment coil cover.
VT No. 42-0147
Softail Bucket Saddle
CG Frame Mount Solo Seats for 1984-2005 are constructed
of black Naugahyde on steel base plate for frame mounting
without springs.
VT No.
Style
47-8721 Classic
47-8680 Sonora
47-2022 Fringe
47-0624
47-0623 Installed
47-0624 Installed
47-0623
47-0630
Installed
47-0630
Victory Gunfighter Saddles feature sewn inlay of colored
flames on rear pad area with matching flame stitch and thread
in front driver area.
2000-05 1984-99 Style/Color
47-2024
47-2028
47-2029
47-0580 Aqua Flame
47-2030
47-2026
47-0565 Orange Flame
47-2028
Victory Series Saddles fit
1984-05 FXST-FLST models
and all Rigid frames. FXST-
FLST models require re-use
of existing rear tab or can
be ordered separately, VT
No. 31-0413 for 1984-99 or
31-0653 for 2000-14. Rigid
frames require purchase of
31-0562 front mount.
Classic
Fringe
47-2026
Butt Bucket Saddle fits Softail models. Seats include brack-
ets for direct frame mounting.
47-2022
VT No. Year
47-0623 1984-99
47-0624 2000-05
47-0630 2006-14
47-0604
42-0147