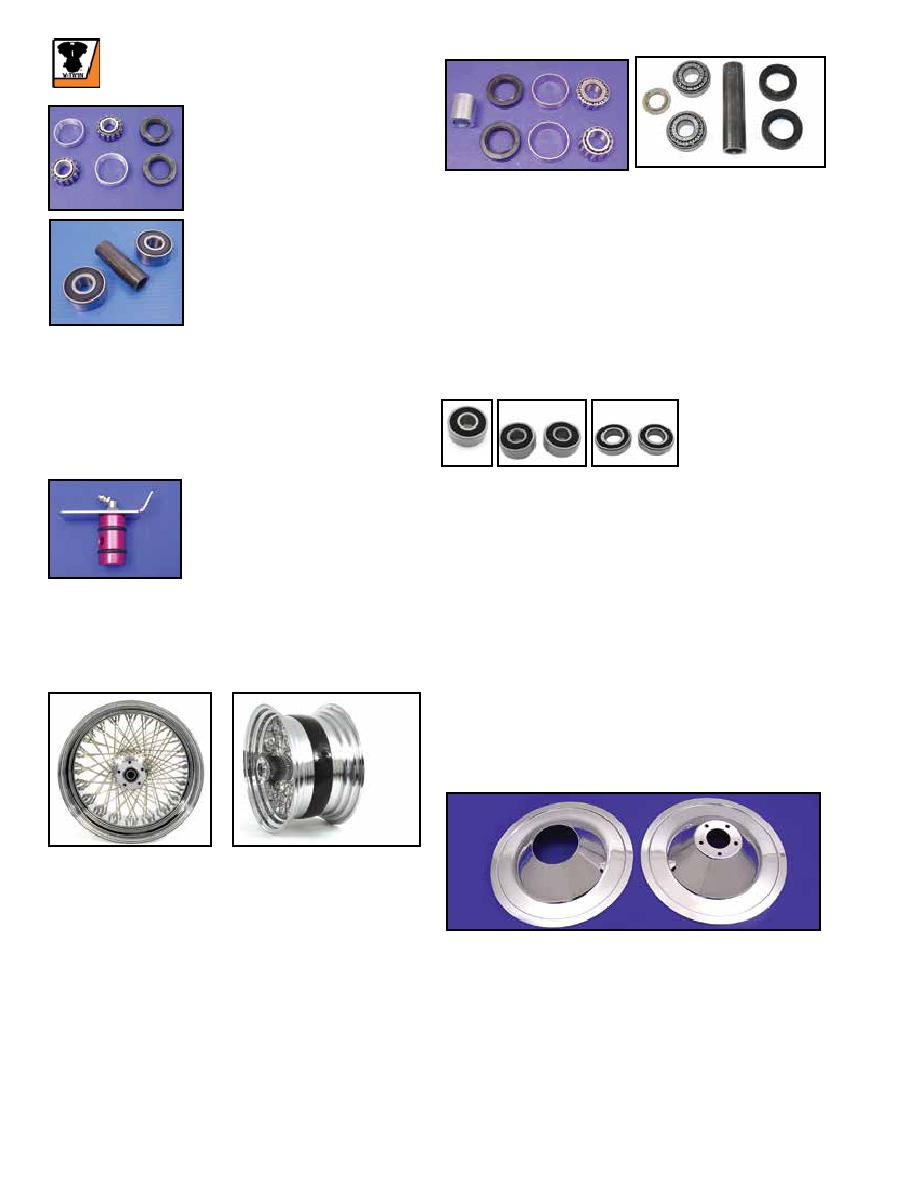 450
Wheel Bearing Kit
VT No.
Type
Fits
44-0537 Single Disc
1984-91 FX-FXR, 1984-91 XL
44-2049*
1992-94 FXR, 1992-99 FXDL
44-0611 Single Disc/
44-0988 Single Dual
44-0990 Single
*Note: Order spacer shims separately.
44-0536
Front Wheel Bearing, Race and Seal
Kit contains two of each, bearing, race
and proper seals. Fits 1984-94 FXR
cast or wire, 1984-99 All FX-FLT-FXST
cast or wire,1991-99 Dynaglide, cast or
wire.
VT No. 44-0417
Front Internal Hub Kit includes all
internal parts for complete rebuilding
of all alloy front hubs. Includes inner
spacer, bearings, races seals and seal
spacer matched for each year group.
Hub is not included.
Wheel Bearing Greaser. Fitting and
spigot greases 1973-99 tapered bear-
ings without removing seals, use exist-
ing seal spacer or purchase separately.
VT No.
Item
16-0803 Tool
44-0303 Collar
44-2045
Wheel Bearing fits front and rear.
VT No. OEM Fits
U/M Size
Year
12-0592 9267 FXD, FXST
44-0993 9267 FXD, FXST
12-0631 9276 Softail Front
44-0900 9253 ABS/Non-ABS Each 25mm 2007-up
12-0999 6276B
44-0901*
44-0902*
44-0903*
*Note: Bearings for larger than stock diameter wheels have a
greater reinforced magnetic area that will not set off any engine
codes after proper installation.
12-0631
44-0993
12-0592
Front Wheel Assembly Kit for steel hubs only. Contains two
of each of each, bearing, race and seal and one correct seal
spacer. Also included for certain applications only are two each
snap ring and seal retainer washers. Not included in this kit is
the internal bearing spacer which may be ordered separately.
Check listing.
VT No.
Wheel Fits
44-0456 Wire
44-0457* Wire
44-0536* Wire
1986-99 FXST, 1993-99 FXDWG
44-2045* Cast
44-2046 Cast
*Note: Does not include snap rings and seal washers.
Cast Wheel Cover
Rear Wheel Assemblies for LH drive with 2000-up hub for
Softail models tube type or tubeless application. Wheels have
extension on pulley side to minimize pulley spacers and bearing
is moved outboard to prevent bent axles. Rear wheels accept
11¹⁄₂" disc rotors. Single flange are for right side drive. The 1984-
99 hub types use Timken bearings and the 2000-up hub types
use sealed bearings without ABS. 1" axle size.
VT No. Size
Spoke
52-0122 18" x 8.5" 60
52-0682 18" x 10.5" 80
52-0683 18" x 10.5" 120
52-0684* 18" x 10.5" 80
52-0685* 18" x 10.5" 120
52-0640* 17" x 12"
52-0642 17" x 12"
*Note: Single sided hub flange
Wheel Assemblies
Front Chrome Wheel Covers are contour formed to fit alloy
16" FXST rear and Fat Boy front and rear, covering up to the
step at the valve stem hole area. Both are held in place by
the rotors and belt pulley. Sold as a set. Fits 1986-99 FLSTF.
VT No. 45-0689
45-0689
44-0611