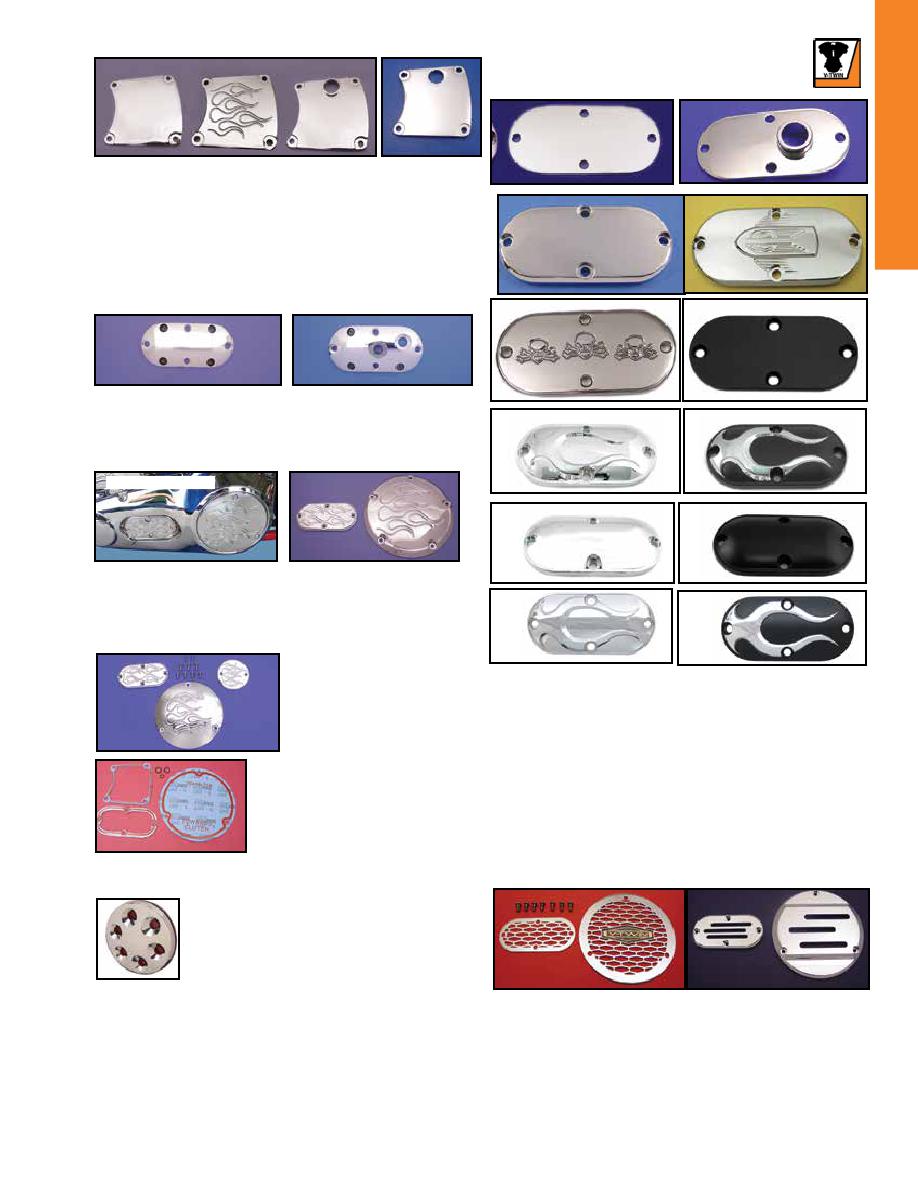 439
BIG TWIN
42-0040
42-0002
V-Tech Covers feature allen screw styling in deluxe chrome
die cast metal.
VT No. Item
42-0002 Oval
42-0040 Oval with FXE shift hole
Chrome 3-D Derby Cover features concealed
mounting by use of plate which installs like a
derby cover. The 3-D spinner cover mounts to
stud on plate and held firmly in place by O-ring.
The red backing plate can be painted to match
color scheme.
VT No. 42-0108
Chrome Oval and Derby Kit
VT No. Item
42-1226 V-Twin Vented
42-1225 Billet Vented
42-1226
42-1225
Vented Covered Sets
Chrome Flame Derby and Inspection Oval Set. Screws included.
VT No.
Year/Model
42-0817 1965-98 FL and Softail
42-0816
42-0816
42-0817 Installed
42-0743
Chrome Flame Cover Set fits
1986-98 FLST,1984-98 FXST
The set contains three pieces.
VT No. 42-0743
Primary Derby Gasket Kit used to
replace gaskets
and seals after
clutch and primary chain adjustment
on Big Twins.
VT No. James Year
Holes
15-1507 15-1383 1999-06 5-Hole
15-1506 15-1384 1970-98 3-Hole
15-1506
Inspection
42-0049
42-0740
42-0944
42-9943
Chrome 5-Speed Inspection Covers are available with or
Without Shift Hole Years
Model
42-0740
1985-06, 1985-94 FLT, FXR
42-0944
With Shift Hole
42-9943
42-0049
10-2488
10-0769
42-0739
42-0610
42-0826
Inspection Ovals for alloy primary covers.
Chrome Black Type
42-9927 —
1986-06 FXST, 1993-05 FXDWG, Smooth
42-0739 —
42-0610 —
42-0826 —
1986-06 Softail, Flywheel
42-1008 —
1970-86 Softail, Bonehead
—
42-1274 1991-05 FXDWG
42-0476 42-0477 1999-up FL, FX
42-0188 42-0187 1999-up FL, FX
42-1270 42-1271 1984-06 FXST, FLST, FXD
42-1274
42-0188
42-0187
42-1270
42-1271
42-0476
42-0477
42-1009
42-9927