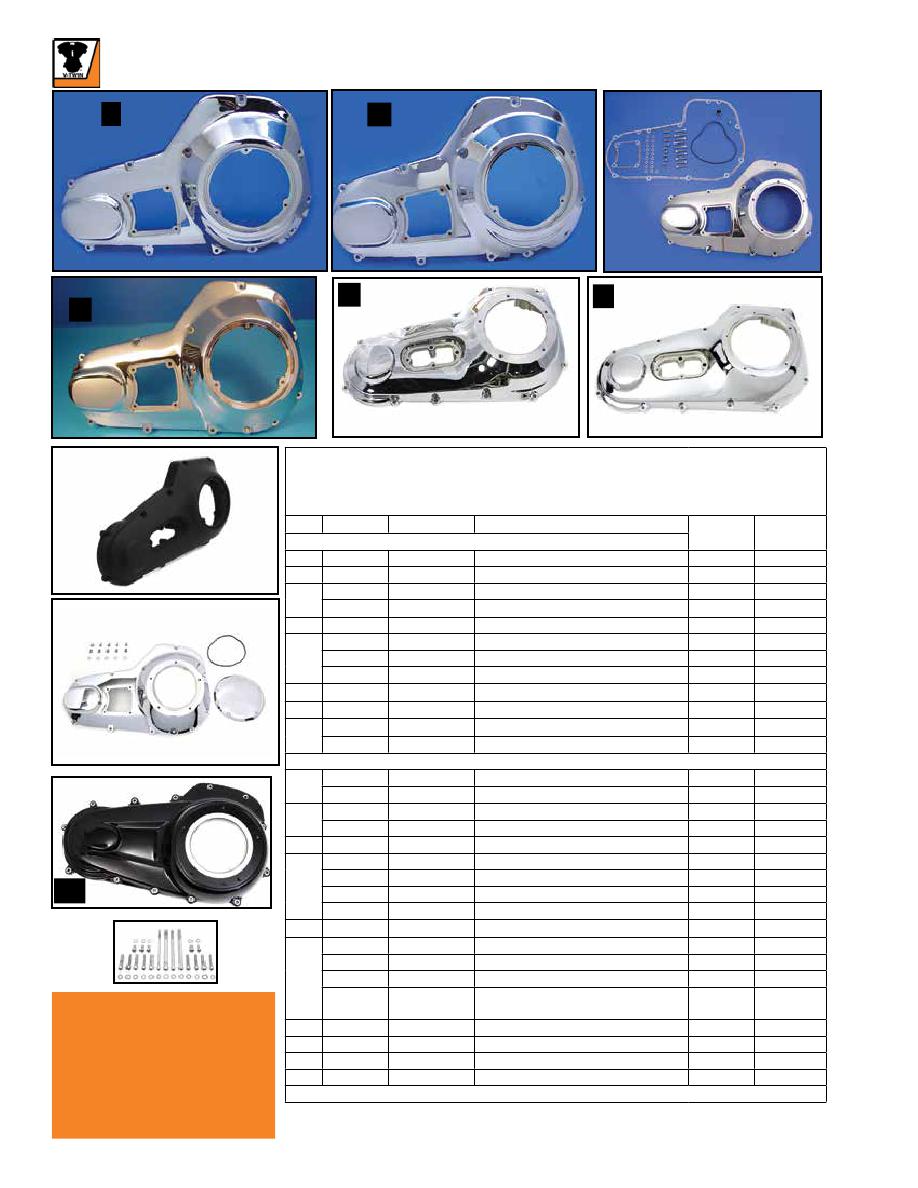 434
Outer Primary Cover
F
G
H
2342-18
43-0239
N
Die Cast Primary Covers are manufactured from a cast-
ing process. It is the nature of parts produced from this
process to have small random subsurface imperfections
that can be uncovered during the polishing process.
These may appear as very small cosmetic imperfections
after chrome plating. We also do not polish in areas that
are not readily visible once assembled on the motorcycle
or by polishing machines such as small depressions
or tight corners. As these conditions are common in
polished and chrome-plated castings, a reasonable stan-
dard of acceptability has been established to bring you
the highest quality product at an affordable price. This
part meets Perma Chrome™ cosmetic standard. The
aforementioned cosmetic conditions are considered rea-
sonable for this part and are not considered warrantable.
43-0560
43-0240
43-0249
P
43-0370
Chrome Big Twin Outer Primary Covers are from new die cast tooling to replace stock
parts. Kits include chrome primary cover, chrome allen screws, outer cover starter bear-
ing and gaskets for derby, inspection and outer covers. All other covers are sold as cover
only. Part number for screw kit given for reference only.
#
VT No.
OEM
Fits/Type
Chrome
Allen
Screw Kit
Chrome
Allen Screw
Kit
5 Speed FXR-FLT
F
43-0209
8916-17
8916-17T
43-0340
G
43-0232
8916-17
8916-17T
43-0341
43-0560* 60665-94
8916-17
8916-17T
I
43-0248
9959-38
9959-38T
43-0276
9959-38
9959-38T
43-0249
43-0782
2402-18
2402-18T
43-0883
2402-18
2402-18T
Q
43-0001
43-0000
5-Speed FXST-FLST-FXD
J
43-0199
8916-17
8916-17T
43-0343
K
43-0198
8919-19
8919-19T
43-0344
43-0224
8919-19
8919-19T
M
43-0345
43-0211
1995-98 FXST-FLST-FXD V-Twin 8919-19
8919-19T
43-0370
43-0346
N
43-0239
8919-19
8919-19T
P
43-0240
1999-06 FXST-FLST-FXD V-Twin 8919-19
8919-19T
43-0332
8919-19
8919-19T
43-0280
43-0347
1999-06 FXST-FLST, 99-05 FXD-
FXWG
43-0359
2342-18 2342-18T
43-0360
2006-17 FXDWG, 2007-17 FXST
2342-18
2342-18T
43-0369
43-0373
*Note: Requires a 5 hole 1990-up type derby cover
43-0000
Q