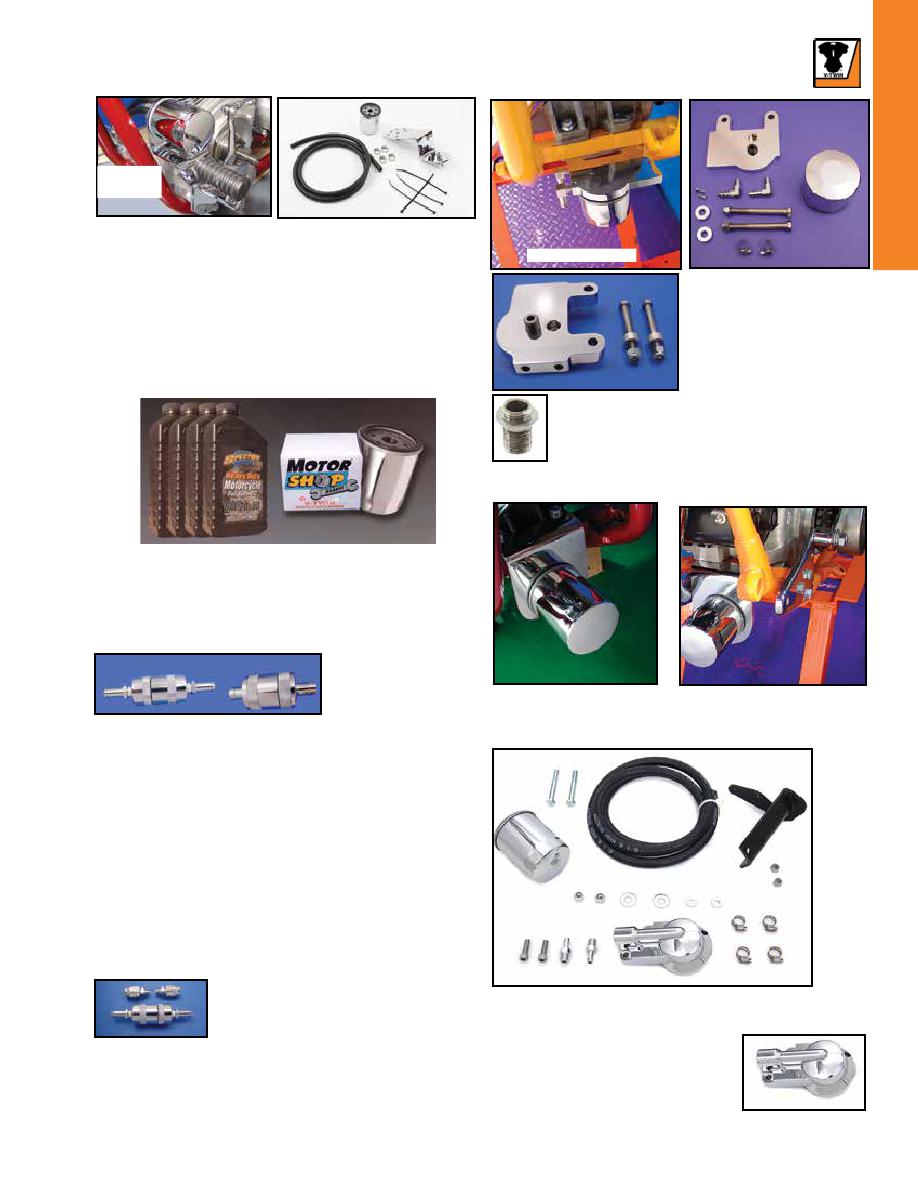 431
BIG TWIN
Front Mount Filter Unit incor-
porates filter and regulator
mount for 1975-99 Big Twins
and 1986-99 FXST-FLST
models. Includes filter, chrome
billet base and hose fittings.
VT No. Item
40-1257 Complete Kit
40-0711 Chrome Filter
40-1270 Center Thread Fitting
40-0798 Base with Hardware

40-1257 Installed
Pura-Flow Chrome Oil Filter Kit for 1936-99 Big Twins.
VT No.
Fits
40-0096
40-0709
40-0096
40-0798
40-1257
Oil Filter Kit
FXST Style Oil Filter Kit features bolt on mounting behind
shift plate. Fits Big Twin frames with 1970-up Shovel or
Evolution engines. Can be used as an easy access auxiliary
unit in addition to filter in tank. Bracket is replica of 1984-99
FXST type replacing 63802-84. Oil spigots are copper and
brazed in a vacuum for lasting durability. Includes chrome fil-
ter and 6 feet of rubber hose with clamps.
VT No.
Item
40-0100 Complete kit
40-0709 Chrome filter
40-0708 Black filter
40-0100
Installed
Oil Change Service Kit includes chrome filter and 4 bottles of
superior Spectro Heavy Duty Lubricant.
VT No. Fits
41-0050 1984-88 FXST, 1980-98 FLT, 1982-94 FXR,
41-0051 1991-98 Dynaglide
41-0052 1999-up All Twin Cam Big Twins
Oil Filter Kit to fit 1970-84 Big Twins nose cone engines
when using an outside frame front pipe. Mounts under front
engine mount.
VT No. Item
40-0091 Chrome Housing & Bracket Kit
40-0093 Chrome Housing
40-0091
Oil Filter Nipple
with raw finish for
40-1257 fits 40-0711
filter.
VT No. 40-1270
40-0100
Sifton Oil Pre-Filters are constructed of machined alloy with
a #40 mesh screen installed to trap large debris and a circular
magnetic collar to collect the ultra fine ferrous particles before
they reach the engine. Unit can be installed in the following
" inner diameter oil line:
• Supply line before the engine on all models
• Primary scavenger return line on Early FLH and FX models
• Return line to oil tank on FL-EL-UL and models without a fac-
• External oil return on high performance heads.
• Any pressure supply or return (use the prelifter with the ¹⁄₈"
The ¹⁄₂" unit recommended for Softail TC-88 models on the
path between the cam bearing housing and oil pump.
VT No.
Type
Hose
40-0388 ¹⁄₈" NPT Body ³⁄₈"
40-0387 Barbed end
40-0388
40-0387
Oil Line Filter Kit includes filter and
compression fittings for ³⁄₈" stainless steel
hose.
VT No. 40-0462
40-0096
Oil Filter
Developed by
Marty Maccolooum,
USA Cycles
40-0093