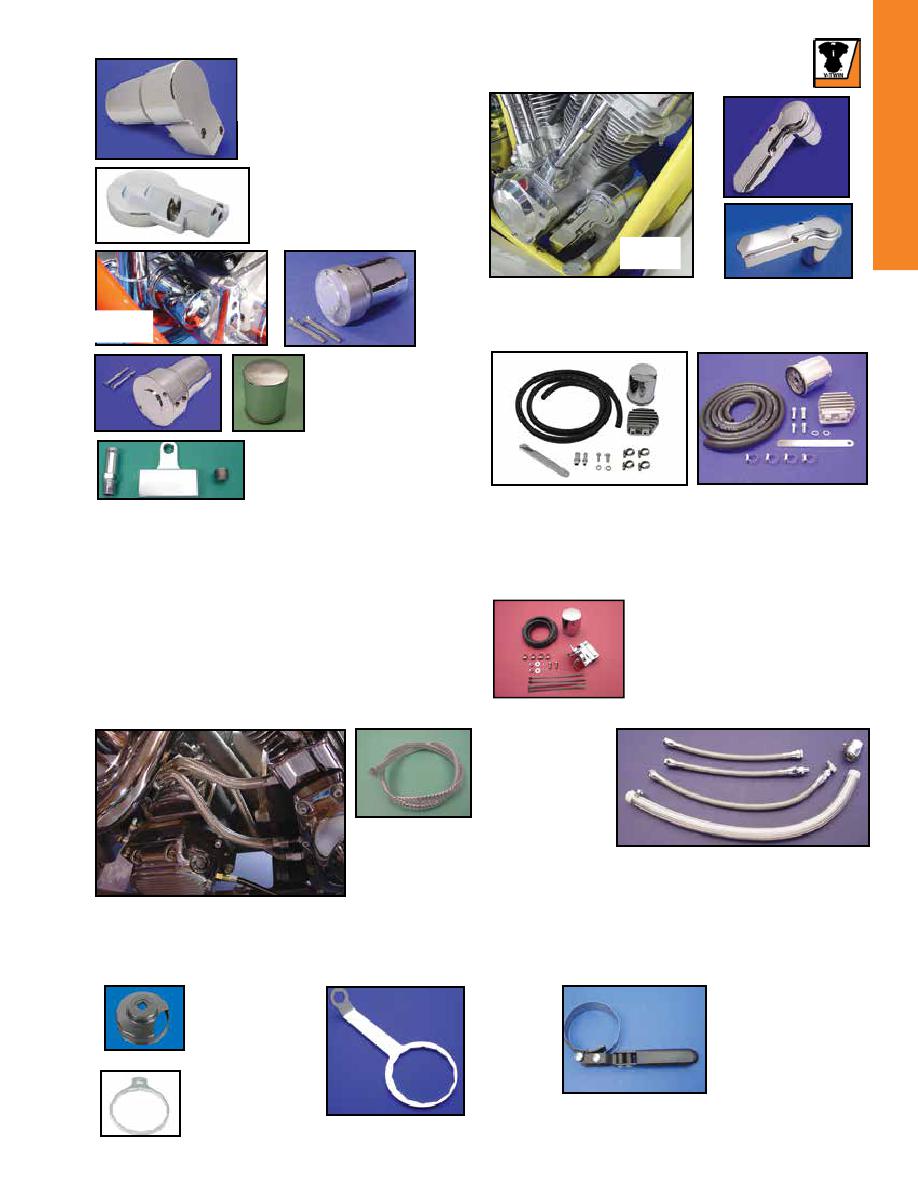 429
BIG TWIN
Oil Filter Kit
Universal Oil Cooler-Filter Kit includes chrome spin on filter,
finned aluminum mount flange, with hose and clamps.
VT No. Item
Finish
40-0098 Filter Kit
40-0952 Filter Kit
40-0709 Filter only
31-2131 1" Frame Clamps
Chrome Billet Oil Filter Bracket fits
1992-99 Evolution models.
VT No. 40-0594
Billet Oil Drain Block allows
remote mounting. Includes
drain plug.
VT No. 40-0485
Billet Oil Filter Mount fits 1992-99
Softail.
VT No. 40-0607
Alloy Generator Oil-Filter
Adapter bolts in place of
two brush generator or
alternator Big Twin case
conversions. Use 40-0709
filter.
VT No. Item/Finish
40-0315 Adapter, Alloy
40-0316 Adapter, Chrome
40-0709 Chrome Filter
40-0315
Filter sold
separately
Contour Oil Filter Bracket features a long design covers oil
lines and connections. It fits 1992-99 Evolution models and
S&S cases and engines with similar mount holes. Filter includ-
ed.
VT No. 40-9911
40-0098
40-0952
Pura-Flo Universal Clamp on Oil
Filter Kit includes filter and hose.
VT No.
Item
40-0850 Kit
40-0709 Filter
40-0316
40-0315
Installed
Sifton 1992-99 Braided Oil Line Kit
fits Softail models and includes stainless
lines, seals and hardware as shown.
Replaces 63705-97.
VT No. 40-0651
Oil Line
Custom Stainless Steel Oil Line Kit fits
TC-88 for custom applications. Includes
three compression fittings and three seal
ends. Hose must be cut for installation.
VT No. 40-0467
40-9911
Installed
Flex Chrome Hose
Covering features
heavy gauge mylar
construction with
chrome finish and 25
feet in length.
VT No. Size
36-0552
36-0553
36-0554
Oil Filter Wrench with
³⁄₈
filters ³⁄₈" drive. Fits
all models including
TC-88.
VT No. 16-0743
Combination
Oil Filter
Wrench
includes drain
plug hex at
opposite end.
VT No. 16-0451
Filter Wrench.
VT No. 16-1941
Swivel-Flex Oil Filter
Wrenches feature gripper
teeth and a durable treated
band with a vinyl covered
flex handle which swivels
to clear frame and exhaust
obstructions. Replaces
96221-80.
VT No. 16-0903
Oil Filter Wrenches