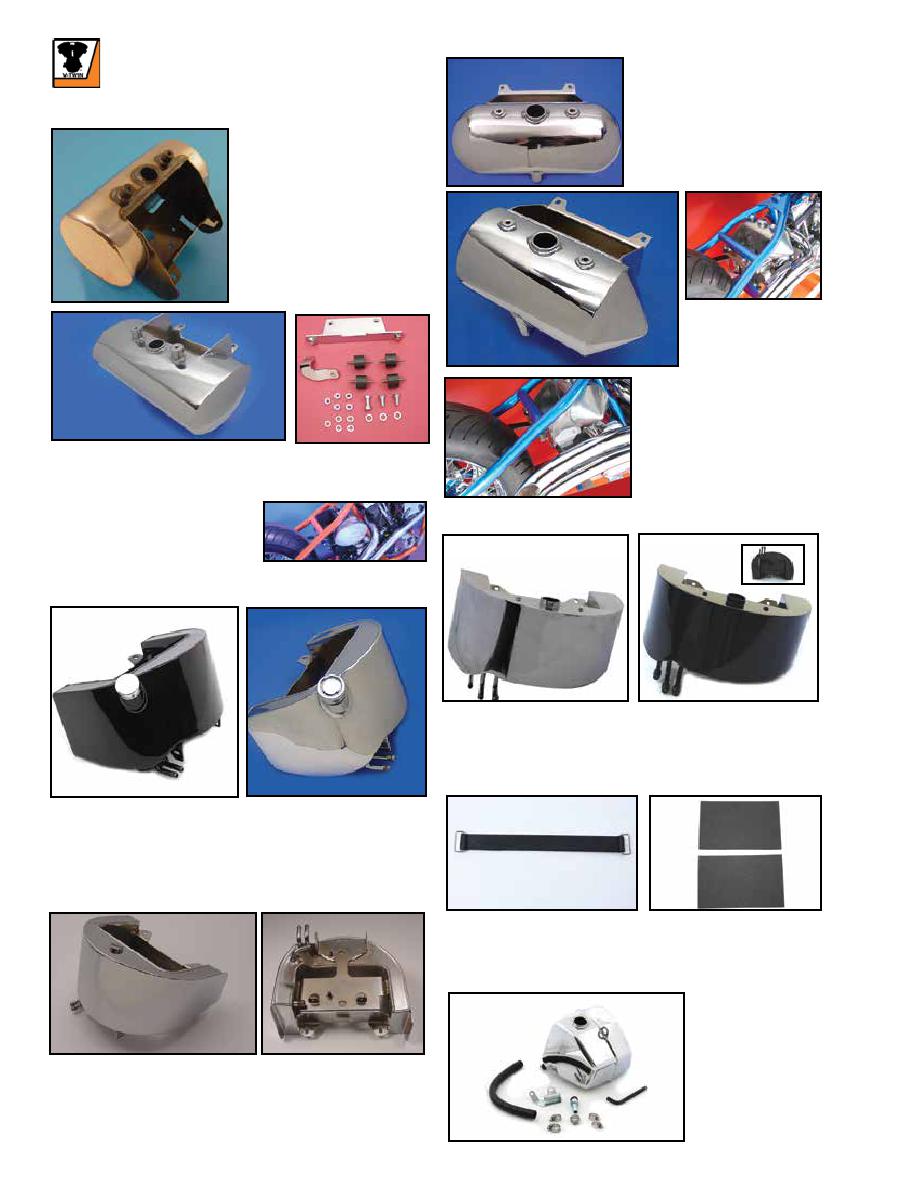 422
40-0468
6" Diameter Round Oil Tank fits
FXST style rigid and stock Softail
frames. Utilizes stock front and rear
Softail mount. Top brackets must
be fabricated for installation to use
with custom frames. Order bracket
set separately.
VT No. Finish
40-0468 Raw
31-0221 Brackets
37-8961 Drain Plug
Chrome Oil Tanks fit 1986-99
VT No. Oil Fill Shape Finish
31-1259
Oil Tank
for
Softail and Rigid
Rocket Oil Tanks is 5" diame-
ter to fit Rigid or Softail models.
VT No. Finish
Lines
40-0477 Chrome Left
40-0476 Raw
40-0486 Chrome Right
40-0487 Raw
37-8961 Drain Plug
40-0476
Installed
40-0477
Oval Oil Tanks will mount to stock or custom Softail frames
right or left side belt drive applications. Tanks accept stock bat-
tery. Order bracket set separately. Fits special application for
200/300 left and right side drives
VT No.
Finish
40-0186 Chrome
31-0221 Brackets
37-8961
40-0186
31-0221
For
1989-99 Softail
Chrome Softail Oil Tank features center fill and side wings,
four spigot type for 1989-99 Softail models, with three quart
capacity with stock mounts.
VT No. 40-0490
FXST Oil Tanks replace 62498-89A. Tanks are 4 spigot type
for 1989-99 Softail, FXST-FLST. Features factory welded
seams and 3 quart capacity.
VT No.
Finish
40-0393 Black
40-0394 Chrome
40-0945 Drain Hose
40-0490
Center Fill Tank fits 1989-99 Softail models and features
threaded inserts on top for custom or stock mounting.
VT No. Finish
40-0025 Chrome
40-0026 Black
40-0026
40-0025
Chrome Oil Tank fits
1982-94 FXR models.
Includes mounting
hardware and hose.
Replaces 62406-81.
VT No. 40-0094
FXST Battery Hardware for 2000-up Softail models.
VT No. OEM
Item Year
28-0878 66017-01 Strap 2001-up
28-0539 66309-84 Pad Pair
66103-74
28-0878
28-0539
40-0393
40-0394