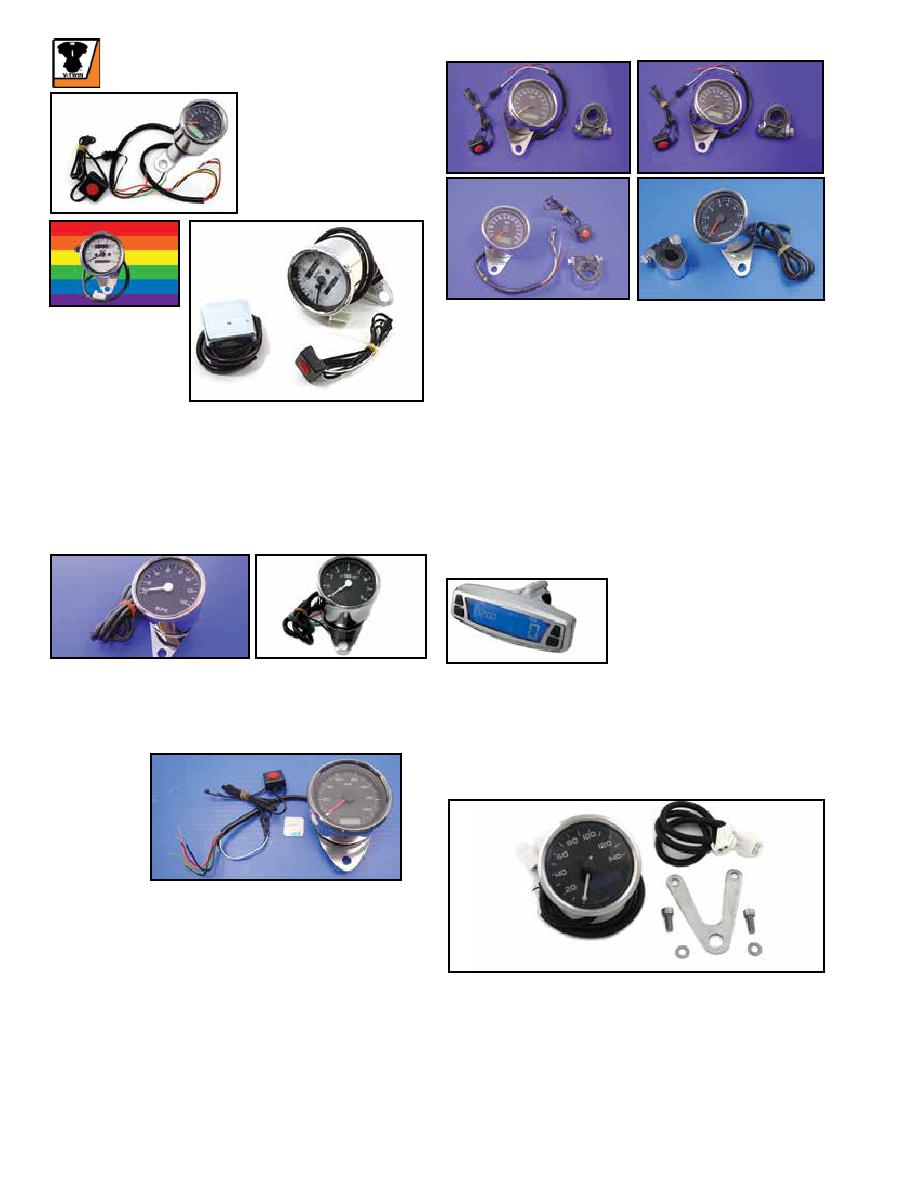 420
Mini-Gauges
Multi-Colored Mini Gauge. The 60 mm gauge features a 2.4"
polished stainless body and a white face with a total length of
2.7". Units include a chrome bezel with choice of red, orange,
blue, yellow, white, green or purple by the push of a button,
works on a 12 volt system. Tachometer adapter required for
use with single fire ignition. Speedometer accepts 12 mm drive
cable. Order clamp separately.
VT No. Gauge
Ratio
39-0433 Speedo 2240:60
60mm Electric Tachometer and Speedometer fit models
1978-up for tachometer and 1995-up for speedometer applica-
tions.
VT No. Item
Year
39-0575 Speedometer
39-0392 Tachometer
39-0575
60mm Mini Electronic Speedometer/Tachometer.
Speedometer features easy push button recalibration and
re-settable trip meter, with LED lighting. The 8000 RPM
tachometer has LED lamp. All units have a black face and
include clamp. Order 12mm speedometer cable separately on
mechanical device speedometer only.
Three functions are (1)accumulated mileage (this can not be reset), (2) Trip 1
(can check total mileage for 1 full gas tank, can be reset to zero), (3) Trip 2 (cal-
culate
mileage from A to B destination, can be reset to zero).
VT No.
Ratio
Type
Item
39-0858 2:1
39-0859 2240:60
39-0593
39-0860 0-8000 RPM Electronic
39-0593
39-0858
39-0859
39-0860
80mm Electronic Speedometer Gauge features stainless
housing and Y bracket. For custom application on 1995-up Big
Twins.
VT No. 39-0789
Plastic Speedometer and
Tachometer Assembly clamps to
1" or 1¹⁄₄" bars and includes speed,
rpm and temperature functions.
VT No. 39-0758
39-0789
39-0392
Digital Speedo & Tach
Specifications
Housing Size
Blue LCD with LED backlit
60mm Electronic Speedometer fits electronic equipped
sensor 1995-up models. Features blue-backlit LCD display.
Bracket and cable included.
Speedometer
0-140 mph or 0-140km/h (selectable)
Clock (12 hours)
VT No. 39-0540
2" Mini Electronic Speedom-
eter fits 1997-up FX.
VT No. 39-0464
39-0433