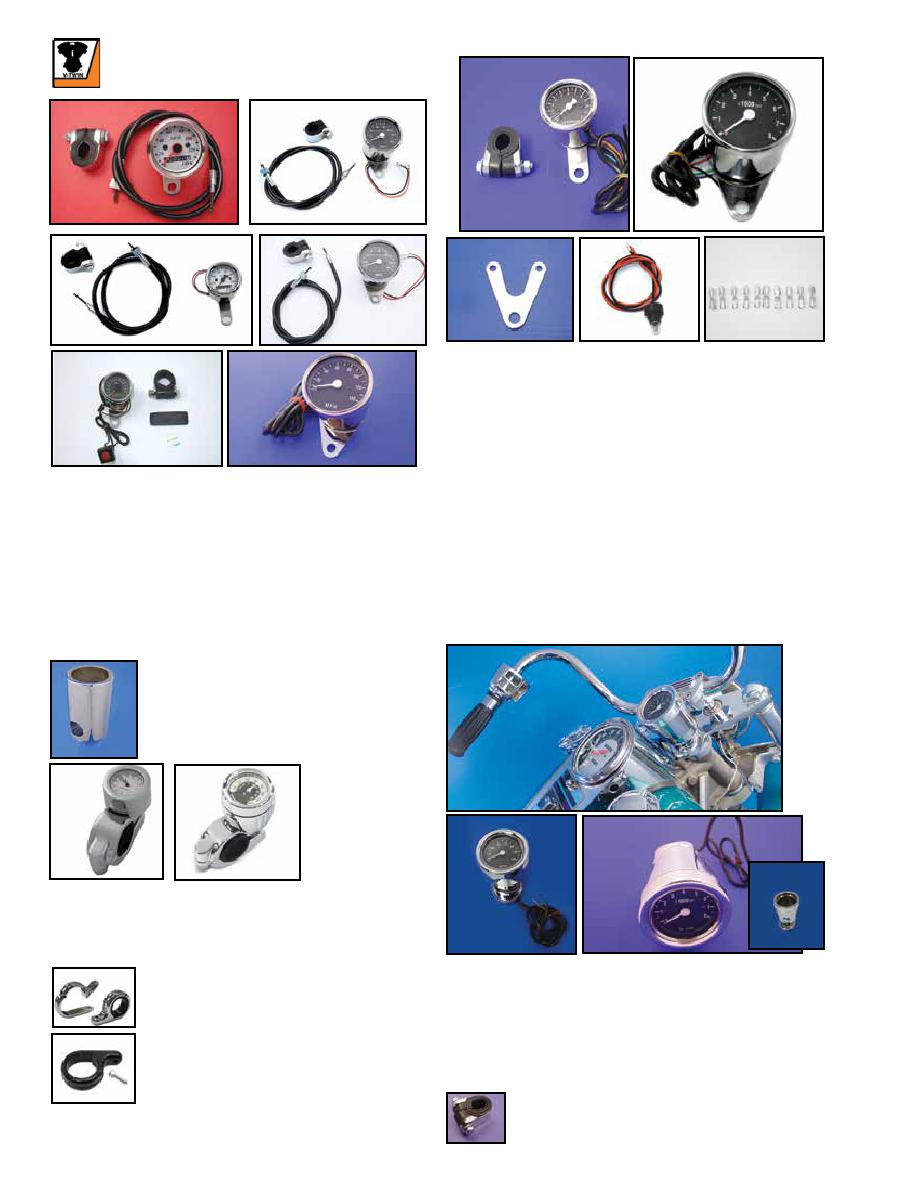 418
48mm Deco or 60mm Mini Speedometer Kits include gauge,
chrome bracket, rubber handlebar clamp, and proper cable
which can be installed without any adapters or modifications.
48mm 60mm
Deco
Mini
Ratio
Model/Years
39-0368 39-0315 2:1
39-0370 39-0371 2240:60
39-0598 39-0575 Electric
48mm Deco or 60mm Mini Tachometer Kits
48mm 60mm
Deco
Mini
Model/Years
Tachometer
39-0367 39-0392* Electric 3-wire type
31-9997 Fits All Chrome Y mount
33-2008 Fits All Light socket with bulb
33-2047 Fits All 12 Volt bulb, 10 pack
Note: For use on 1978-up models with coil triggered tachom-
eter. Green Negative wire goes to negative side of coil. Red
wire goes to ignition side of key switch. Tachometer head
must be grounded by black wire.
Mini Gauge Kit
39-0368
39-0575
39-0367
39-0315
39-0370
39-0371
39-0598
39-0392
33-2008
33-2047
Chrome Billet Housing will accept 48 mm
electronic tachometer or speedometer.
VT No. 39-0116
Chrome Clamp includes molded rubber insert to
attach mini gauges to handlebars for less vibration.
VT No. 28-0325
Chrome 60mm Tachometer Housing Kit includes bracket
to mount to Softail and FXDWG fork stem bolt, 60 mm elec-
tric tachometer, or electric speedometer to fit 1995-up models.
Housing which is available separately may be fitted with any
60mm electric speedometer or gauge.
VT No.
Item
39-0202 Tachometer Kit
39-0204 Speedometer Kit
39-0203 Housing Only
39-0202
Installed
39-0204
39-0202
39-0203
Gauge Billet Housing Kit
Handlebar Clamps allow mounting of all types of
necessary items with easy installation, fits 1.25"
and 1" diameter handlebars. Available in black
or chrome finish. Kits include mounting hardware
and reducer for 1" bar applications.
VT No.
Finish
31-0026 Chrome
31-0027 Black
Chrome Handlebar Gauge/Clock.
VT No. Description
39-0785 Clock with White Face
39-0786 Temperature Gauge
39-0786
31-0026
31-9997
31-0027
39-0785