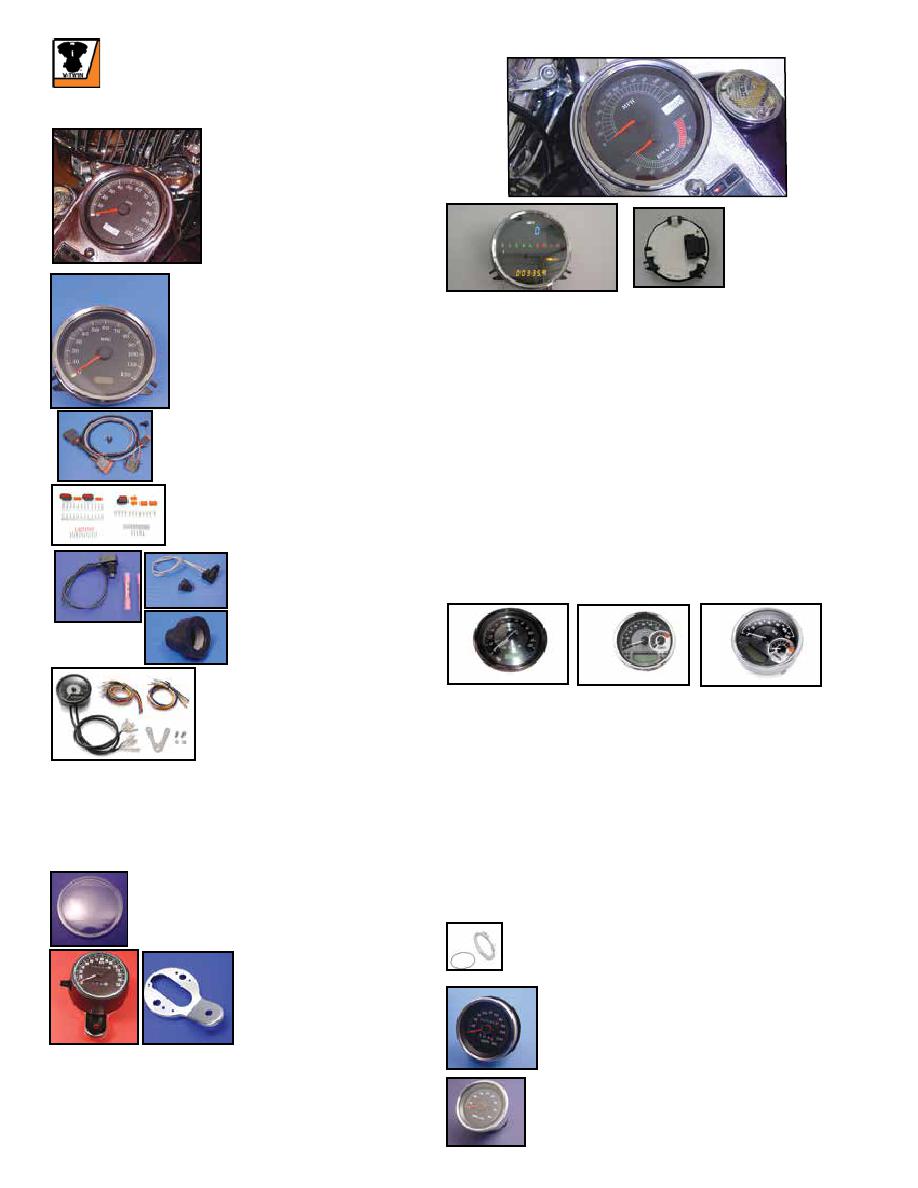 416
Electric Speedometer Assembly with digital tachometer avail-
able with black face that looks like stock gauge or LED type.
Both units feature a 8000 RPM tachometer, LCD odometer and
trip meter. Plug installation for all 1999-03 models and 996-98
models will require a separate purchase of sub-wiring harness
for correct installation. All 1993-03 models with require the use
of a tachometer wiring kit sold separately.
Fits 1996-03 FLHR, FXST, FLST, FXDWG.
VT No. Item
39-0651 Black Face Gauge
39-0610 LED Gauge
Sub-Wiring Harness Required for Above
VT No. Use On
32-0587 1996-98 FXST, FLST
32-1334 1996-97 FXDWG
32-1335 1998 FXDWG, FLHR
39-0768 1996-97 FLHR
Tachometer
32-1336 1996-03 FLH, FXST, FLST, FXDWG
Speedometer Reset Knob
fits 1998-up models.
VT No. Item
39-0549 Reset Knob
39-0564 Reset Knob
39-0179 Reset Boot
39-0651
Installed
39-0768
Stock Replacement Electronic
Speedometer feature all OEM gauge func-
tions including check engine light. Fits all
1996-03 FLHR, FXST, FLST and FXDWG
models. Plug In installation for 1999-03
models and 1996-98 models will require
separate purchase of sub-wire harness that
will allow plug installation on 1996-98 wir-
ing harness. Gauge reads 0-120 MPH and
has LCD odometer. Replaces 67027-99.
Electronic
Speedometer
39-0610
FX-FXRS Gauge
Speedometer Head with 2240:60 ratio
for front wheel drive. Features readings of
10-120 MPH. Fits 1986-93 FXR.
VT No. 39-0934*
*Note: With auto turn signal switch
VT No.
Fits/Item
39-0372 10-150 MPH

31-3964 Speedometer bracket, chrome
39-0391 Lens only, each
33-0133 12V Bulb
Replacement Clear Lens replaces fogged,
cracked or broken lens on stock gauges 1982-83
FXR models. Cut off old lens and seal new one
in place. Sold each.
VT No. 39-0391
31-3964
Tachometer Replacement Type, 0-8000 RPM.
Order lamp separately. Fits 1983-87 FXRS,
Electric, 1987-93 FXRS-SP, FXRS-CON, 1983-
85 FXRT, Electric.
VT No. 39-0935
Speedometer Gauge Bezel. Chrome plated two
piece design bezel clamps around any large style
FLH, FXST, FLST or FXDWG Fatbob type 5" speed-
ometer.
VT No. 42-1049
39-0564
39-0449
39-0549
39-0179
Speedometer and Tachometer Combination with a 5" speed-
ometer featuring MPH numerals. Display shows engine speed,
segmented fuel level, gear position, tripmeter, miles-to-empty
and time. Features adjustable push button with multi-color
backlighting which allows for adjustment of the face. Mounts to
the stock dash opening with direct plug in installation. Mileage
must be updated at the time of installation, no programming
required.
VT No. OEM
Fits
39-0084 67313-05
39-0085 7090070B
2004-11 FXD, 2004-10 FXST,
39-0086 74774-11
2012-up FXD, 2011-up FLST
39-0084
39-0086
39-0085
Speedometers have full
black plastic case and include
brackets. Brackets, replace-
ment plastic lens, and fork
tube plugs for mounting
brackets and 12 volt bulbs are
sold separately.
80mm Electronic Speedometer with
a black body features a 0-140 mph
silver and black bullseye graphics on
the speedometer face. Gauge has dig-
ital RPM gauge and the mileage and
trip indicator on the face of the gauge.
The gauge also has indicators for high beam, neutral and turn
signals. Universal mounting bracket included. Fits all 1995-up
Twins with electronic speedometer; 95-up FLT, FXST, FLST,
95-17 FXD, 95-up XL.
VT No. 39-0617
39-0453
Stock Replacement Electronic
Speedometer.
VT No. Fits
OEM
39-0453 1999-03 FLHR 67033-99A
39-1128 2004-13 FXDWG

39-1130 2004-11 FXD,

VT No. Year
39-0449* 1999-03
Sub-Wire Harness
32-0587 1996-98
32-1334 1996-97 FXDWG
32-1335 1998 FXDWG, FLHR
39-0768 1996-97 FLHR
32-0587