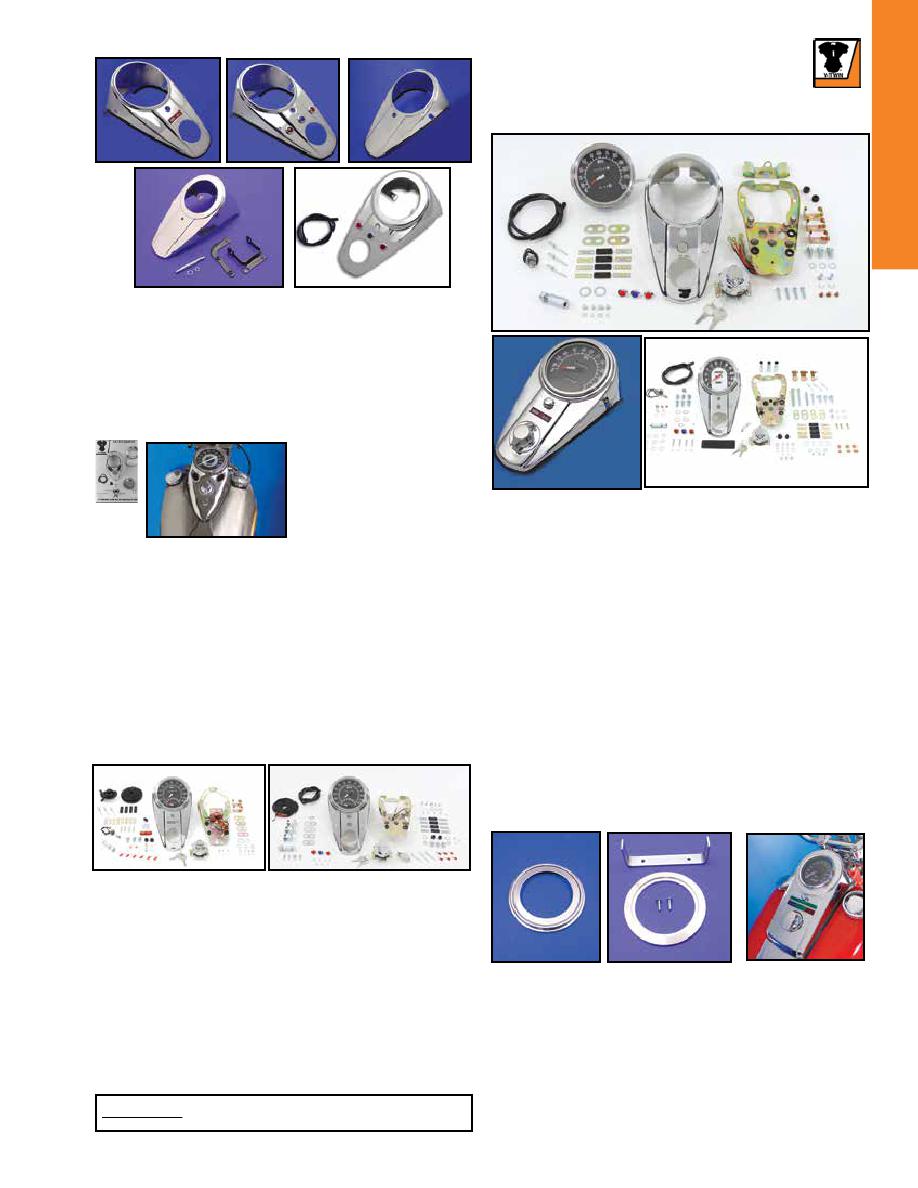 415
BIG TWIN
2 or 3 Light Dash Kit. Can be ordered with plain base VT No.
39-0138, or wired two light VT No. 39-0958, or three light base
with sockets and bulbs 39-0959. Includes either 1:1 or 2:1 ratio
speedometer and the correct 5 post key switch with 2 keys.
Order plainbase dash kit when it is not desired to rewire harness
for dash lighting. Choose proper cable for each application. Can
be mounted on 1984-95 FXST-FXWG models and 1991-94
FXDWG.
VT No. Type
39-0904
39-0951
3 Light Plain Base without Speedometer
39-0897
2 Light Wired Base without Speedometer
39-0905
39-0906
39-0907
39-0908
39-0909
39-0910
39-0911
39-0964
3 Light Wired Base 2240:60
39-0965
2 Light Wired Base 2240:60
39-0907
2 Lite
Dash
2 or 3 Lite
Dash Kit
Cateye Dash Kit is complete as illustrated. Packaged on 18"
x 24" board for point of purchase display. Can be ordered with
either plain 39-0129 base, or wired 39-0126 base with sockets
and bulbs. Includes either 1:1 or 2:1 ratio speedometer and
the correct five post key switch with two keys. Order plain
base dash kit 39-0129 when it is not desired to rewire harness
for lighting base included is 39-0129. Order cable separately.
Can be mounted on 1984-91 FXST and requires 39-0209
spacer kit.
VT No.
Type
39-0921 2:1 With Tachometer, includes wire base
39-0922
1:1 With Tachometer, includes wire base
39-0112
39-0129
Warranty- All Instruments sold as individual pieces or in kits are covered under our warranty
"Replacement Only" Provision. Gauge related item part numbers begin with a 39 prefix. No
credit will be issued for these items as they are exchange only.
Dash Panels
VT No. OEM
Type
Finish
39-0111 71271-56
39-0953 71271-56
39-0110 71272-62
39-0144 Without key switch hole Chrome
39-0893* Smooth 3 Chrome
39-0892* Smooth
*Note: Fits XL gauge. 91.5 mm opening for 95-00 XL-FXD Speedo
39-0144
39-0111
39-0892
39-0893
39-0910
V-Twin Dash Kits are available with the popular tach-speedo
combination included. Can be wired to 1978-up FX-FL models
with a tach that is triggered by coil impulse. See instructions
for tach wiring. Wired base includes light sockets and all hard-
ware for installation.
VT No.
Type
Ratio
39-0915
39-0916
39-0917
39-0918
39-0915
39-0918
39-0964
Speedometer Adapter Ring adapts to late model speedom-
eter into FLH style steel dash cover. FLH Dash is shown with
39-0130 adapter ring installed, adapter ring must be affixed with
an industrial adhesive for a leak proof seal. VT No's 39-0124 and
39-0192 include chrome ring and bracket to mount electronic
speedometer in FLH style dashes.
VT No. Fits
39-0130 FLH type, chrome
39-0124 1995-up XL and FXD includes mount bracket and
adapter ring to fit 2 or 3 light dash and cast dash.
39-0130
39-0124
39-0110