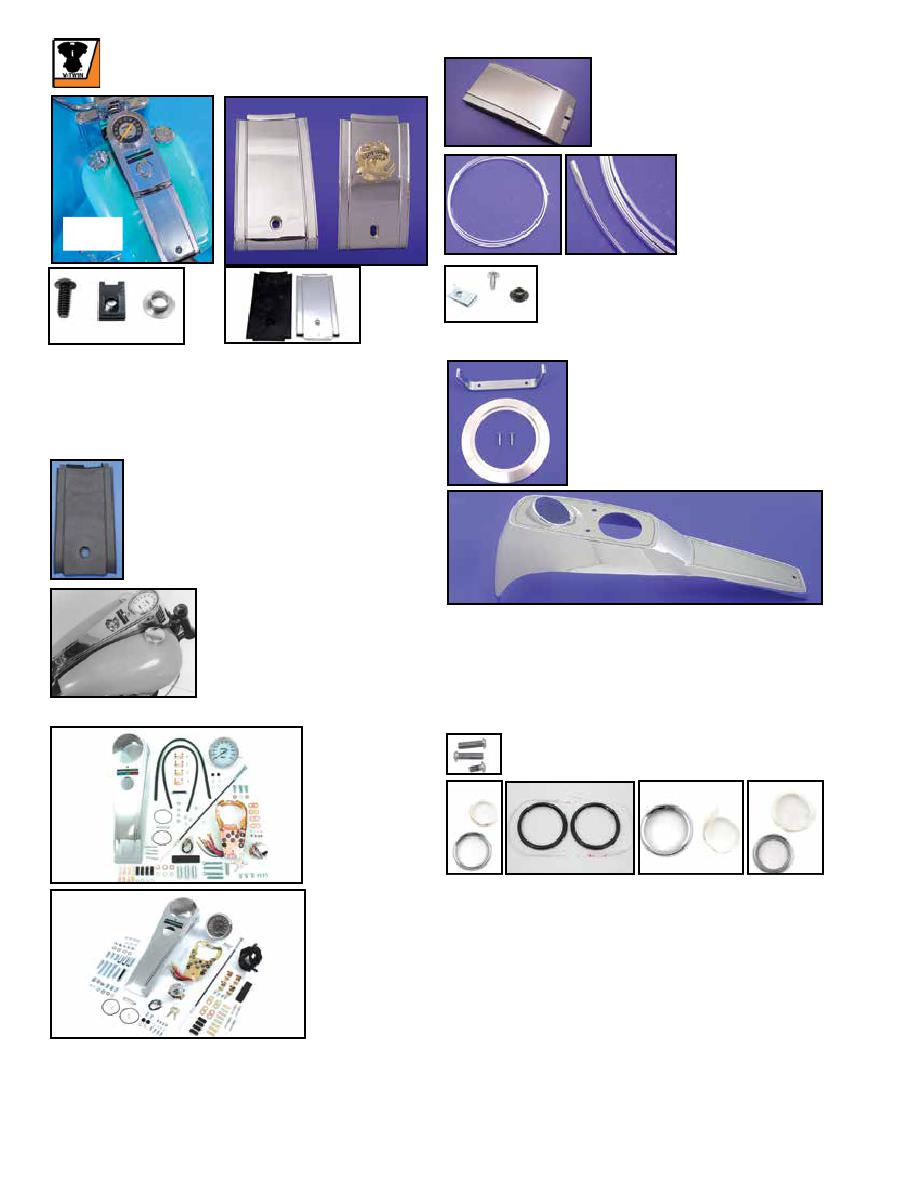 412
Long Rider Dash Complete Kit with speedometer and
switch for 1948-95 Big Twins.
VT No.
Ratio
39-0973
39-0974
Chrome Long Rider Dash Panel
is constructed of ABS plastic. Fits
bobbed tanks on 1968-95 FLH-FXWG-
FXST models. Rubber strip included.
VT No. 39-0450
Speedometer Adapter Ring fits 1995-
17 FXD. It includes mount bracket and
adapter ring to fit cast dash.
VT No. 39-0192
Chrome Dash Cover fits 1982-92 FXR, 1984-87 FXRS,
FXRT, 1986 FXRD, 1987-92 FXR, FXRT, FXRS-SP and
FXRS-CON. Replaces 61411-82. The two holes accept a fuel
gauge and gas cap.
VT No.
Item
39-0100 Chrome Cover
9014-3 Acorn Bolt Set
28-2238 Rubber Trim Strip
39-0100
Chrome Dash Panel Screws for 2005-up FXDWG.
VT No. 2346-3
FXST Tank Panel Mount Nuts and Screws.
VT No. OEM
Item
37-9128 61641-84 Bushings, 5 pack
37-8700 Screw
37-9129 Kit
Chrome Dash Panel Extension
extends the look of the dash on
2000-17 Softail models. Replacing
71283-01.
VT No. 39-0429
Tank Divider
39-0926
39-0928
Chrome Die Cast Tank Trim Panels replace existing rubber
divider on 1984-99 FXST-FLST with die cast dash.
VT No. Years/Model
Type
39-0926 1984-99 FXST Chrome
39-0928 1984-99 FXST Gold Inlay Eagle Spirit
28-0433 Rubber Pad fits B, C, D
37-9129 FXST
39-0926
Installed
Chrome Panel Edging
slips on sheet metal
dash panels and hub
cap edges for decora-
tive use. Sold in a 10
foot roll.
VT No. 37-8943
Tank Panel Black Rubber Divider for 1984-
99 FXST models.
VT No. 28-0714
37-9129
37-9129
39-0973
39-0974
39-0926
Chrome Black
Fits Gauges
Years/Models

39-0702* 39-0703* Speedo & Tach 1996-99 FLHT, FLTR
39-0700
Speedo & Tach 2000-13 FXD,
39-0704** 39-0705** Volt, Air Temp 1986-13 FLHT, FLHX,

39-0700
39-0702
39-0704
Instrument Gauge Bezel Cover take just seconds to install
and add beauty to your dashboard. Available in chrome or
black finish. Include adhesive tap for easy press in place instal-
lation. *
*Note: Cover fits 2" diameter gauge. *Note: 39-0702 is
sold as each and 39-0703 is a set.
39-0703