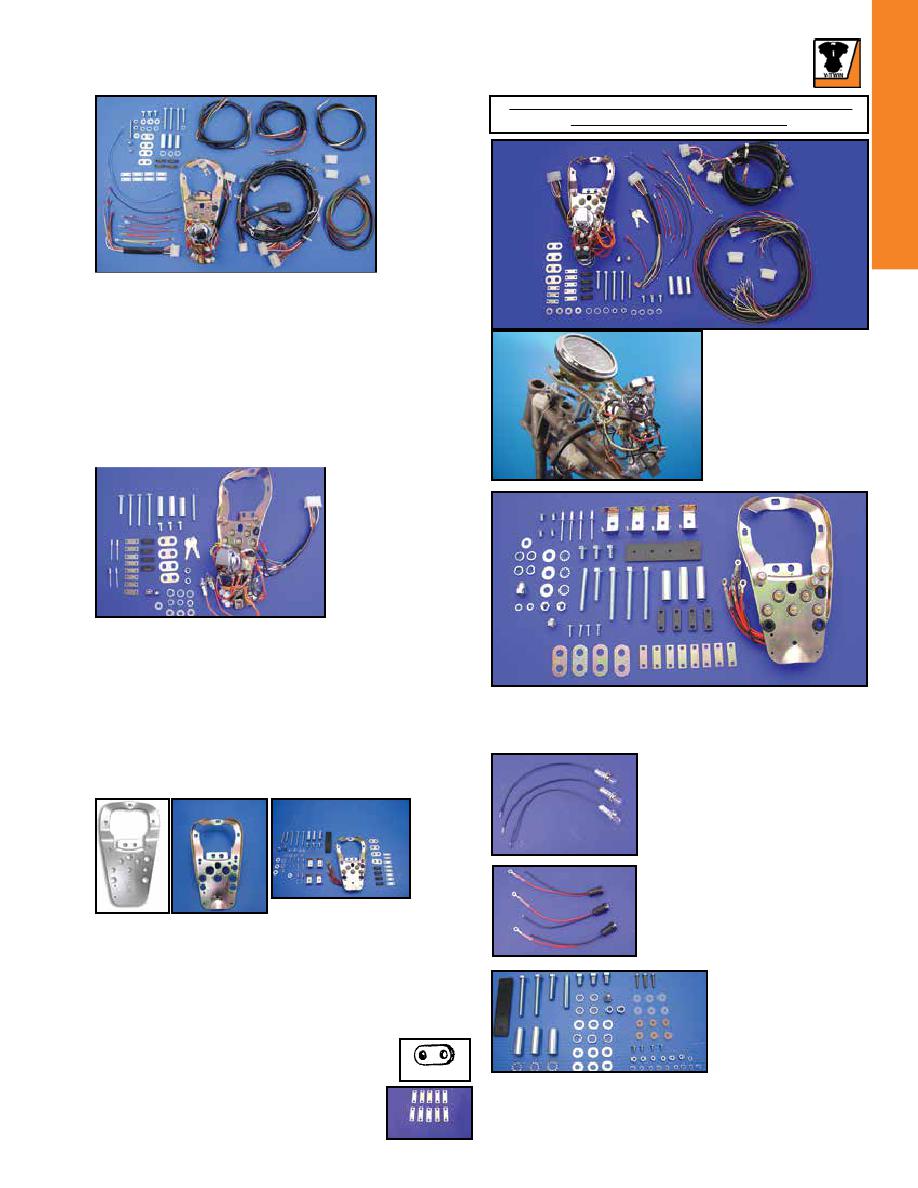 411
BIG TWIN
Wire Harness/Dash Base Assembly
39-0194
Note: Order the appropriate factory service manual to
facilitate wire harness installation.
39-0968
Relax...We've done
your homework on this
one!
FXST Builders Harness/Dash Base Assembly. Builders
Harness includes all correct color coded high tension wires,
handlebar wires and tail lamp wires for years listed. Dash base
assembly includes wired base, 6 post switch, circuit breakers
and flashers. Allows use of either the turn signal canceler VT
No. 32-7508 (not included) or flasher VT No. 33-0399.
VT
No.
Item
Year
39-0968
Dash Base Assembly 1987-95
32-0675
32-0456
32-0726
Wiring Harness /Dash Base Assemblies include complete
harness pre-wired to 5-light dash base, 6 post key switch, ter-
minal box, horn button, dimmer switch, headlamp connection,
speedo lamp socket and front terminal board when required.
VT No. 39-0193 uses 39-0399 flasher (included). 39-0191
requires use of 32-7508 turn signal canceler available sepa-
rately. The 1987-95 assemblies require purchase of handlebar
switch wiring.
VT No.
Year/Model
39-0193 1987-88 FXST-FLST
39-0194 1989-90 FXST-FLST
39-0191 1991-95 FXST-FLST
Dash Mounting Plates available plain, less wiring and sock-
ets, or complete with sockets and hardware.
VT No. # Type
Dash Year
39-0138 A Plain only
39-0944 B Base only Cast
39-0960 C Assembled Cast
Dash Plate Ignition Switch Spacers are for spacing dash
base and switch in relation to tanks, packs of 10.
VT No.
Size
Tyxpe
39-0420 .030"
39-0421 .060"
39-0422 .120"
39-0118 .040"
A
B
C
Light Sockets available with steel or
plastic body. Bulbs are included.
VT No. Item
33-0129 1 wire, 3 pack, steel
33-1983 2 wire, 3 pack, plastic
33-2007 2 wire, 3 pack, steel
33-0534 2 Wire, Insulated type, pair
33-0531 Speedo socket 12V
33-0537 1986-95
33-0138 12v bulb, 10 pack
39-0422
39-0118
Assembled Dash Bases are wired with all sockets.
VT No. Item Year
39-0960 Cast 1968-95
33-0133 Bulb 1965-up 12 Volt
39-0960
33-0129
Dash Mount Hardware
includes bolts, spacers
and hardware to install
1948-98 type dash mount
bases on 1984-98 FXST-
FLST models with flat
side tanks.
VT No.
Item
39-0209 Kit
39-0210 Spacer, Front
39-0214 Spacer, Rear
39-0209
33-1983
39-0193
Note: Order
speedometer
separately
.
39-0191