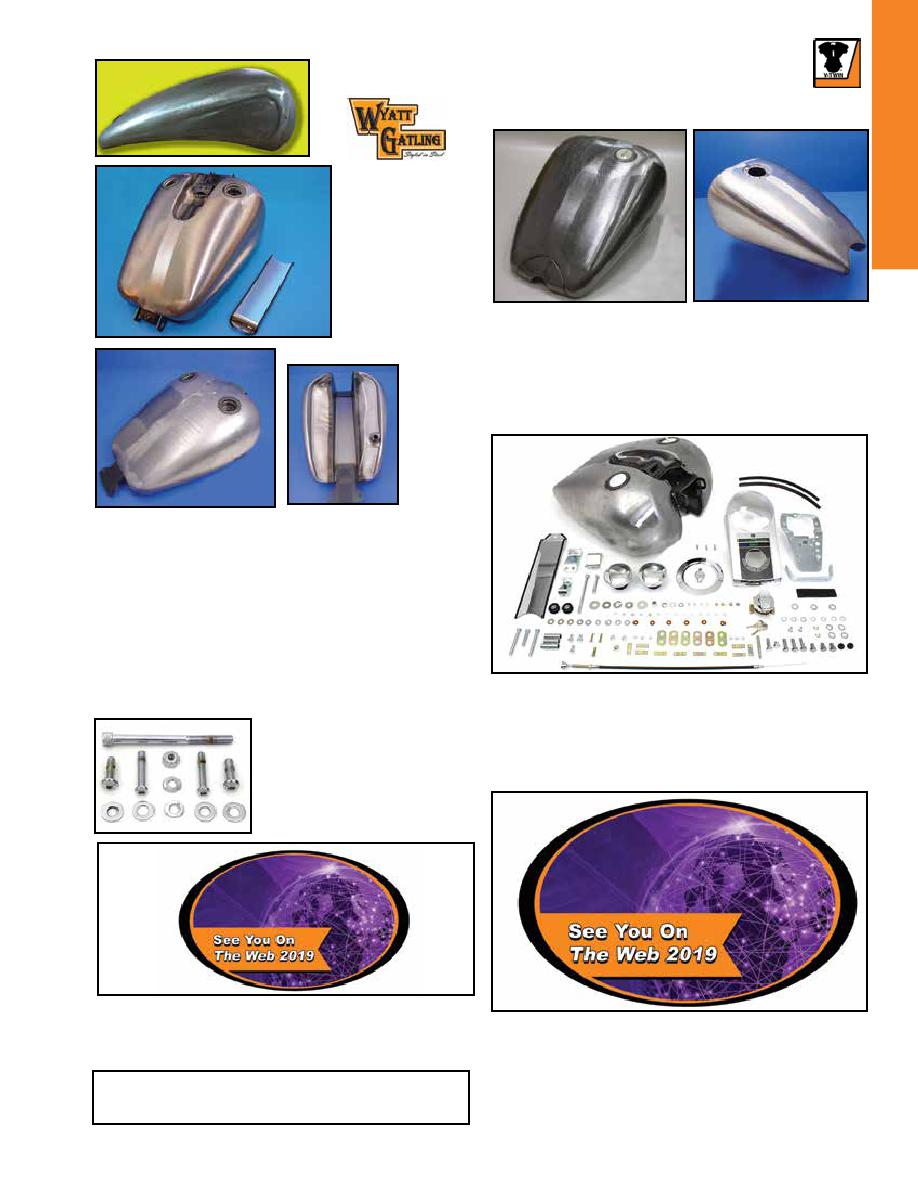 409
BIG TWIN
Bobbed Tank
for Softails
38-0273
Smooth One-Piece Tanks fit 1984-99 Softail models are 4.2
gallon, stretched and includes hardware for mounting. Order
stock bung caps separately. Some seats may not match up.
VT No. 38-0155 is a 2" stretch 1 piece tank with a 2" extension
welded on. 38-0273 does not have seat cut out.
VT No. Cap
Stretch Sides
38-0273 Single
38-0194 Single
Indented Side
Panel Styles
Bobbed Tank Kit for 1995-05 FXD models are 4 gallon avail-
able with chrome cast dash assemblies which include a Bob
type 6 post key switch and a plain dash base. Pre 1995 units
include a Bob speedometer. 38-0178 kits include an adapter
ring to allow reuse of the existing electronic speedometer.
Chrome caps included.
VT No. 38-0178
Bobbed Gas Tank for 1990-05 Dynaglide and 1982-94 FXR
are a one piece, 4 gallon unpainted tank with dash cut out
which includes a chrome dash panel. It bolts on with no addi-
tional hardware. Tank with dash cut out requires purchase of
complete dash kit.1996-05 FXD models require purchase of VT
No. 39-0124 Speedometer Adapter to reuse existing speedome-
ter in a bobbed dash. Tank will accept stock dash from 1991-96
FXDWG. Smooth tank fits 1991-05 all FXD-FXDWG.
VT No. Dash Cut Model Years
38-0123 With
38-0081 Without FXR 1982-94
Tank Assemblies sold with "Plain Dash Base" are not designed to be
wired for instrument lighting. Dash bases VT No. 39-0959 for 3-light and
VT No. 39-0960 for cast dash are available separately for builder requiring
dash lighting.
38-0178
38-0123
38-0194
Allen Type Gas Tank Mount Kit fits
1988-94 FXRS.
VT No. 37-9294
38-0081
Fuel Tank Sending Units are digitally calibrated for accura-
cy.
VT No.
OEM#
Fits
35-0710 75034-82
35-0714 75300-05
2005 FXSTI, FLSTI, FXSTSI, FLSTFI
35-0710
35-0714
Fuel Gauge.
Fits FLHR 2008-UP
Chrome Black
38-0506 38-0507
38-0506
38-0507