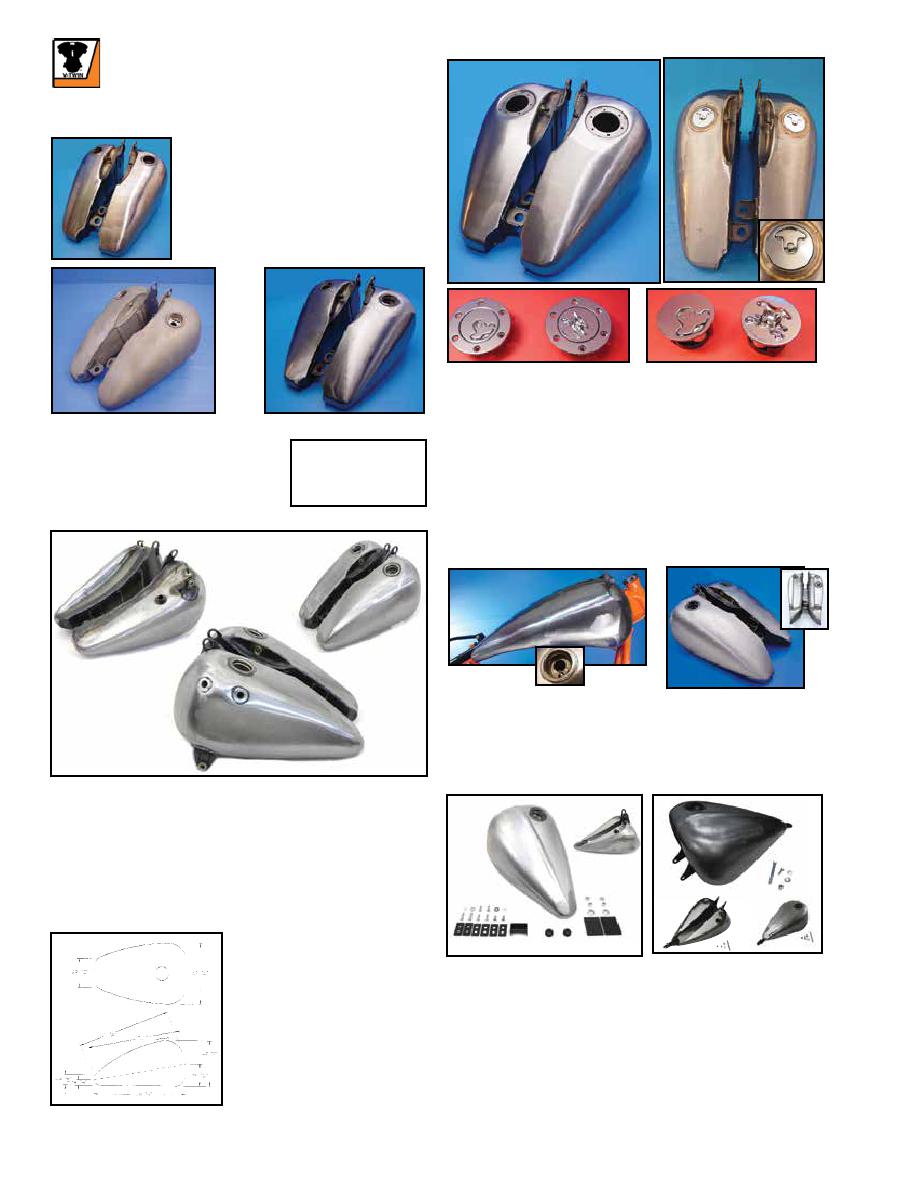 408
For Measurements of Our Gas Tanks
see our website www.vtwinmfg.com
Bobbed Gallon Flat Side Mount Tanks
fit 1984-99 FXST-FLST or other flat side
mount systems. Updated shape has taper
from front to rear. Available to accept
VT No.
Gallon
38-0152 5
38-0129 6
Bobbed Tank for
1984-99 Softails
Bobbed Gas Tank Set fits 1984-99 FXST-FLST models, fea-
VT No.
Size
Item
38-0120
38-0566
38-0121
38-0122
38-0321
Note: 38-0122 tanks require
leather pressed steel or the
flexible tank dividers as the
tanks have slightly different
shape than stock.
38-0121
38-0120
Air Craft Cap Style Bobbed Gas Tank Sets fit 1984-99 FXST-
FLST or other flat side tank mount systems. Updated shape is
tapered from front to rear. Filler neck available as
"Bolt In" with
insert held in place by 6 chrome allen screws or
"Weld In" where
insert is welded in place. Order appropriate caps separately.
VT No.
VT No.
(B) Bolt In
(A) Aircraft
Gallon
38-0144
38-0157 5
38-0348
38-0337
38-0348
38-0337
B
38-0144
B
A
38-0152
Stretch Bobbed Tank Set includes flat side style tank. The
"stretched" rear section of the tanks does not hold gas. Fits
1984-99 Softail models. VT No. 38-0280 features seamless
stretched portion. 5.2 gallons.
VT No. 38-0280
38-0280 features smooth one piece
side panels in 5.2 gallon capacity
38-0280
Installed
Stretched
Stock
Bung
Important Gas Tank Information: All tanks are shipped unpainted unless otherwise noted.
Caps and petcocks are not included. Carefully check the new tank for flaws and fit before
painting.
Do not grind or sand the seams or joints. Clean the inside of the tank and it is
suggested to pressure test and use a tank sealer. Check petcock openings, making sure the
petcock can be easily installed. Use proper hardware to mount tank, including the bushings,
brackets and spacers required for assembly. Tedd Cycle, Inc. is not liable for paint work or
labor claims of any kind. Tedd Cycle, Inc. is not the manufacturer of the gas tanks.
Fat Bob 3.5 Flatside Bobbed Tank Set features handshift
gate provisions to fit early style gates for 1936-46. These flat
side tanks feature screw type bungs. Order caps separately.
Petcock fitting should be masked or plugged during painting for
easy installation. The side tank features side shift tank mounts.
For use with cateye 1936-1946 type shifter gates or the conver-
sion gate for 5 and 6 speed models, smooth type.
VT No. 38-0566
Bobber Tanks for Softails brackets included. Order cap sepa-
rately.
VT No. Year
38-0637 1984-99
38-0638 2000-05
38-0566
38-0638
38-0637
A