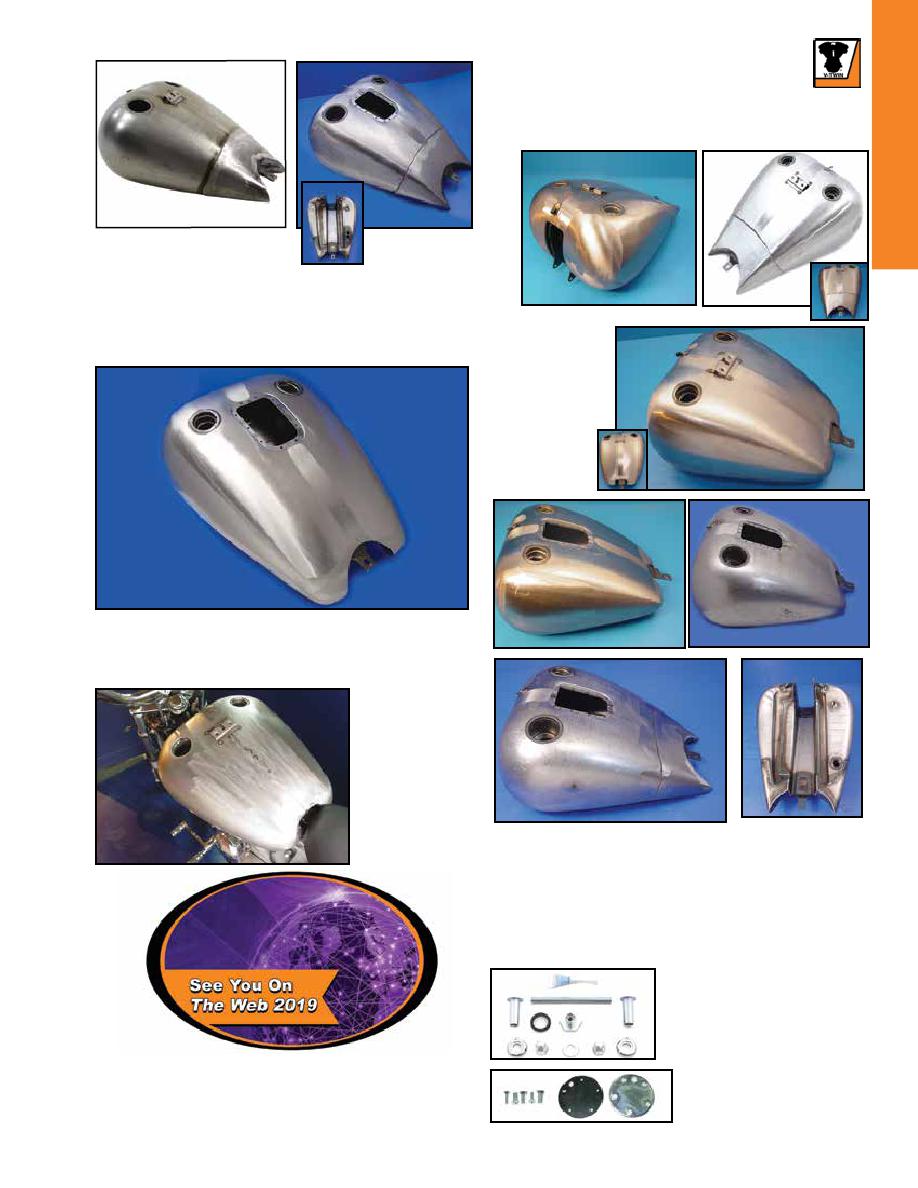 407
BIG TWIN
2000-17 Tank Mount Kit includes
all hardware bushings and front
bolt with chrome cap nuts.
VT No. 37-9367
VT No. Type Model
Year
38-0370* Stock Carburetor 2000-06
38-0371* Stretch Carburetor 2000-06
38-0372* Stock EFI
38-0798** Stock EFI
38-0261** Stretch EFI
2000-06 Stock
Type Bobbed for
carburetor models
features right side
cap and left side
fuel gauge.
Accepts fuel gauge
38-0332.
VT No. 38-0376
Bobbed Tank for
2000-17 Softails
Note: 2004-up Softail models use electronic fuel injected tank.
38-0261
2000-17 One
Piece Bobbed
Gas Tank for
38-0370
38-0372
38-0798
38-0371
Block Off Plate fits 38-0261.
VT No. 38-0878
*Note: Utilizes right and left bung caps, does not have provision
for installing OE fuel gauge.
**Note: Has provision to fit OE fuel gauge in left hand bung hole.
Bobbed Stretch Tanks fit Softail models will accept left side
fuel gauge.
VT No. Type
Year
38-0379 Carburetor models 2000-03
38-0380 EFI models
Carburetor models 2004 only
38-0379
2000-06 Softail 2" Stretch Tank is 4.2 gallon. Tank has right
and left bungs, and has a left side fuel line fitting
VT No. 38-0388
Note: 2004-up carburetor models use electronic fuel injected
tanks.
38-0388
38-0261 Bottom
38-0380
38-0371
Replica FXBB Gas Tank features a raw finish and accepts a
stock gas cap, mount hardware and fuel injection units.
Fits 2018-UP FXBB, FXBR.
VT No. 38-0532