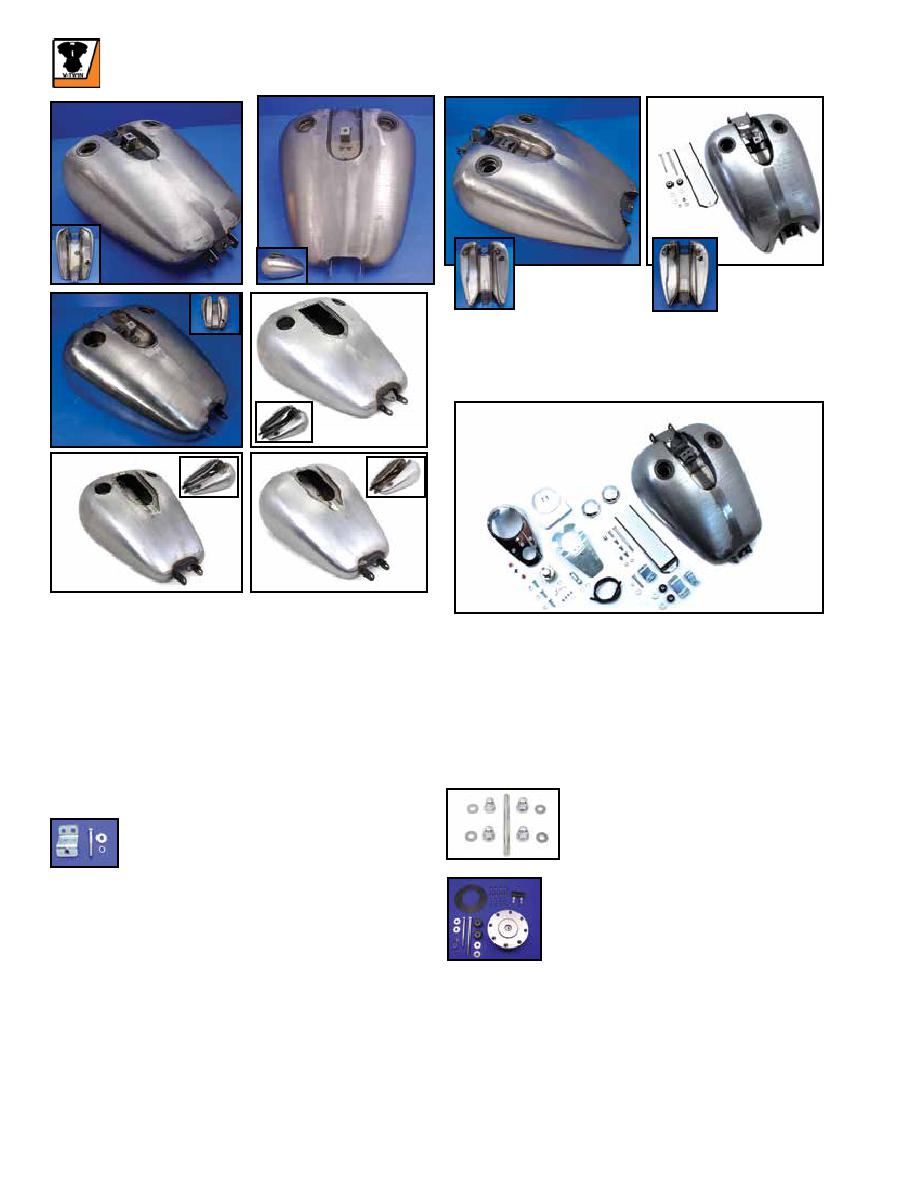 406
Bobbed Gas Tanks for FXD and FXDWG models with carburetor
or EFI. Available with left side stock fuel gauge or right and left
screw bung.

Fits
Carb or
VT No. Year/Model
EFI
Gallons Left Cap Type
38-0374 1996-05 FXDWG Carb
38-0829 1996-05 FXDWG Carb
38-0822 1996-05 FXDWG Carb/EFI 5.1
38-0548 2004-05 FXDWG EFI
38-0545 2006-17 FXDWG EFI
38-0547 2010-17 FXDWG EFI
38-0549 2010 FXD
2" Stretch Tanks fit FXDWG models with stock dash. Tanks
accept right and left side bung cap set.
VT No. Year
Gallons
38-0257 1991-95 4.0
38-0271 1996-05 3.7
Bobbed Tank for Dynaglide
2" Stretch One Piece Tank fits 1991-2005
FXD-FXDWG carburetor models. 38-0580
includes aircraft cap installed. VT No. 38-0174
accepts vented bung cap.
VT No.
Type
38-0426 Cap with key
FXDWG Dash Bracket will accept 2000-up elec-
tronic dash and speedometer plus FXDWG OEM
electronic dash 71246-95 and 71246-99.
VT No. 31-0803
38-0257
38-0374
Gas Tank Mounting Kit includes chrome
custom acorn nuts, washers and studs.
Mounts gas tank on 1991-05 Dynaglide.
VT No. 2076-10
38-0545
38-0829
38-0271
38-0822
38-0547
38-0549
Bobbed Gas Tank Kit for Dynaglide models. Features one
piece 4 gallon design, which includes chrome bung style late
caps, and all necessary mount hardware for installation. Kit
also includes a complete 3 light dash kit which includes a
plain dash base without wiring, Bob style speedometer, a 43"
speedometer cable for front wheel drive application and a late
Bob type 6 post chrome key switch. Units for 1995-up do not
include speedometer or cable, but include bracket to mount
stock electronic speedometer.
38-0190
VT No.
Years
Model
38-0190 1995-05 FXD