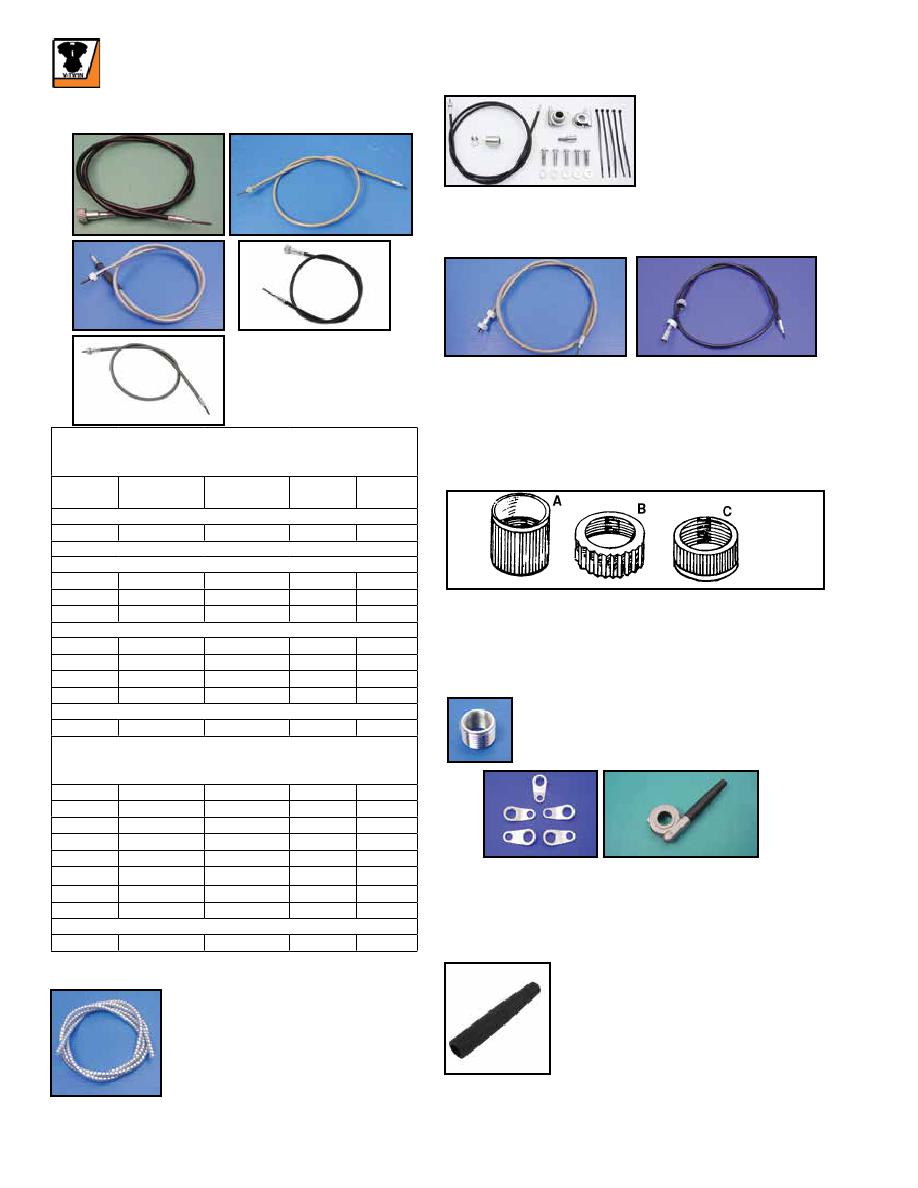 402
Bob Dash Speedometer Cable adapts to speedometer with
⁵⁄₈
" outer diameter male thread, and front wheel drive.
VT No. Length Housing
36-0607 39½"
36-0126 39½"
36-0610 42½"
36-2548 42½"
Speedometer
Cable
Cable Adapter allows use of ⁵⁄₈" cable on 12mm
threaded speedometers.
VT No. 36-0507
Replacement Speedometer Cable Nuts for front wheel drive
cables and available in 5 packs.
VT No.
# Type
Model
36-0397 A 12mm
36-0396 B 16mm Fine
36-0515 C 16mm Course ⁵⁄₈" NPT
Speedometer Cable and Cable Mount for front wheel drive
models 1973-up in 5 pack.
VT No.
OEM
Item
31-0149 38623-68 Chrome Bracket
28-1998 66996-85 Cable Boot
31-0149
28-1998
The Rubber Cable Boot helps secure
cable screw in threads by reducing vibration
at cable end on all front wheel drive cables.
Drive not included.
60" Chrome Cable Wrap is a classic
1950's style dresser trim item. Inner diame-
ter size noted. Sold each.
VT No.
Size
36-0520 5mm
36-0521 6-7mm
36-0525 10-11mm
36-0621
36-0607
36-0126
Black
36-0122
36-0127
36-2552
36-2527
Stainless
1986-95 Rear Wheel 2.1 Ratio
Speedometer Drive Kit fits
FXST-FLST models left side.
Use on applications when front
wheel drive unit cannot be
installed. Accepts speedometer
with 12mm fitting.
VT No. 36-0615
Speedometer Drive Kit
Front Wheel Drive Speedometer Cables.
Choose by application or by length and top nut size.
Available in black vinyl, stainless or clear coated stainless.
Black
Vinyl
Stainless
OEM
Length
Top
Nut
L1984-87 FXE 1985 FXEF Models.
36-2552
36-2527
1987-94 FXR-FLXR, 1984-86 FXRS, 1984-86 FXSB,
Replaces OEM 67078-85A, 67051-73 and 67052-78A.
36-0606
—
36-0813
—
—
36-0120
1987-93 FXRS/SP, Con.
36-2414
36-2529
—
36-0121
36-0815
—
36-0608
67052-78B
1987-92 FXRT.
36-2410
—
1984-95 FXST-FXSTC-FXSTS, 1984-95 FXWG, 1993-94
FXDWG, 1991-94 DG. Replaces OEM 67038-84, 67024-
84A, 67186-88C.
36-2416
36-2532
—
36-0122
36-0603
—
—
36-0123
36-0814
—
36-0604
—
36-0605
—
36-2411
36-2533
1987-95 FLST Models.
36-2417
36-2428