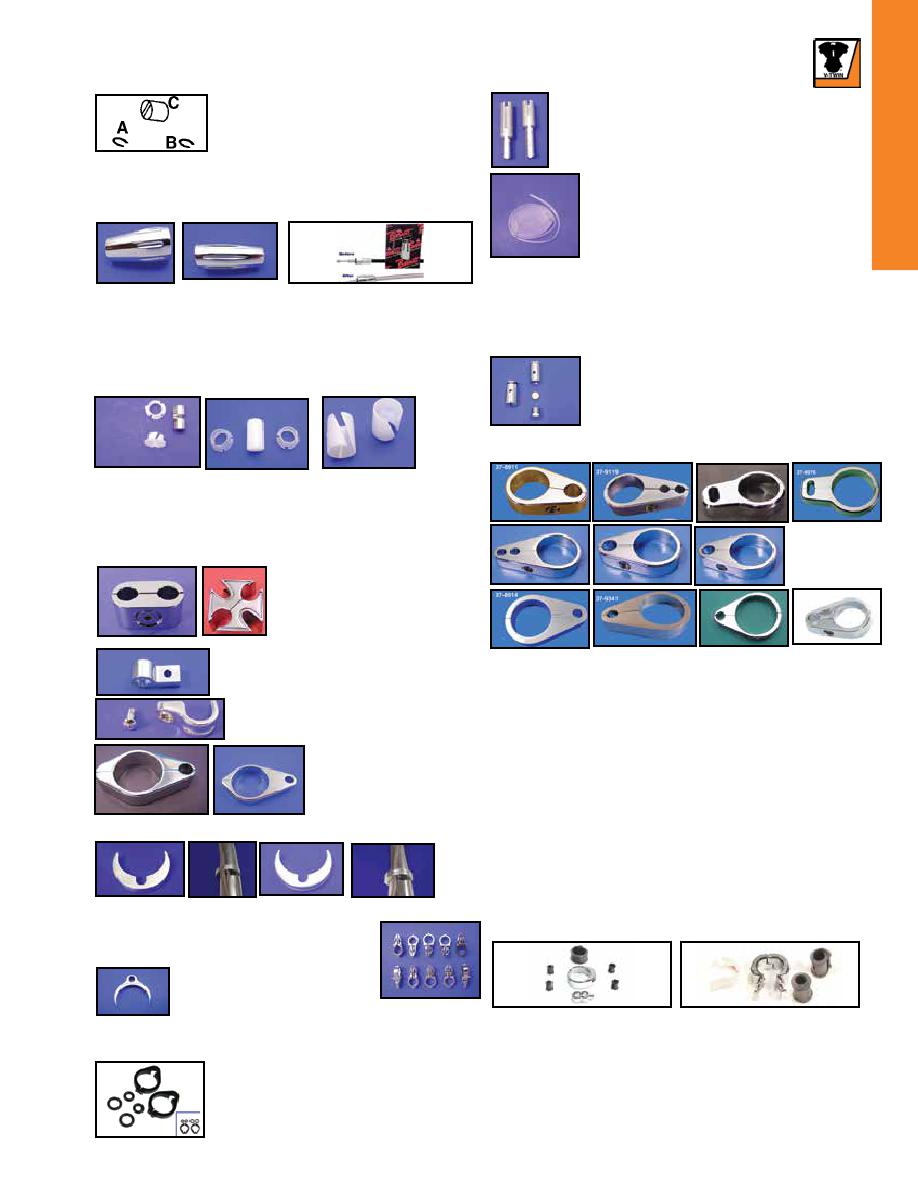 401
BIG TWIN
Throttle Cable Adapter Kit is used when fitting
pre1990 Edelbrock Qwiksilver carburetor on 1990-98
Big Twin with stock throttle cables. Use on 1996-up
S&S series carburetor to allow use of stock cables.
VT No. 36-0542
Throttle Idle Clips, Cable Retaining Clips
& Ferrules. Sold in 10 pack.
VT
No.
#
OEM
Item
Year
36-0527 A 11272
36-0528 B 11271
36-2480 C 56508-76 Throttle/Idle Ferrules
Lever Pins/Bushings
VT No.
OEM
Item
U/M
26-2130 45032-82 Pin 1982-84
26-2132* 45036-88 1988-up with Bushings
36-2559 45423-92 Lever Bushings
*Note: Veloprene coated pin fits 1988-up eyelet clutch cables
Chrome Clutch Cable Adjuster Cover fits 1987-up Big
Twin. Installs over adjuster at clutch adjustment cover. Locks
in place with stainless steel set screw. Will retro fit Barnett or
stock cables.
VT No.
Type
Style
36-0578 1982-up Upper
36-0579 1987-06 Lower
36-0578
36-0579
Braided Cable Heat Shrink Tubing. Clear heat
shrink tubing for use on all braided stainless steel
cables to prevent cable from scratching painted
or chromed surfaces while still keeping that braid-
ed steel look. Kit contains 4-16" long heat shrink
tubes to cover 2 throttle cables, 1 clutch and 1
speedometer cable. Bulk tubing is in a 10 foot roll.
VT No.
Item
40-0015 Cable Sleeve Kit
40-0019 3/8" x 10' Roll
40-0021 3/4" x 10' Roll
Cable Clamp is fitted to hand lever for emer-
gency or permanent use. Easy to install .460"
diameter, pair.
VT No. 26-0509
26-2130
26-2132
36-2559
37-0883
Chrome and Billet Clamp
Chrome Stock Billet Brake Clip.
Replaces 91336-03. Fits FXST.
VT No. 36-0351
Chrome Dual Throttle Cable
Separator is two clamp piece
design. 2-holes.
VT No. Style
31-9942 Oval
36-0588 Maltese
37-0887
36-0351
Chrome Billet Clutch Cable Mount fits
Softail models.
VT No. 31-0945
Chrome Billet Cable Clamps
sold each.
VT No. Size Type
37-0883 1"
37-0887 41mm Clutch
37-0897 39mm Clutch
31-9942
36-0588
Chrome Cable Clamps. Unique two piece design allows easy instal-
lation. Swivel head design allows more natural cable routing without
excessive bending. Rubber sleeves protect painted surfaces and cable
housing. Clamps fit handlebars and aftermarket frames.
VT No.
Size
Holes Type
31-0296 1¹⁄₄ -1¹⁄₄" Dual Throttle/Clutch
31-0337*
" (8mm) and ¹¹⁄₃₂" (9mm cables)
31-0338* As Above
*Note: Cable holders only are for use with 31-0296 and 31-0297
31-0337
Chrome
Handlebar Wiring
Clips snap into late
model stock bars
with holes at bends.
10 pack.
VT No.
Size,
Inner Diameter
36-0613 ³⁄₈"
36-0614 ¹⁄₂"
41mm Push On Fork Tube Clamps to secure speedometer cables
and brake lines.
VT No. Style
31-0315 Smooth
31-0316 Groove
31-0315
31-0316
Cable Clip with ⁵⁄₁₆" hole snaps
on fork tubes to hold cables
and brake hoses.
VT No. Fork Tubes
24-0497 41mm
24-1024 49mm
Black Cable Clamps
fits 1¹⁄₈" to 1¹⁄₄" bars.
VT No. Type
37-1511 Throttle
37-1512 Clutch
31-1010
Chrome Cable Clamps are 2-piece design for securing
cables or wires to frame and forks. Sold each. As noted for
VT No. Size
Holes Type
37-9119 1"
31-9943 1"
37-8976 1¹⁄₄"
37-9501 1¹⁄₂"
37-9502 1³⁄₄"
37-9503 2"
37-9396 1¹⁄₄"
37-9398 1¹⁄₄"
37-8911 1"
37-8915 1¹⁄₈"
37-9359 1¹⁄₄"
37-8913 35mm (1³⁄₈") 1 Clutch
37-8914 39mm
37-9341 41mm
31-1010 49mm
37-9396
37-9359
37-8913
37-8915
31-9943
Cable
31-0296
31-1010