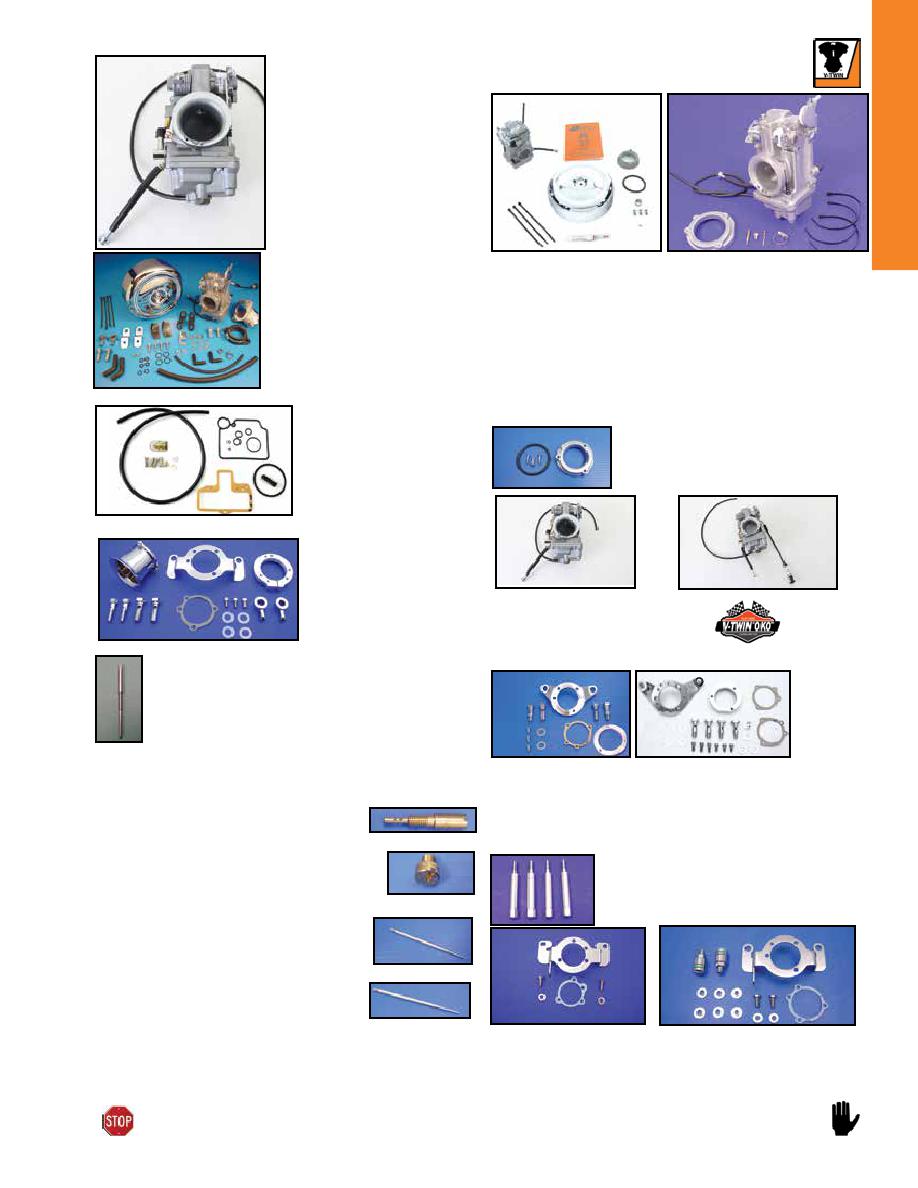 395
BIG TWIN
Mikuni HSR 42 Carburetor Easy Kits for all Evo and Twin
Cam Big Twins. Partial kit includes carburetor, air box adapter
and instructions.
VT No. Fits
Note
35-9315 1996-99 Evo Big Twin
35-9319 1999-06 Twin Cam
Mikuni Carburetor
Chrome Carburetor Support Bracket fits HS 40/42 for 1984-
99 Evo Big Twin.
VT No. Item
31-0686 Bracket Only
34-0852 Bracket with Breather Unit 92-99
35-9319
Chrome Float Bowl Speed Screws fit all
Mikuni HSR 42, 45 and 48mm carburetors.
Set of four machined stainless screws.
VT No. 35-0259
34-0852
31-0686
Chrome Billet Carburetor Bracket features integral breather,
includes flange ring, and accepts CV style air cleaners.
VT No. Item
34-0445 Kit
34-0460 Kit
34-1261 Flange Ring
34-0445
34-0460
Sifton HSR42/45 Idle Speed Knob features stainless
construction with knurls for hand adjustment.
VT No. 35-0543
HSR-42 Velocity Stack Kit
includes chrome bracket,
stack and adapter ring.
VT No. 34-1101
Main Jets
35-0806 150.0
35-0807 152.5
HSR-42
HSR-45
Jet Needles
Jet Needles
VT No.
Size
VT No.
Size
35-0815 95
35-0818 95
35-0816 96
35-0819 96
35-0817 97
Jets
35-0800
35-0806
35-0815
35-0818
35-9315
Air Cleaner Adapter Plate will adapt any
CV style 3-bolt air cleaner to the Mikuni as
noted. Fits 42 and 45 mm CV.
VT No. 34-0834
Carburetor Rebuild Kit for
Mikuni carburetor includes
flow fuel hose, throttle valve
seal, float bowl seal o-ring,
and carburetor top gasket.
Custom application for HSR-
42/HSR-45 carburetors.
VT No. 35-0821
35-0821
Important Note: Some items on this page may be emission-related parts subject to California or other emission control laws. Please see
note on for important information regarding emission control regulatory compliance and warranty information.
Mikuni HS and HSR
Jets.
Pilot Jets
VT No.
Size
35-0800 22.5
35-0801 25.0
35-0802 27.5
35-0803 30.0
35-0805 35.0
Mikuni HSR42/45 Total Kit for
Big Twins. These kits are com-
plete with all required parts for
installation. Kits include HSR
42mm or 45 mm carburetor,
intake manifold, rubber flange,
K&N filter, chrome cover, breath-
er kit and mounting hardware.
Models from 1990-up use stock
throttle/idle cables and 1984-89
models require 1990-up cables.
35-9342
35-9344
OKO Flat Side Carbs
35-9347 42 mm
35-9349 42 mm
35-9342 42 mm
35-9344 45 mm
HSR42mm
35-9327 1999-up Twin Cam
HSR45mm
35-9324 1999-up Twin Cam
35-9322 Rebuild Kit

35-9342 OKO (42 mm)
35-9342