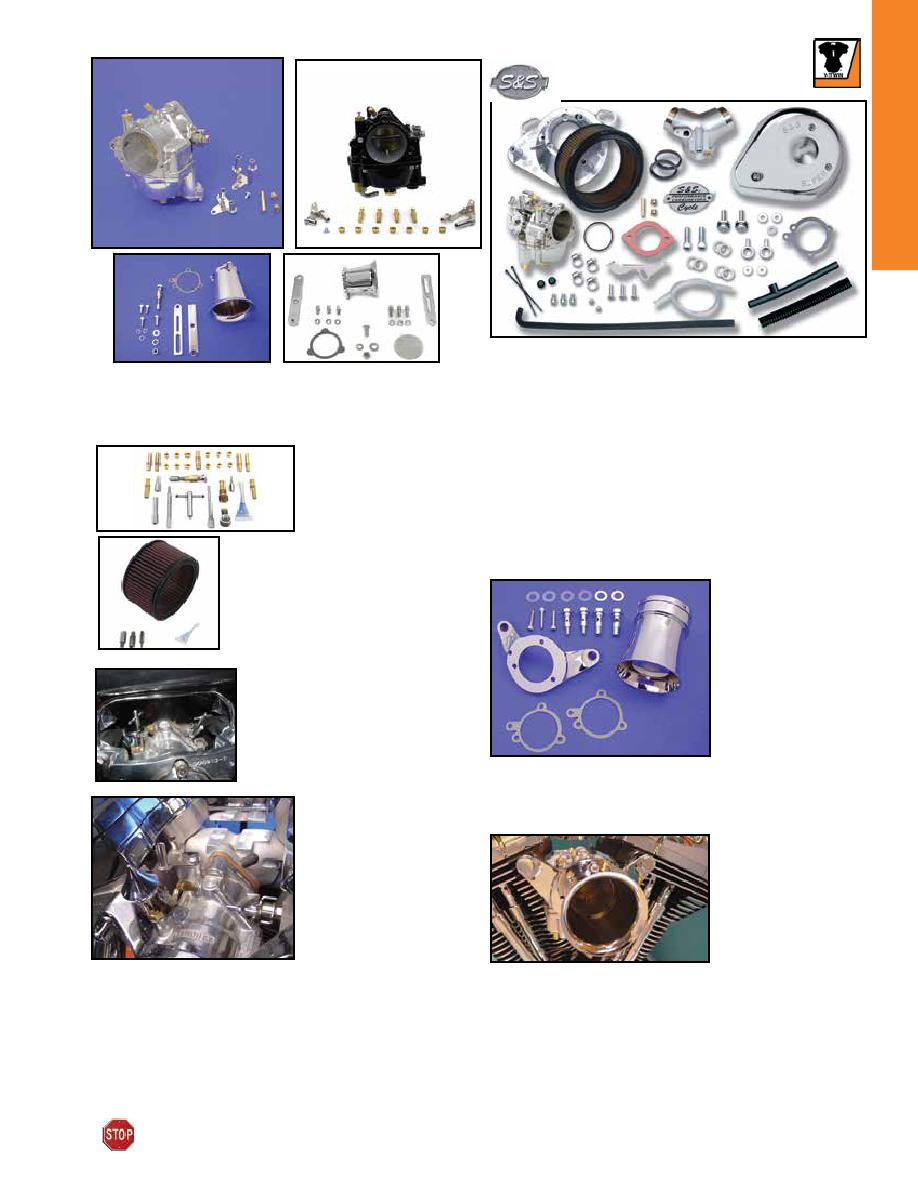 393
BIG TWIN
S&S 1⁷⁄₈ Super 'E' feature adjustable volume pump, enrich-
ment device for ease of starting and a throttle spool assembly
designed for late 2 cable operation. Supplied with tear drop air
cleaner, mounting bracket and black fuel line. Super 'E' carbure-
tor is approximately 1⁷⁄₁₆" shorter than the Super 'B' carb, making
installation length of the Super 'E' the same as stock. Can be
used with 3.5 or 5.0 gallon Fatbob tanks. The 1⁷
stock applications. Intake manifold clamps or flanges must be
purchased separately when they are required.
1⁷⁄₈ 'E'
Fits
35-0004 1984-92 Big Twin Evo
35-9229 1993-98 Big Twin Evo
35-0471 Carburetor Only, Natural
35-1050 Carburetor Only, Black
2596-13 Allen Screw Kit
Super 'E'
Billet Velocity Stack fits 34-0662 bracket. Stack includes
inverted cone filter element.
VT No. Item
34-1179 Bracket
34-0593 Kit
35-0471
Chrome Velocity Stack Kit includes bracket with integral
breather passages. Enricher knob included. Fits S&S E.
VT No.
Model
34-1166
34-1179
35-1050
34-1166
Important Note:
Some items on this page may be emission-related parts subject to California or other emission control laws. Please see
note on for important information regarding emission control regulatory compliance and warranty information.
Chrome Velocity Stack Kit includes stack, bracket and enrich-
VT No. Type
Size
34-1165 E & G
34-1177 B
34-1165
34-1177
"E" Series Carburetor
Upgrade Kit.
VT No. 35-9191
Hi-Flow Air Cleaner Element fits S&S E
air cleaners. Kit includes washable 3.5"
high filter and mount studs.
VT No. 34-0653
Throttle Cable Adapter
Block
VT No. 36-0546
Accelerator Pump Adjusting Screw
Set allows adjustment of idle and
accelerator pump by these tee bar
style screws for ease of adjustment.
VT No. 35-0217
34-0593