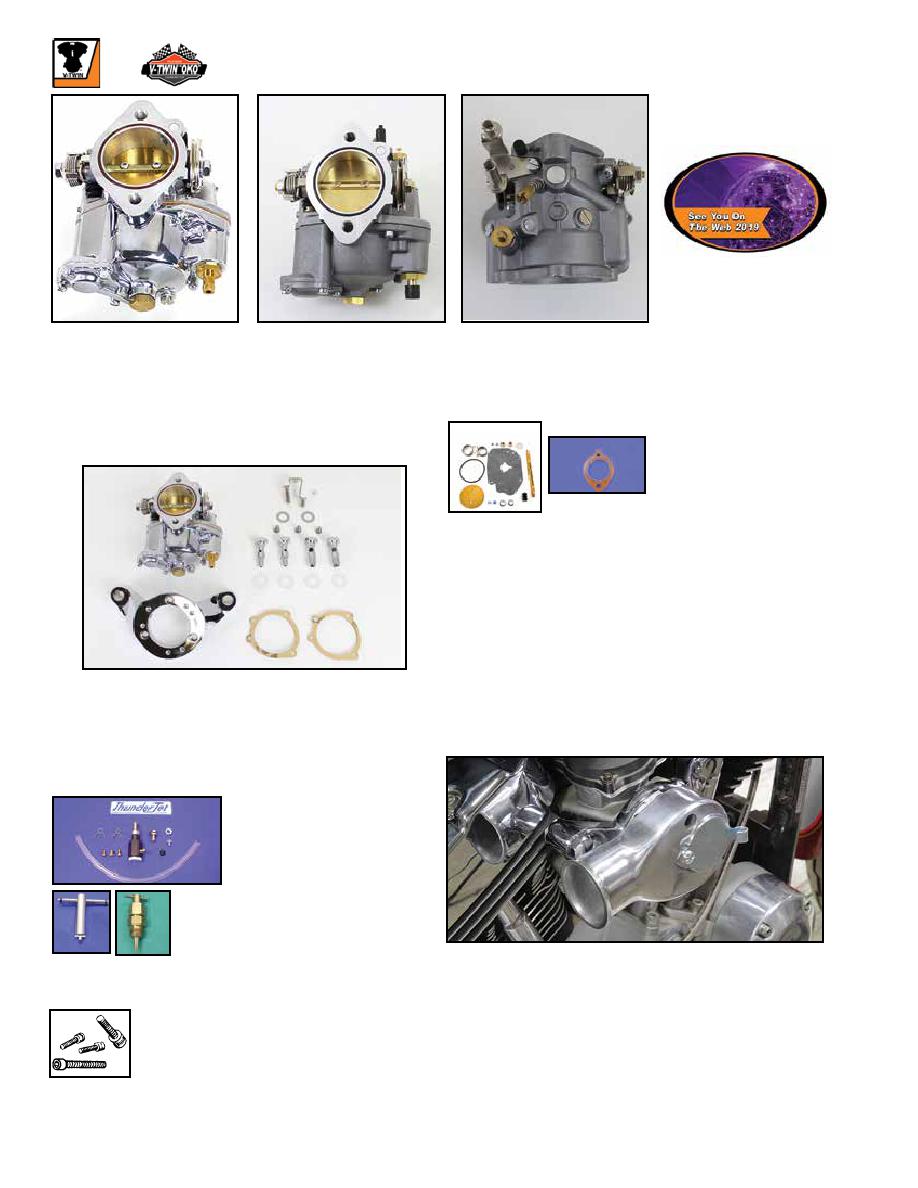 392
Super Allen Screw Sets include bowl air cleaner
and cover screws in chrome. Fits Super E & G.
VT No. 37-9106
OKO Carburetor has 1⁷⁄₈" bore. Performance carburetor will accept S&S jets, and S&S bolt pattern air filter assemblies. This
shorty carburetor has a relocated accelerator pump nozzle for increased throttle response, and thunder jets bolt on type.
VT No. Finish
35-0992 Polished
35-0994 Black
35-0991 Natural
35-1012 Natural Kit
Adjustable Main Jets for S&S (C) fits in
float bowl drain plug below main metering
jet. The recommended main jet is 100 to
104. Fits Super 'B' only.
VT No.
# Item
35-9168 A Jet Tool Install/Remove

35-0370 B Main Jet
A
B
Black Thunderjet fits S&S G
and D carburetors for larger
volume.
VT No. 35-0179
Shorty Carb
35-0991
35-0991
35-0992
OKO Carb Shorty Kit fits 1993-07 FXD, FX, FLH. Kit includes
a chrome billet carburetor bracket kit, which features an inte-
gral breather passage to air intake, and a natural OKO perfor-
mance shorty carburetor. Integral carburetor support includes
breather bolts for Evolution and TC-88 models, 1/2" and 3/8"
sizes. Support bracket accepts all CV pattern air cleaners.
Note: Dual cable operation.
VT No. 35-0870
S&S 'E' Rebuild Kits & Replacement Parts. Rebuild kits
contain all the parts necessary for a complete overhaul.
VT No. Fits
35-0850 Super 'E' Body Kit VT
35-0966 Accelerator Rebuild Only, Super 'E' & 'G' V-Twin
35-9355 Sifton Super 'E' Rebuild
35-9189 Super 'E' Float VT
35-0849 360° Carburetor Fuel Inlet
15-0319 Float Bowl Gasket Only
35-0234 Needle and Seat Super 'E' & 'G'
35-0970 Needle and Seat Super 'E'
35-0978 Needle Only
35-0924 Needle Seat with elbow
35-0235 ¹⁄₄" Insulator Block, 1⁷⁄₈" Carburetors
35-0258 ¹⁄₄" Insulator Block, 2¹⁄₁₆" Carburetors
35-0102 Intake Manifold, for all S&S B & E 1-7/8" Carb
35-0235
35-0850
Polished Carburetor Air Intake Snoot constructed of cast
aluminum with a polished finish for S&S and shorty carburetor
applications. Includes the carburetor air snoot door. *NOTE:
Carburetor will still require a support bracket or breather-bracket
combination. Fits1988-2006 XL and 1993-06 FX.
VT No. 34-1403
SU Carburetor Replacement Parts
VT No. Application
35-4555 8 oz piston return spring (silver)
35-4556 12 oz piston return spring (green)
35-0994