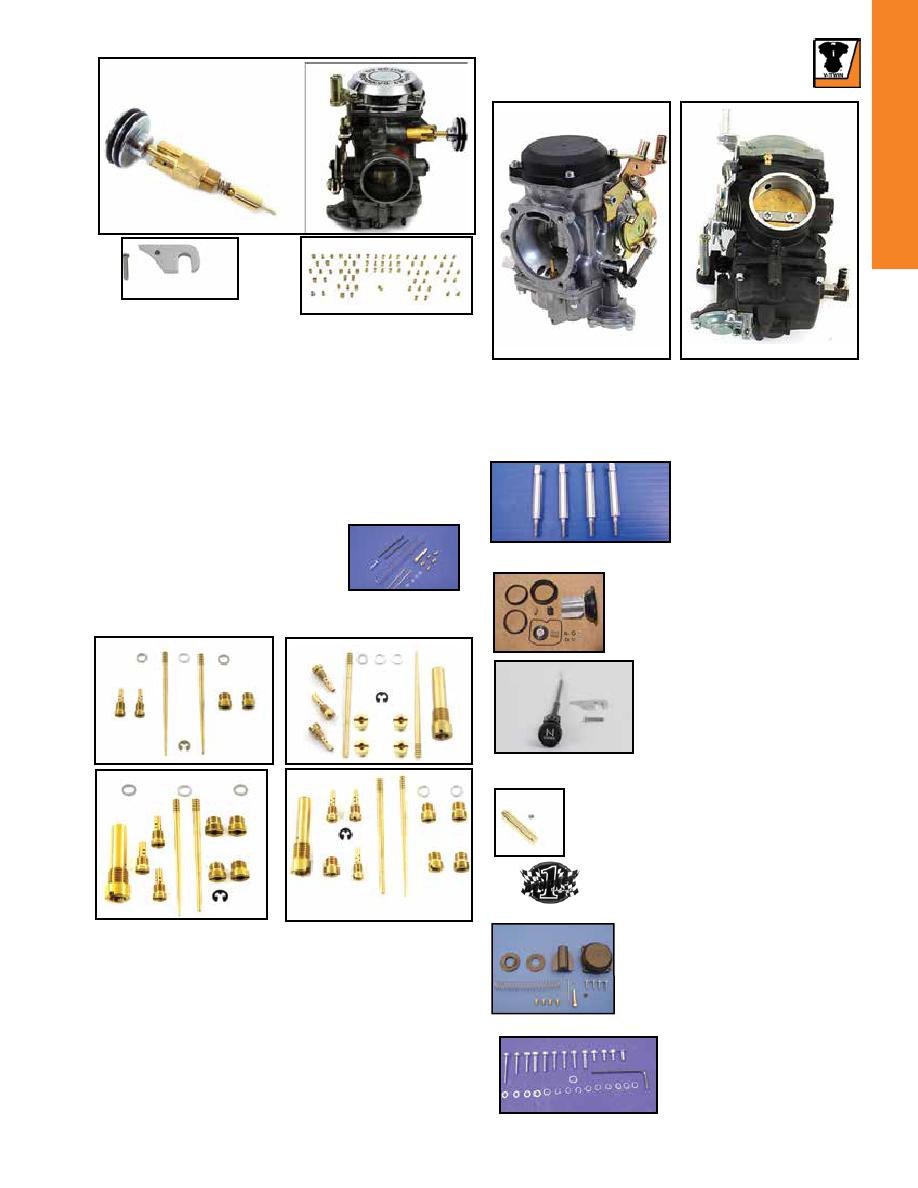 389
BIG TWIN
Enricher for CV Carburetors will eliminate choke cable. Unit
has three positions.
VT No. Item
35-0447 Enricher
35-9099 Jets
35-0681 Bracket
Installed
EZ Quick Tuner Kits for CV carburetors. Kit includes brass
jets and instructions designed for specifically for each model
listed. These kits feature no drilling installation and will work
on stock to heavily modified engines.
35-0766 1989-98 Big Twins
35-0763 1999-up Big Twins
CV Carb Tuner Kits
35-6100 1995-06 FXST
35-6101 1999-06 FXST
EZ Tuner Kits
35-0763
35-0766
35-6100
35-6101
CV Carburetor Rebuild Kit includes seals,
O-Rings, diaphragm and vacuum piston.
VT No. 35-0465
Chrome Float Bowl Speed
Screws for all CV carburetors
40 and 44 mm carburetors. Set
of four machined screws.
VT No. 35-0259
Keihin Screw Kit includes chrome
VT No.
Years
Type
35-0206 1976-89 Allen
37-9116 CV
35-0259
1340 Reproduction CV Carburetor, Complete. 40mm.
Carb
Carb with bracket Fits
35-0987 35-0571
35-0990
35-0707 35-0669
35-0681
35-9099
CV Keihin
CV Jet Kits
Dynojet for stock carburetors work with
mild cams, stock or aftermarket exhaust
and stock or aftermarket air cleaner. Fits
Screamin' Eagle 44mm CV Twin Cam.
VT No. D-J#
35-0540 8132
35-0540
CV Carburetor Upgrade use when installing
35-9075 CV tuners kit.
VT No. 35-0363
35-0363
CV Tuners Kit by Kinetic-Karb is for 1989-99 Keihin con-
stant velocity carburetors to permit easy tuning after instal-
lation of custom air cleaners, cams and exhaust. Includes
instructions, three main jets, needle jet, adjustable needle
with spacers and circlips, a spring and drill bits. This dual pur-
pose kit fits 1989 models without accelerator pump and 1990-
99 with accelerator pump. Jet assortment includes #140-205,
70 piece main jet assortment.
VT No. Item
35-9075 Kit
35-9099 Jet Assortment
Choke Cable Assembly Kit includes
bracket and cable assembly to mount
to all CV carb tops. Top mount bracket
relocates the choke assembly cable,
includes the knob, casing and inner
wire. Fits 1993-1994 FXR, 1993-06
FLT, FXST, 1991-2006 FXD,1993-
2006 FLST.
VT No. 36-0809
35-9075
35-0571
35-0990