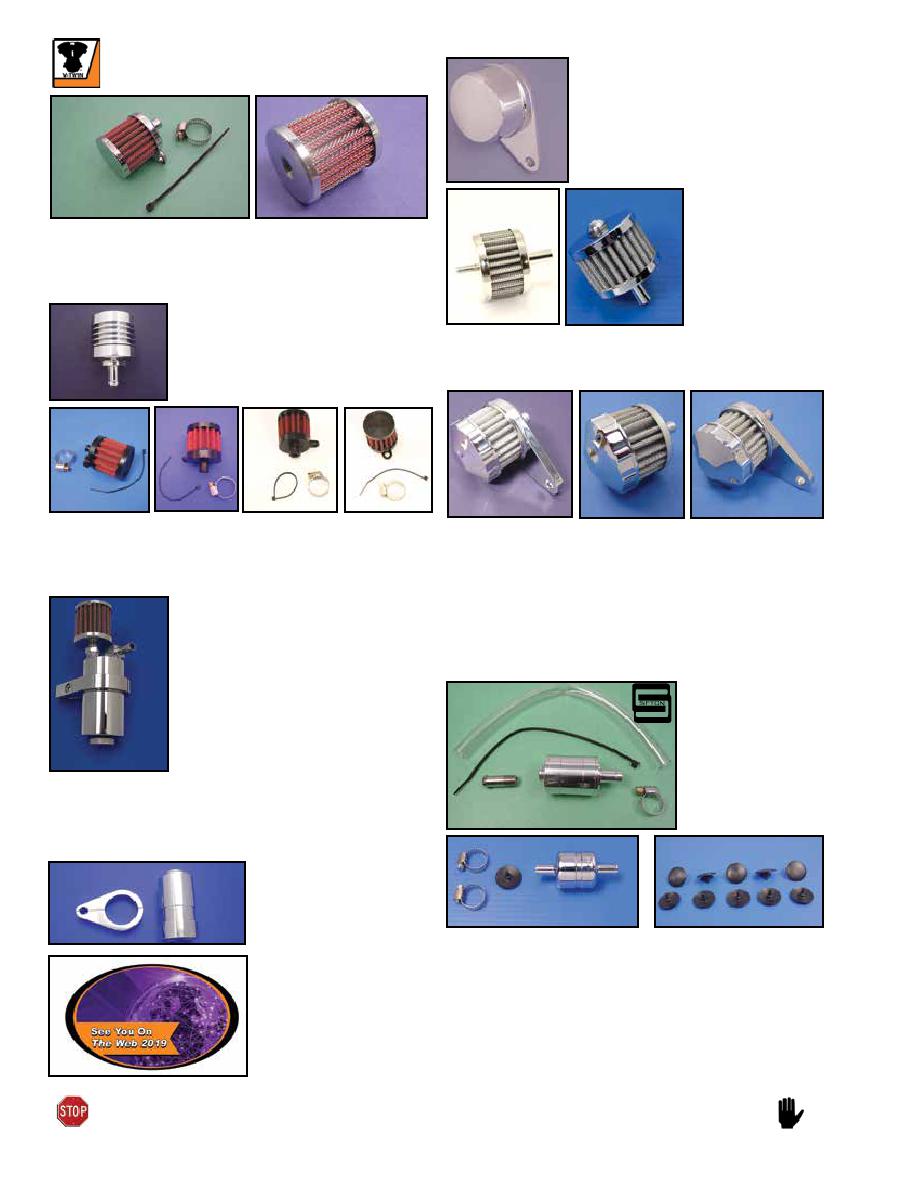 386
Chrome Crankcase Breathers available to accept hose or ¹⁄₈"
NPT fitting.
VT No.
Type
40-0434 ³⁄₈"
40-0447 ¹⁄₈" NPT
Breather
40-0434
40-0447
Chrome Engine Breather Oil Collector
designed to collect the oil mist from breath-
er hose which eliminates engine oil from
collecting in air cleaner. Features a high
flow air filter which acts as a internal oil baf-
fle allowing the oil and air to separate more
efficiently by promoting unrestricted breath-
ing. The air filter can easily be cleaned. A
90° barbed fitting fits breather hoses per-
fectly. On the bottom is a drain plug to allow
drainage on a regular basis. Measures 5
3/8" x 1¹⁄₂" and includes chrome mounting
clamp.
VT No.
Item
40-0595
40-0447
14-0925
40-0875
Crank Vent features replaceable umbrella valve available sep-
arately.
VT No. Item
40-0875 Canister
14-0925 Umbrella Valve (10)
Breather Oil Collector Can
includes chrome clamp.
Order filter separately.
VT No. 40-0652
Crankcase Breathers connect to breather hose when stock
air cleaner has been replaced. Filters feature chrome tops with
washable elements. Bracket can be mounted to transmission
case. VT No. 40-0246 includes chrome bracket fastened to
body by allen screws, hose fitting is ¹⁄₈" NPT threaded into body
and can be changed to 90° for special applications.
VT No.
Type
40-0356
40-0357
40-0246
Chrome Crankcase
Vent clamps direct
to ³⁄₈" breather hose.
Unit comes with a ⁵⁄₁₆"
stud and nut or ¹⁄₄" x
20 threaded insert to
mount from bracket.
Measures 2" diameter
x 1¹⁄₂" high.
VT No. Type
40-0381 Stud, K&N
40-0570 Threaded
40-0356
40-0357
40-0246
40-0570
Chrome Billet Crank Case Breather
includes ¹⁄₈" NPT fittings.
VT No. 40-0003
Sifton Universal
Breather Vent
Canister is a one way
check valve;
includes
line and clamps. Non
serviceable unit.
VT No. 40-0445
40-0381
40-0355
Chrome Vented Breather Canister
accepts ¹⁄₈" NPT fittings, not included.
VT No. Item
40-0457 Breather
40-0449 Banjo Tube Kit
40-0450 Straight Tube Only
40-0457
40-0595
Uni Filter Crankcase Breather is plastic construction with a zip tie
loop for attachment and is washable for reuse.
VT No. Size VT No. Size
40-0355 ⁵⁄₁₆" 40-0353 ¹⁄₂"
40-0354 ³⁄₈"
40-0352 ⁵⁄₈"
40-0353
40-0352
40-0354
Important Note:
Some items on this page may be emission-related parts subject to California or other emission control laws. Please see
note for important information regarding emission control regulatory compliance and warranty information.
Heavy Breather Performance
Air Cleaner Kit features
a black finish and includes
high flow air cleaner element,
intake tube, back plate, rain
sock and all mounting hard-
ware.
VT No. 34-0083