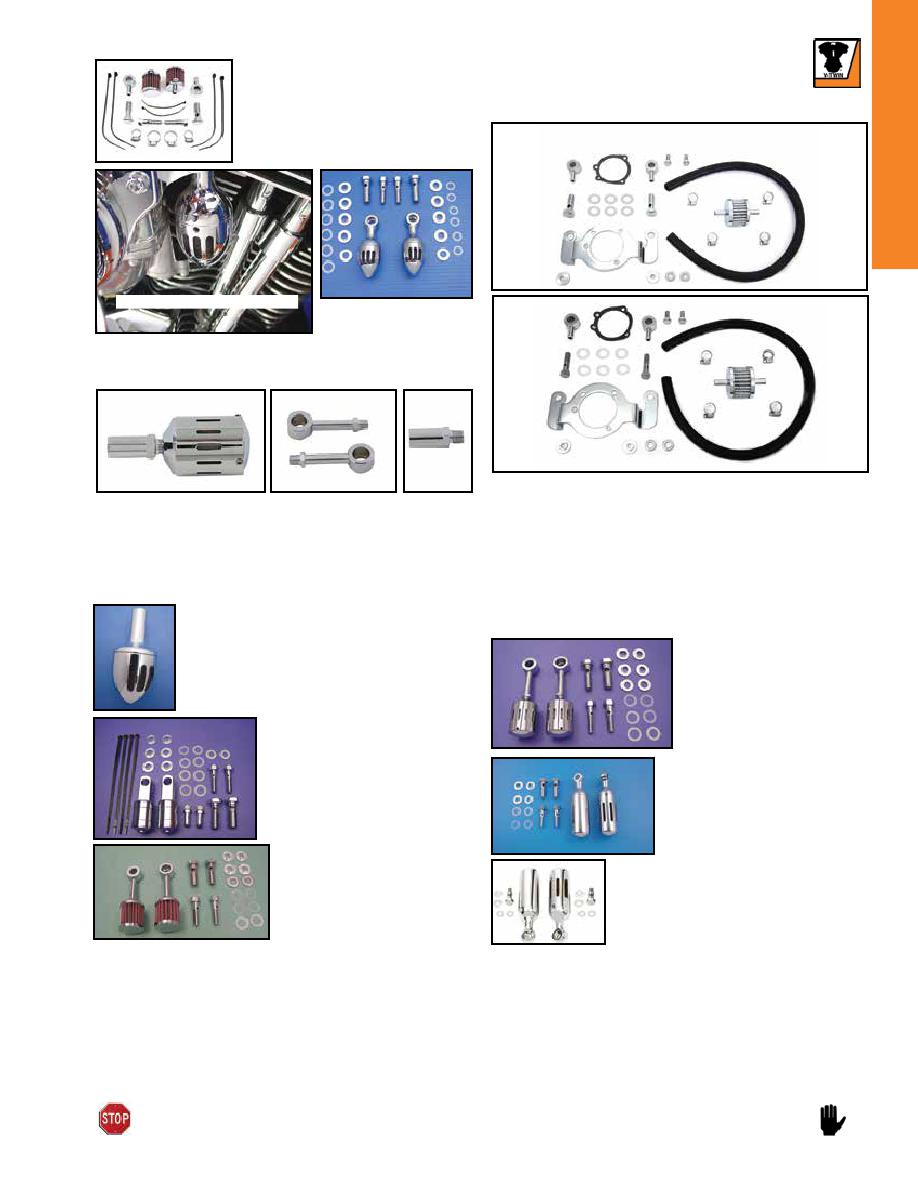 385
BIG TWIN
Sifton Breather Canister features enclosed breather filter and
tube for attaching to breather cross over lines, which is held in
place by set screws. Bottom cover is removable for cleaning.
VT No. Item
40-0446 Canister
40-0449 Breather Tube Kit
40-0450 Tube Only
40-0446
Breather Canister
40-0450
Chrome Billet Single Breather Canister fits
cross over metal tubes. Grind down ferrule on
end of cross tube to install.
VT No. 40-0345
Chrome Billet Canister Set includes bolts for Evolution and
Twin Cam applications.
VT No. 40-0346
Sifton Dual Breather Kit includes
two canisters and banjo tubes with
hardware for Evolution and Twin
Cam. Fits 1992-17 FXST, FLST,
FXD and 1992-94 FXR.
VT No. 40-0451
40-0346 installed on 34-1174
Chrome Mini Breather Set includes
tie wraps.
VT No. 40-0588
Sifton Dual Breather Kit
includes two canisters, banjo
tubes and bolts for Evolution
and Twin Cam applications.
Fits 1992-17 FXST, FLST, FXD
and 1992-94 FXR.
VT No. 40-0436
Sifton Dual Canister Set includes
hardware for both Evolution and
Twin Cam models. Fits 1992-17
FXST, FLST, FXD and 1992-94
FXR.
VT No. 40-0452
Breather Canister Kit for Twin Cam mod-
els. Fits 1999-17 FX-FL.
VT No. 40-0892
Crankcase Breather and Bracket Kit allows installation of
aftermarket CV type air cleaner on models with CV carb or EFI
system. Includes bracket, filter, hose and mounting hardware.
VT No. Fits
35-0122 1993-2015 FXST, FLST

1993-17 FXD (Includes Evo bolts)
35-0125 1999-15 FXST, FLST

1999-17 FXD (Includes Twin Cam breather bolts only)
35-0698 2016-17 FXST, FLST
40-0350 Filter for Above
Sifton Dual Vent Kit includes two
vent canisters and banjo bolts for
1992-17 Evo and Twin Cam mod-
els with necessary fittings.
VT No. 35-0441
35-0441
Breather and Bracket Kit
35-0122
40-0449
V-Twin Mfg. supplied components for every aftermar-
ket motorcycle company who sprung up due to the
shortage of Harley-Davidson motorcycles. Startups
included:
• Big Dog (1994-2011)
• Excelsior-Henderson
• Ultra
• American Iron Horse (1995-2008)
• Confederate
• Gilroy Indian Co. (1999-2003)
• Orange County Choppers
• California CMC (1993-97)
35-0125
Important Note:
Some items on this page may be emission-related parts subject to California or other emission control laws. Please see
note for important information regarding emission control regulatory compliance and warranty information.