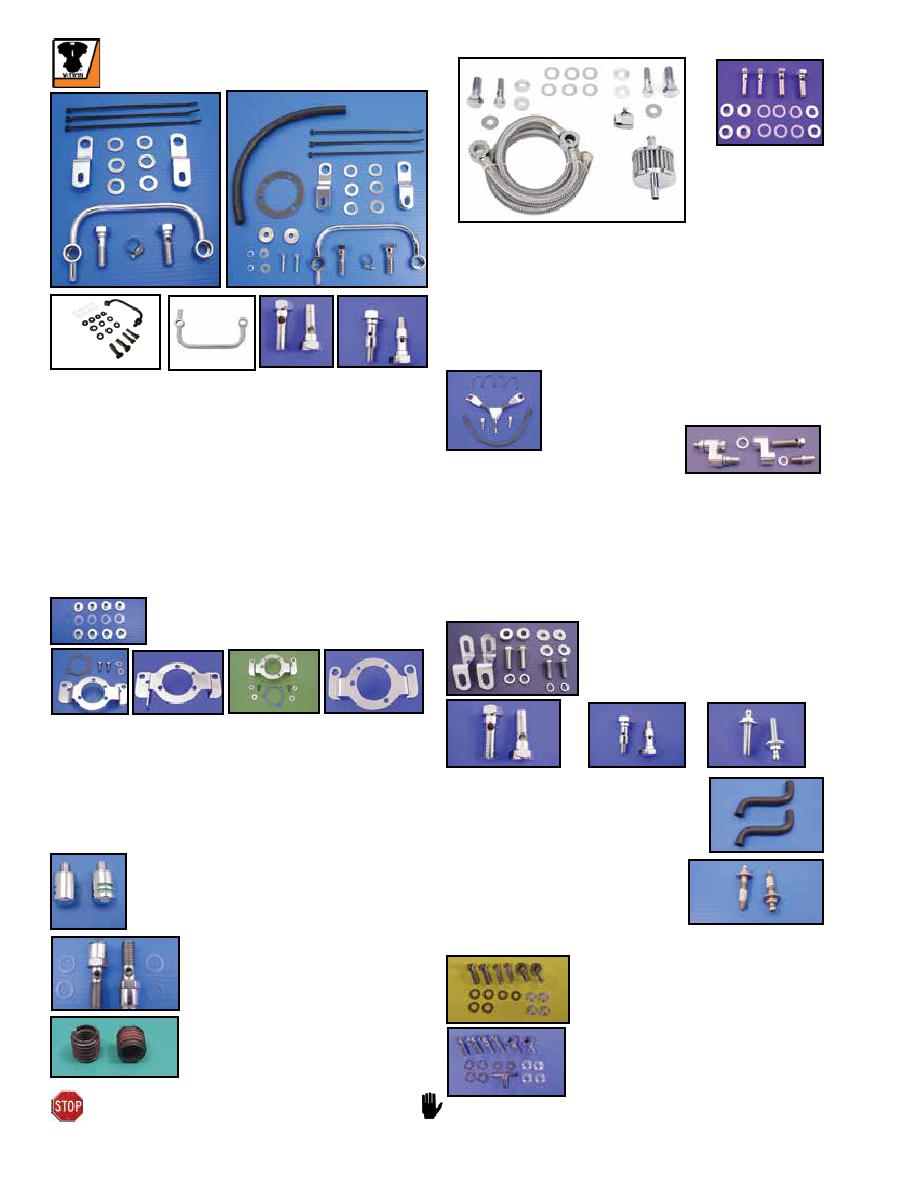 384
31-0430
A
Chrome Air Cleaner Support
Brackets are for installing the custom
round or teardrop air cleaners. Fits
1984-92 Evolution Big Twin.
VT No. 31-3941
31-0750
Breather Bolts fit 1993-17 Big Twin mod-
els. 35-0578 has vent holes.
VT No.
Year
Type
35-0731 1992-98 Evo
35-0732 1999-07 Twin Cam Hex
34-0578 1999-07 Twin Cam Nipple
34-1509 2008-17 Twin Cam Nipple
35-1706 1992-98 Evo
34-1507 1999-07
34-1508 2008-17
34-0098 Bolt Set, 1992-up 4 Pc Set
35-0731
34-0578
35-0732
Breather Bolt and Banjo Kit includes
bolts for both Evolution and Twin Cam
applications and two banjos to accept ⁵⁄₁₆"
hose.
VT No. Item
34-0500 Without tee
34-0808 With tee
37-0985 Evolution Nylon Washers
37-0986 Twin Cam Nylon Washers
37-0989 Twin Cam Alloy Washers
34-0500
Sifton Braided Hose Crankcase Breather Kit includes ³⁄₈"
inner diameter stainless steel braided hose, breather filter (with
mounting stud) and hardware. Air cleaner and carburetor sup-
port bracket must be purchased separately. Fits 1993-17 Big
Twin custom applications only.
VT No.
Item
35-0123 Kit
40-0570 Breather
35-0126 Bolt Kit
"Y" Breather Kit includes fittings to fit Twin
Cam with breather. Drill and tap frame to con-
nect.
VT No. 35-0578
Billet Air Cleaner Mount Set will mount air cleaners with flat
backing plates to Evolution and Twin Cam models. Offset billet
mounts feature built in breather passage that feeds inside air
cleaner housing. Brackets can be rotated to proper position,
then backing plate must be drilled to match. Threaded breather
nipples will fasten back plate to brackets.
VT No. Year
Type
34-0750 1991-99
34-0751 2000-17
34-0750
35-0123
35-0126
34-1507
34-1509
Sifton Mini-Breather Bolt Kit. Chrome breather
cups have built in mount bolt for Big Twin models.
VT No.
Year
40-0453 1992-99 Big Twin
40-0454 Twin Cam
Extended Breather Bolts allow mount-
ing of air cleaner to breather bolt stand.
Use with banjo set or cross line for
breather connection.
VT No.
Type
35-0136
35-0129
35-0144
34-1186 Adapter
34-1186
Air Cleaner Breather Manifold Kits to fit custom air clean-
ers to engines with the internal breathing system. Kit includes
chrome breather manifold, chrome banjo bolts, chrome air
cleaner support brackets, gaskets and instructions.
VT No. Item
Year/Fits
35-9254 Kit
31-0430 Kit
35-0572 Kit
35-0670 Tube Only
35-0731 Pair
Banjo Bolt only, 1992-99 Evolution
35-0732 Pair
Banjo Bolt only, 1999-07 Twin Cam
14-0975 For Above
35-9254
Breather Kit
Breather Washer Set fits 1993-17 Big Twin,
1991-up XL models.
VT No. 35-0755
Chrome Air Cleaner Bracket for Evolution Big Twin mounts
to boss on engine heads to support custom air cleaners.
VT No. Year
31-4041 1984-89
31-4191 1984-89 with choke mount
31-3962 1990-92 CV
31-0750* 1993-15 FXST, FLST, 1983-07 FLT, 1993-17 FXD
*Note: To be used with breather kit.
31-4191
31-4041
35-0670
31-3962
34-0808
35-0731
35-0732
Important Note:
Some items on this page may be emission-related
parts subject to California or other emission control laws. Please
see note for important information regarding emission control reg-
ulatory compliance and warranty information.
35-0572