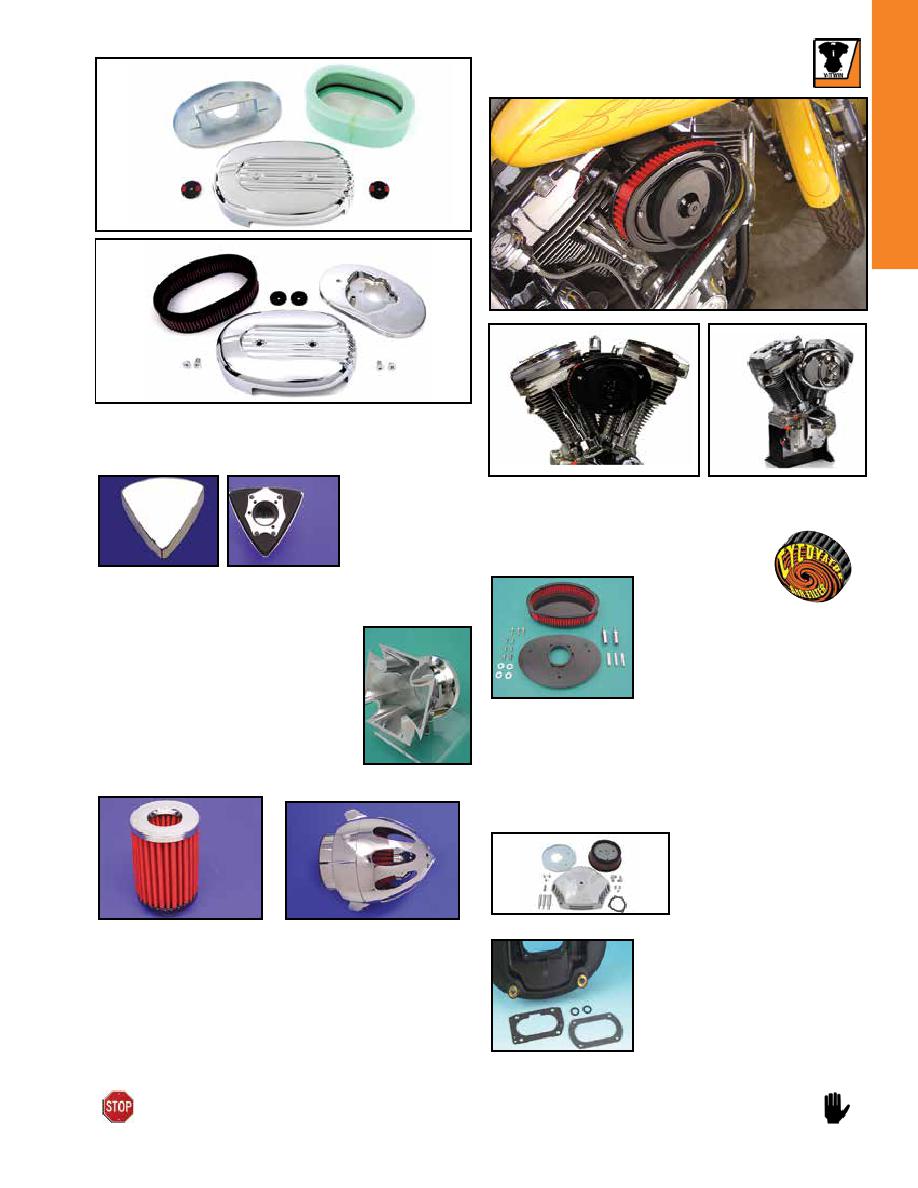 381
BIG TWIN
Air Cleaner
Diamond Billet
Air Cleaner fits
CV models.
VT No. 34-1206
K&N RK Series Air Cleaner Assembly for 1999-07 Twin
Cam Big Twins with a carburetor. Complete assembly provides
significant increase in air flow to the engine while boosting
performance and filtration. Features a built in Dyno tuned veloc-
ity stack, powder coated aluminum backing plate and internal
breathers. Uses stock type air cleaner cover.
VT No. Height
34-0107 1⁵⁄₈"
Maltese Velocity Stack fits CV and S&S carburetors with
unique fluted design. Order S&S adapter to fit "E" carburetors.
This Quaductive
design increases air flow. Screen included.
Order screws separately.
VT No. Item
Finish
34-3915 CV Stack
34-0673 S&S "E" Adapter
34-0661 Bracket Only CV
34-0662 Bracket Only S&S E Chrome
34-1111 Screen
37-0894 Screw Set
34-3915
Filters fit as noted are attached by worm drive clamp. Inner
diameter of 65 mm.
VT No.
Length (mm)
34-1504
34-0891
34-1504
34-0891
Cone Air Cleaners
V-Force Air Cleaner fits CV and
electronic fuel injection models.
Order breather bracket separate-
ly. (1993-07 CV-Delphi-EFI)
VT No. 34-1882
34-0107
Oval Air Cleaner Assembly.
VT No. Fits
34-1374 CV
34-1382 Keihin
34-1374
34-1382
Cycovator Air Cleaner Kit fits 1999-up Big Twin with carbu-
retor. High filtration element included with all parts as pictured.
Order 34-1186 adapter sleeve to fit 1993-98 Evolution models.
VT No. Item
34-1340 Backing Plate
34-0062 Kit with cover
34-1340
34-1340
installed
34-0062
Kit with
cover
James Air Cleaner Back Plate
Gasket Kit includes gaskets and
O-Rings.
VT No. Fits
15-1387 1999-01 FLT
15-1388 1999-05 FXST, FLST, FXD,

15-1389 2006-08 FXST, FLST, FXD,

Important Note:
Some items on this page may be emission-related parts subject to California or other emission control laws. Please see
note for important information regarding emission control regulatory compliance and warranty information.