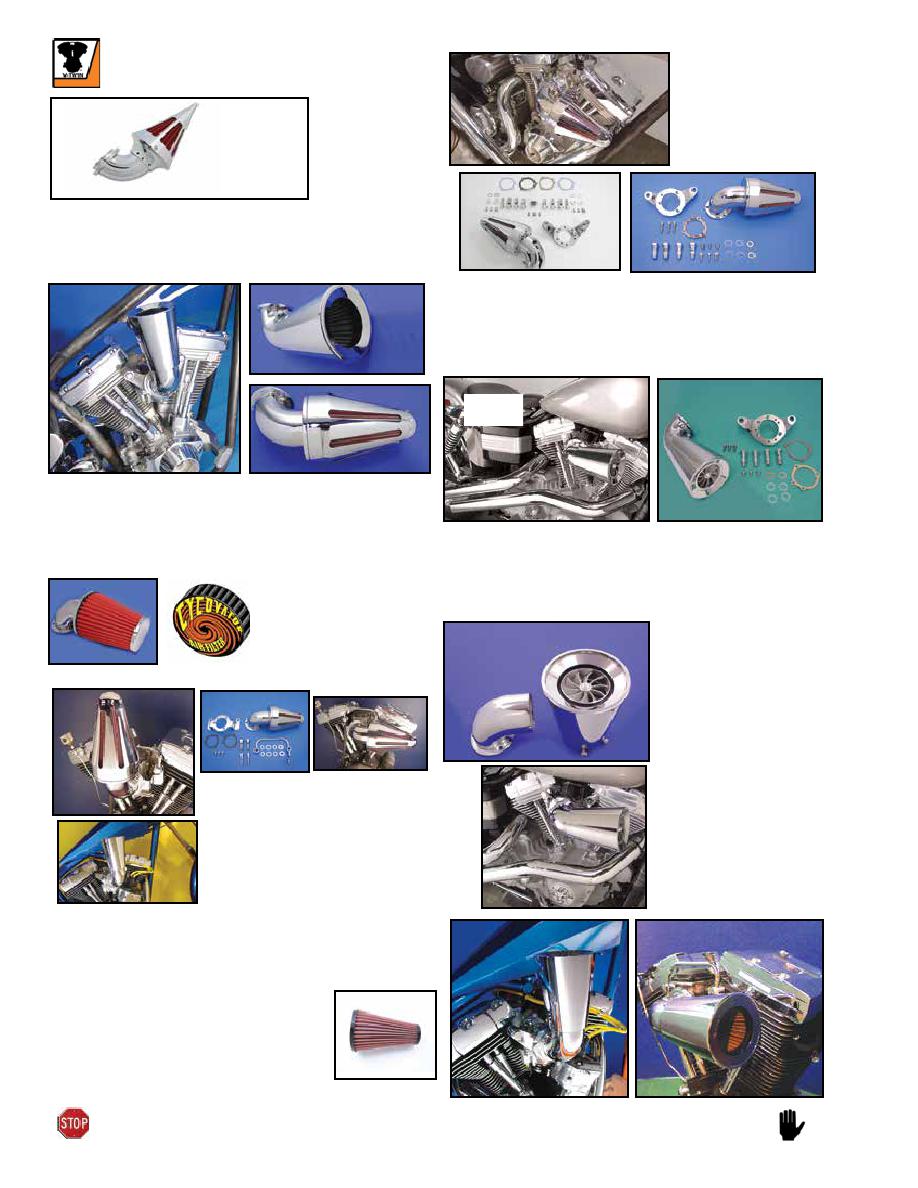 380
Air Cleaner Breather Only includes cone, element and elbow
as shown. Fits 1993-2007 CV in the horizontal position.
VT No.
Type
34-0770 Spike
34-0771 Funnel
34-0274
34-0771
34-0771
Installed
34-0451
34-0670
34-0670 installed with
34-0693 adapter
34-0451 with
34-0693 adapter
34-0670
34-0671
Air Cones
Wind Funnel Air Filter Kit includes bracket with integral breath-
er which will mount the funnel in a forward horizontal position.
Order with or without turbo fan.
VT No. Type
34-0488 Fan (1993-2007) with CV carburetor
34-1207 Without
34-0488
34-0488
Installed
Chrome Panzer Air Cone can be installed on C.V. or S&S
Super E carburetors. Cone can be mounted in either vertical
or horizontal position. Includes air filter. Order routing bracket
separately.
VT No. 34-0772
Cycovator Taper Forward
Mount Air Cleaner Only
fits 1993-07 CV FLT except
1995-01 EFI, 1993-2007
FXST, FLST, FXD, 1993-94
FXR.
VT No. 34-0773
34-1197
Turbo Funnel will mount on
CV carburetor bolt pattern in
a forward horizontal position.
Order adapter plate 34-0693
to place in upright vertical
position. Fits 1993-2007 Big
Twin CV-Delphi-EFI
VT No. 34-1197
• Super Spiral runs ups to
• Help provide a better fuel
34-0773
34-0772
Air Cleaner Breather includes steel bracket with breather
bolts and tapered filter element with chrome 90° intake tube
to face forward on CV carburetors. Order adapter to face for-
ward or upward on S&S models. Use 34-0670 with 34-0693
adapter. For 1993-07 models.
VT No. Item
Style
34-0670 Spike
34-0451 Funnel
34-0673 S&S Adapter
34-0693 CV Vertical Adapter
34-0671 Filter Only (Spike)
34-0274 Filter Only (Funnel)
CV Air Cleaner Cone System features cone and integral
breather mount bracket for vertical or forward mounting. Order
adapter plates for vertical applications.
VT No.
Carburetor Type
34-0775 S&S "E"
34-1211 1993-07 CV, Delphi EFI
34-1211
34-0775
34-1211
34-0451 Installed
34-0770
Important Note:
Some items on this page may be emission-related parts subject to California or other emission control laws. Please see
note for important information regarding emission control regulatory compliance and warranty information.