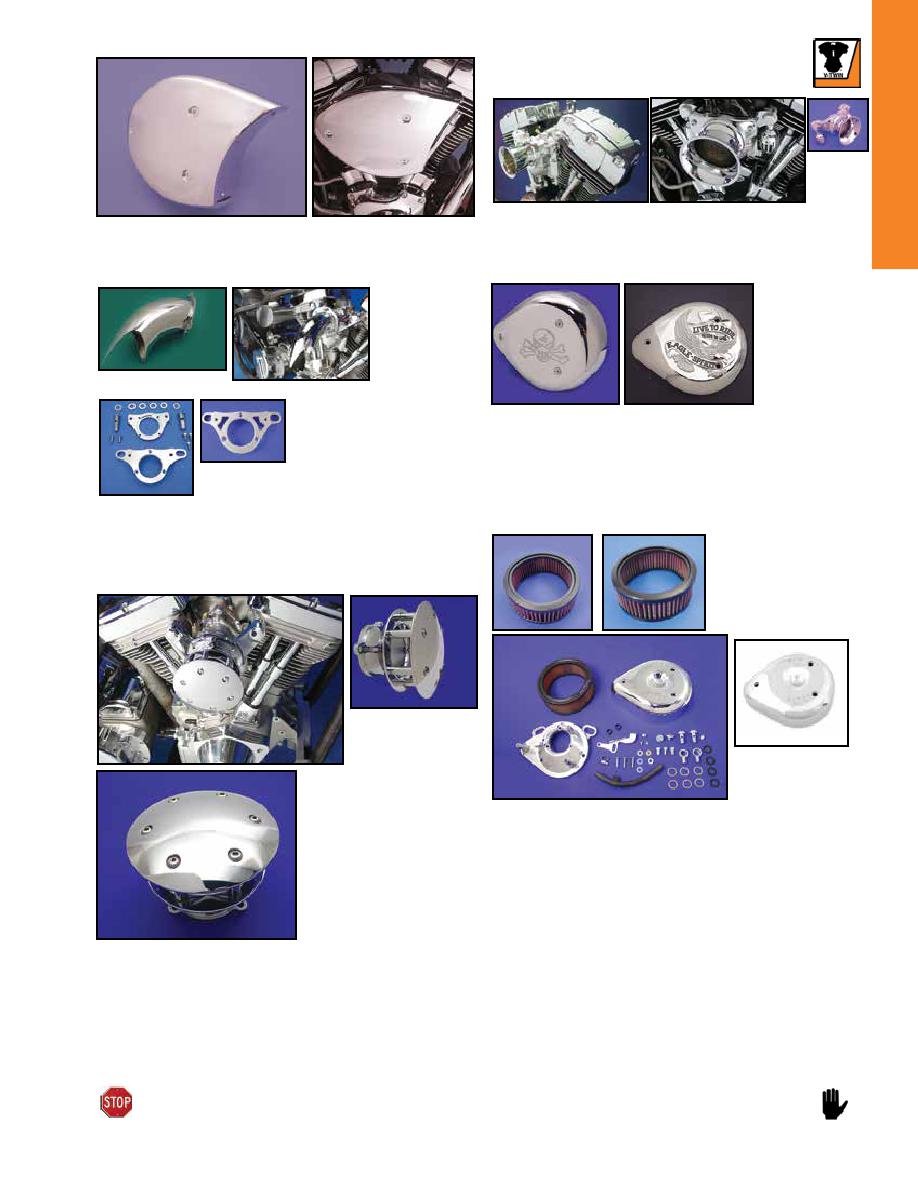 379
BIG TWIN
S&S Air Cleaner
Velocity Stacks with built in mount brackets. Breather set
included. For S&S "E" TC-88/Evolution 1992-up.
VT No. Style
34-1110 Standard Kit
34-1174 Billet Kit
34-1110
Chrome Scoop Air Cleaner Cover mounts with three screws.
VT No. Model Item
34-0453 S&S "E" Cover
34-0455 CV
34-1174
Installed
Chrome Steel
Air Scoop fits
S&S E & G car-
buretors.
VT No. 34-0985
Billet Carburetor Support on
S&S "E" installations. Order
banjo bolts and brackets sep-
arately for Evolution or TC-88.
Bracket only drilled for S&S. No
holes for CV air cleaner.
VT No. Finish
34-1139 Chrome
34-1190 Alloy
34-1190
34-1139
Replica Air Filter
Elements fit S&S models
and are washable.
VT No.
Model
34-1176 E&G
34-0935 B
Velo-dome
TM
velocity stack with built in
cover for Super "E".
VT No. 34-1189
Velo-Dome
™
34-1189
34-1189
34-0707
Chrome S&S Super E & G Replacement Air Cleaners
are available as complete units, or replacement covers only.
Complete assemblies include backing plate which have built-
in brackets to mount to Evolution heads. 1993-99 Evolution
Big Twins with Super E & G carburetors.
VT No. Item/Fits
34-1015 Complete Assembly 1993-99 V2 Big Twin
34-0981 Chrome Cover All Super 'E'
34-1063 As Above with Notched Cover for 5 Gallon Tanks
34-0984 Uni Filter Foam Air Filter Super 'E' Foam Type
9980-3 Chrome Allen Screw Set for S&S Covers
34-1097 Backing Plate 1984-92
34-1098 Backing Plate 1993-99
15-0354 Mounting Gasket
34-1015
34-0981
34-1176
34-0935
Chrome Air Cleaner Covers fit S&S carburetors stock backing
plate and filter, "bolt on."
Super E
Super B
Style
—
34-0545
34-0707
— Skull
34-0709
— Maltese
34-0710
— Flame
34-1174
Curved Air Cleaner fits
1993-2006 FX, 1988-07 XL.
VT No. Style
34-0084 Eagle Spirit
34-0085 Flame
Important Note:
Some items on this page may be emission-related parts subject to California or other emission control laws. Please see
note for important information regarding emission control regulatory compliance and warranty information.
34-0545