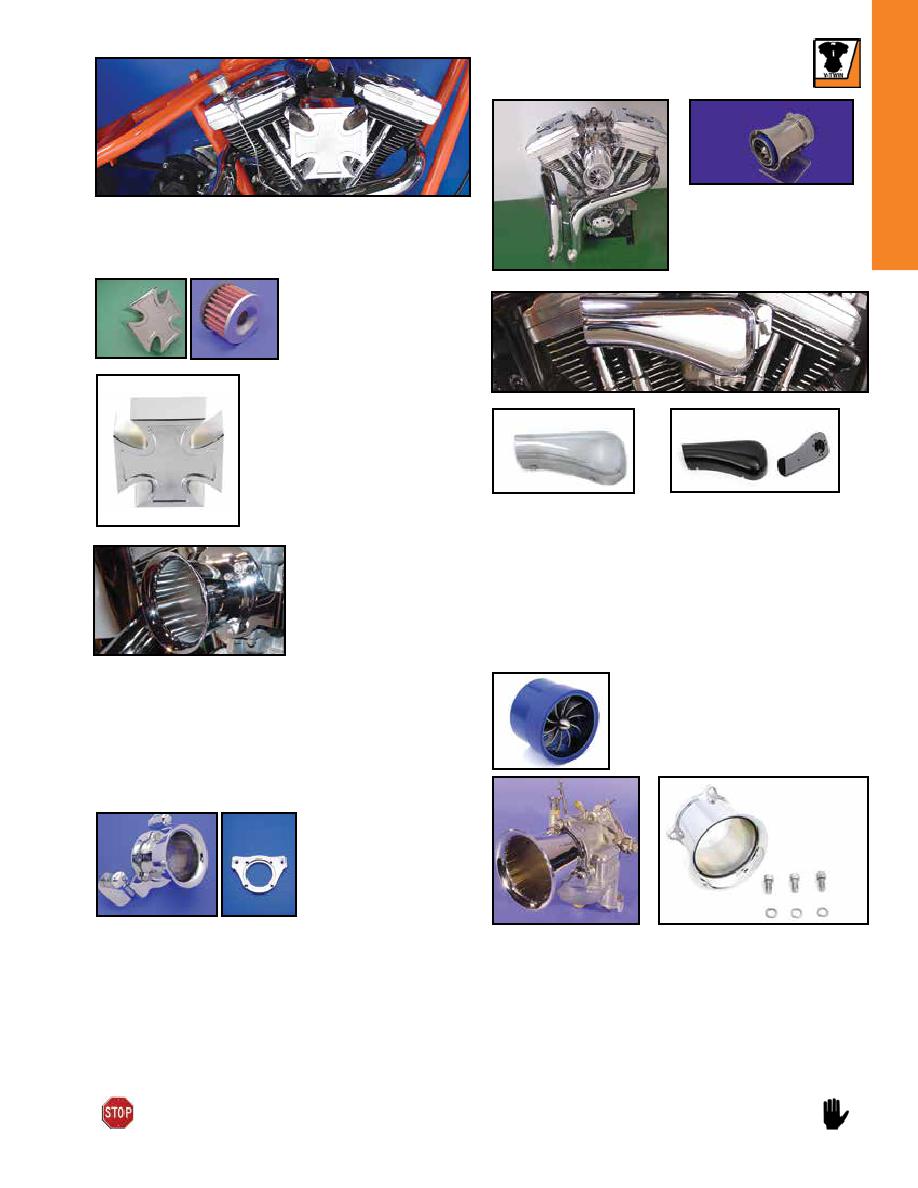 375
BIG TWIN
34-1146 Installed
With breather
Black Hose SS Hose
Year
Model
34-1115
34-1122
34-1116
34-1123
Without breather kit
34-1117
—
34-1118
—
34-1126
—
34-1127
—
Chrome Alloy Velocity Stacks.
VT No. Fits
Length
34-1102 S&S "E/G"
34-1108 S&S "E&G"
34-1103 Bendix Keihin 2.5"
34-1104 CV Keihin
34-1156 CV Keihin
15-0884 CV Gasket
15-0885 Bendix Gasket
34-1159 Screen
34-0608
Chrome Maltese Carburetor Cover includes backing plate and
filter. Available as kit or carburetor cover and backing plate only.
Kits include brackets and or breather kits as required to fit stock
original carburetor. Center portion of cross is matte chrome
finish.
Maltese Carburetor Cover and
Backing Plate. Center portion of cross
has a matte finish. Order filter and
brackets separately.
Chrome Polish
Carburetor Type
34-0609 — CV
34-0610 —
34-1168 34-1168 Filter Only
34-1130
34-1168
Chrome Velocity Stack
Kits include chrome support
bracket, breather nipples
and 2.5" chrome stack.
VT No. Model
34-1161 1992-99 Evo
34-1151 1999-07 Twin Cam
34-1150 Bracket
34-1161
34-1150
Air Cleaner
Turbo-Fan Velocity Stack
includes billet stack with inverted
cone filter installed. Turbo fan
turns on precision ball bearings
up to 10000 RPM.
VT No. 34-1204
34-1204
Turbo Funnel Fan for use with velocity
stack air cleaner.
VT No. 34-1199
Important Note:
Some items on this page may be emission-related parts subject to California or other emission control laws. Please
see note for important information regarding emission control regulatory compliance and warranty information.
VT No. Year
Model
34-1145 2000-07 TC-88
34-1146 1993-99 Big Twin
34-1147 1990-92 Big Twin
34-1148 1984-89 Big Twin
Chrome Velocity Stack Kits
include 2.5" chrome stack,
chrome support bracket and
breather kit with black or stain-
less hose kit as listed for stock
Keihin or Bendix carburetors.
Early Style Carburetor Breather Snoots feature cover with-
out filter. Bendix Keihin and CV is 3 bolt pattern. CV requires
use of 35-0125 for 2000-up Big Twin or 35-0122 for 1993-99
Big Twin.
Chrome Black Type
Year
34-1331 34-1450 CV Kit
34-1046 34-1449 Bendix-Keihin
34-1045 34-1448 Linkert
34-1081 34-1398 CV
34-0659 34-1332 Cover Only
Chrome
Black
34-1108