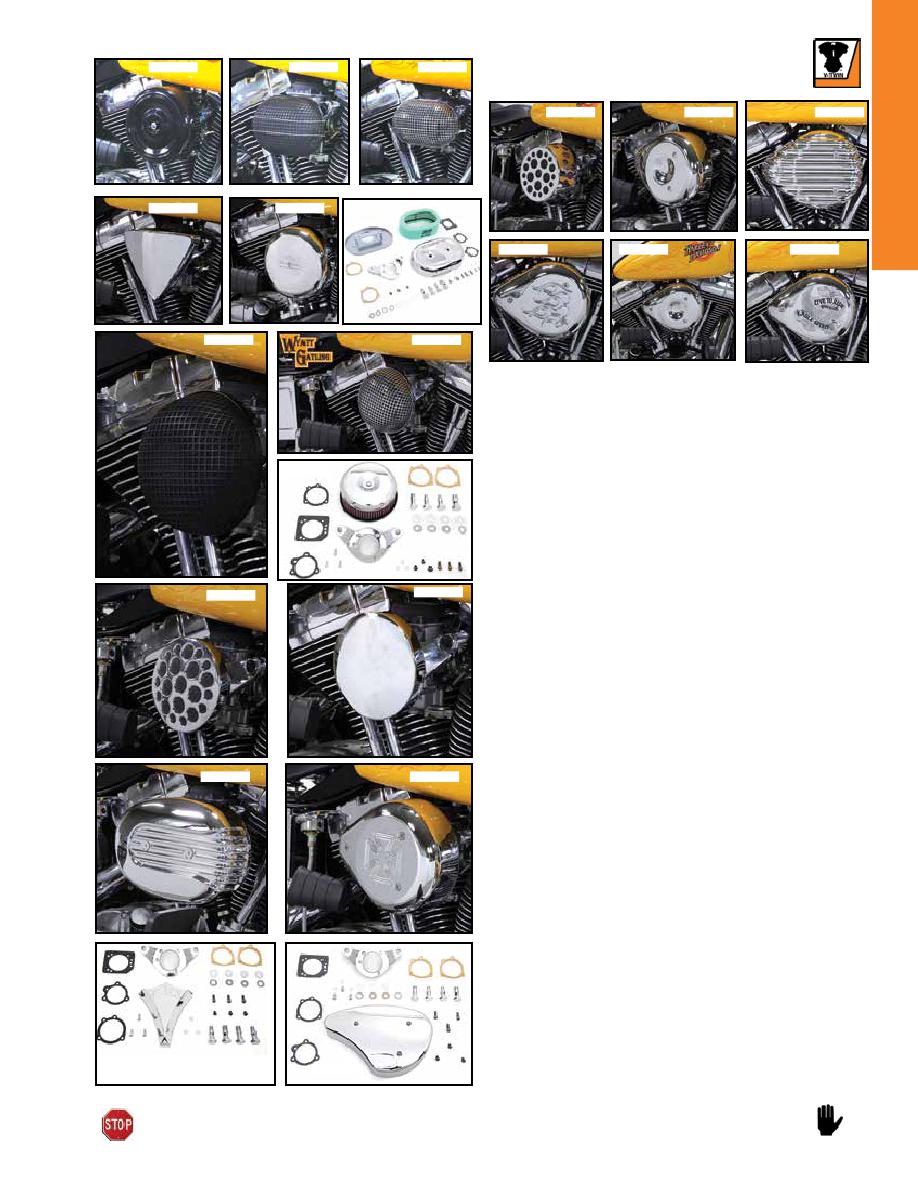 373
BIG TWIN
Air Cleaner
Assembly Air
Shape
Style
Cleaner
34-1601 34-0406 Round
34-1427 34-0407 Round
34-1602 34-0764 Oval
34-1603 34-0746 Oval
34-1604 34-1206 Diamond
34-1605 34-1373 Round
Chrome, 7" Motorcycle Logo
34-1626 —
34-1606 34-0475 Oval
34-1607 34-0742 Round
34-1608 34-0732 Round
34-1609* 34-1119 Velocity Stack Chrome
34-1636 —
34-1611 34-0762 Round
34-1612 34-0763 Round
34-1637 —
34-1638 —
34-1639 —
Chrome, 8" American Cycle
34-1363 —
34-0840 —
34-1613 34-1374 Oval
34-1614 34-0628 Teardrop
34-1618 34-1742 Round
34-1619* 34-1081 Breather Snoot Chrome
34-1620 34-1022 Teardrop
34-1621 34-0530 Teardrop
34-1622 34-0511 Teardrop
34-1623 34-0630 Teardrop
34-1624 34-0629 Teardrop
34-1625 34-1020 Teardrop
34-1632 —
34-1633 —
34-1851 — Teardrop Chrome
34-1852 — Teardrop Chrome
34-1854 — Teardrop Chrome
34-1862 — Teardrop Chrome
34-1361 —
34-1365 34-1334 Inverted
34-1630 — Diamond Chrome
34-1631 —
34-1629 —
34-1635 — Scoop
34-1634 — Dish
34-1640 —
*Note: Does not include filter element
34-1602
34-1601
34-1603
34-1604
34-1605
34-1606
34-1607
34-1608
34-1611
34-1612
34-1613
34-1614
34-1618
34-1620
34-1621
34-1622
34-1623
34-1625
Wyatt Gatling Air Cleaner Assemblies.
• Include integral breather system with bracket, mounting kit and air
cleaner.
• Include air filter element.
DIY easy install bolt-on assembly has no hoses to connect!
BT Assemblies fit 1993-2007 FXST, FXD.
34-1634
Important Note:
Some items on this page may be emission-related parts subject to California or other emission control laws. Please
see note for important information regarding emission control regulatory compliance and warranty information.
34-1631
34-1635