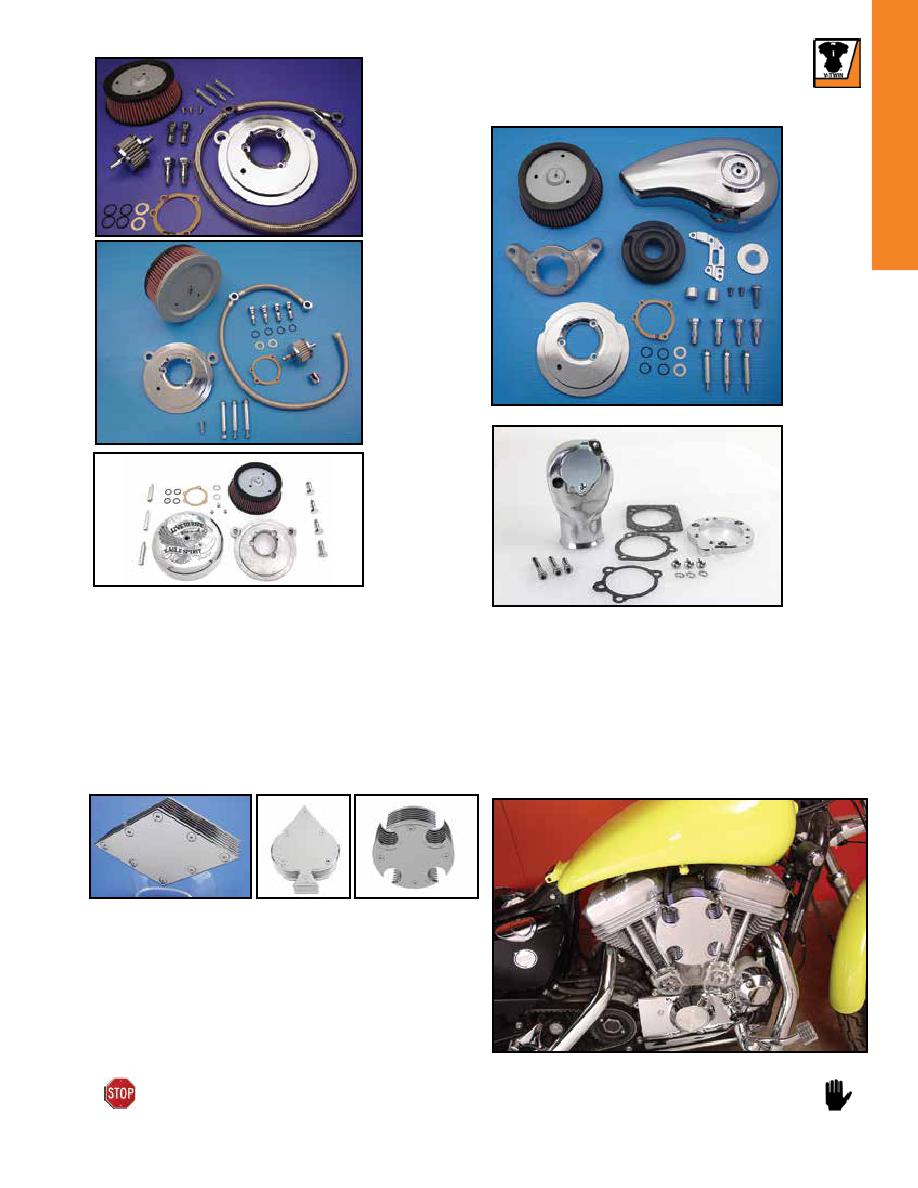 367
BIG TWIN
Teardrop
Air Cleaner
Assembly
features
hi-flow ele-
ment with
billet mount
bracket and
plate. Kit
include all
hardware to
mount on
Evolution and
Twin Cam,
1993-2007
models.
VT No.
34-0672
Velo High Flow Air Cleaner Backing Plate Kit by Sifton.
Includes one piece alloy backing plate, washable element,
stainless steel breather kit with fittings, chrome breather filter
and necessary hardware to mount 1992-07 Big Twin Evo and
Twin Cam models VT No. 34-1076 accepts 8" round covers
with 52" of surface, measuring 7" x 2
included.
VT No.
Size
Cover
34-1105 Small 6"
34-1076 Large 8"
34-0804
Velo Air Cleaner Assembly
Velo Air Cleaner
Assembly
34-0672
34-1076
Billet Air Cleaners
Chrome Billet Air Cleaner Assemblies to fit CV carburetors.
Order bracket kit as required.
VT No. Type
34-0826 Diamond
34-0827 Spade
34-9159 Rotar
34-1105
34-9159 Installed
34-0826
34-0827
34-9159
Important Note:
Some items on this page may be emission-related parts subject to California or other emission control laws. Please
see note on for important information regarding emission control regulatory compliance and warranty information.
34-0804
Tourist Trophy Breather Snoot Kit is Schebler style, casted
of aluminum and polish, for CV and S&S "E" carburetor applica-
tions. Includes the side door installed. Includes adapter flange to
adapt snoot to CV carburetors. S&S "E" models do not require
this flange.
*NOTE: This is not an air cleaner. Fits1988-2006
XL,1993-2007 FLST, FXST.
VT No. 34-0487