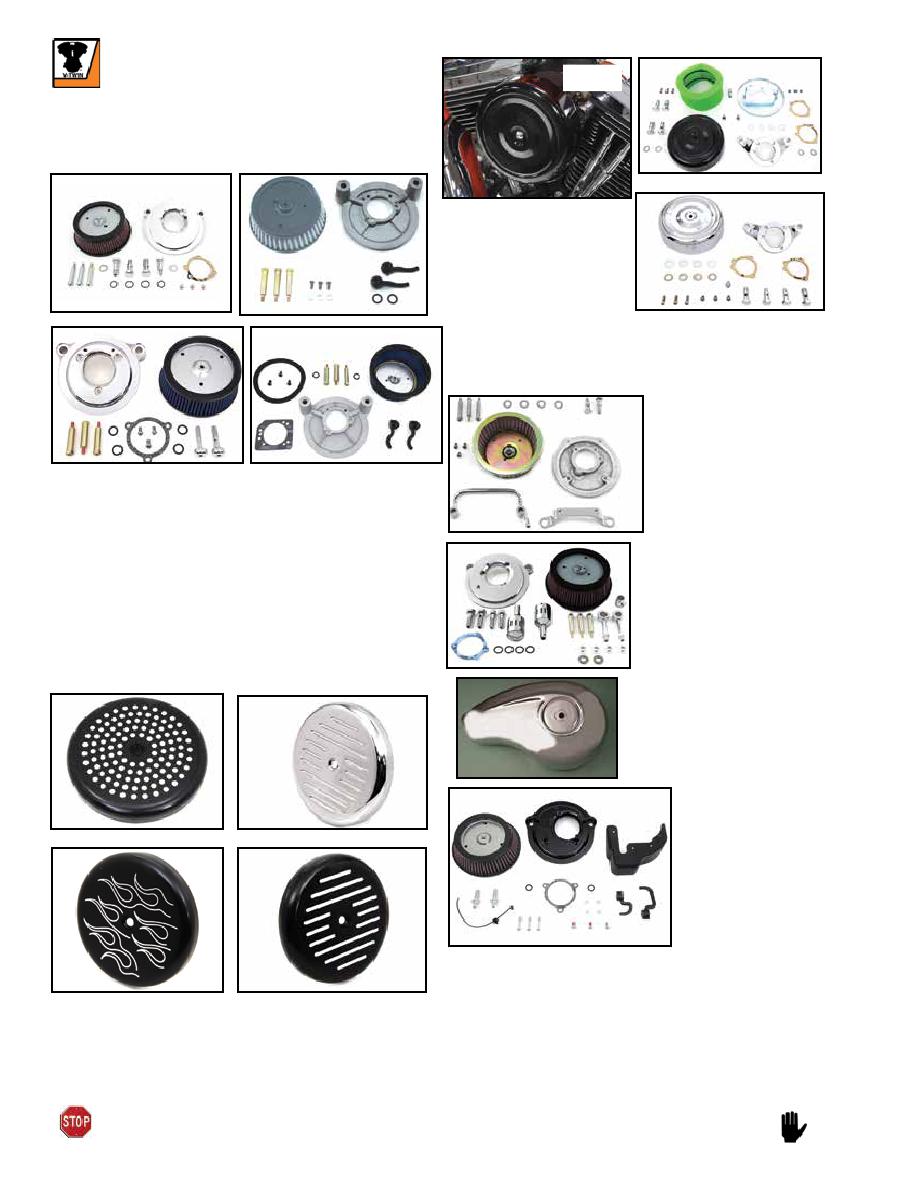 366
Electronic Fuel
Injected Air
Cleaner Assembly
VT No. Item
34-1113 Air Cleaner Kit

34-0655 Teardrop Cover
34-1084 Backing Plate Kit
Air Cleaner Outer Cover for use with K&N replacement or
velocity type tapered air filter available separately.
VT No. Finish Style
34-1457 Black
34-1458 Chrome Ball Milled
34-1459 Black
34-1460 Black
High Flow Air Cleaner Kit
includes backing plate and
elements. Fits electronic fuel
injection 1999-01.
VT No. 34-0943
34-1236
34-1084
Sifton Air Power
TM
includes
die cast backing plate, filter and
breather canisters. Hardware
included allows installation on
1992-99 Evolution and Twin
Cam models with carburetor.
Order cover separately as list-
ed below. Breather bolts also
available separately.
7" Round Bobber Air Cleaners.
VT No. Year
Fits
34-0406 1993-07 Black, CV
34-0054 1993-07 CV Black with integral breather
34-0059 1993-07 CV Chrome with integral breather
34-0406
Installed
34-0943
34-1113
34-0054
34-0059
34-1460
34-1459
34-1458
34-2122
34-0655
34-1457
Important Note: Some items on this page may be emission-related parts subject to California or other emission control laws. Please
see note for important information regarding emission control regulatory compliance and warranty information.
Performance Round High Flow Air Cleaner Kit is center bolt
style. The one-piece cast back plate is system machined to the
throttle body to deliver a smooth uninterrupted flow, and shaped
to permit air to enter around the perimeter of the air cleaner
housing. The back plate is topped with a washable filter. This
can be fitted with most round accessory center-bolt air cleaner
covers. This kit includes air cleaner element, gloss black back
plate, breather and all required hardware. Fits 2017-up FLHR,
FLHT, FLHX, 2018-up FXBB, FXLR, FXFBS.
VT No. 34-1466
34-1466
Performance Air Cleaner and Breather Kit includes backing
plate, air filter, breather manifold and hardware.
VT No. Fits
34-1084 1993-07 Ev-Twin Cam
34-1236 2002-07 FLT, 1999-15 FXST-FLST, 1999-07 FXD
34-2122 2008-13 FLT
34-2124 2000-07 FXST-FLST, 1999-07 FXD, 2002-07 FLT
34-2126 2008-13 FLT 90°
34-0948 Replacement filter only for 34-1236
34-1040 Replacement filter only for 34-1092 and 34-1093
34-1238 Replacement filter only for 34-1243
34-1239 Replacement filter only for 34-1242
34-1512 Rubber Tube Inserts
34-2124
34-2122