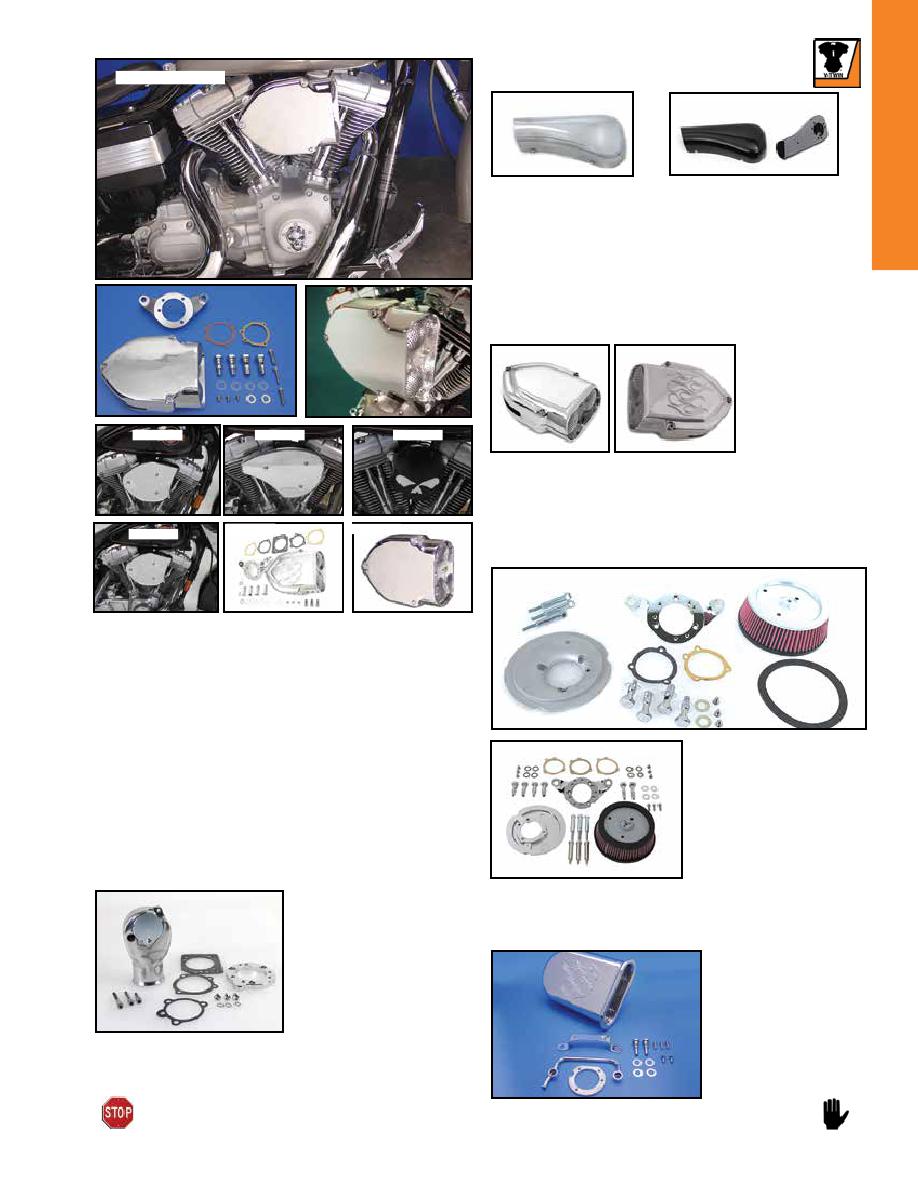 365
BIG TWIN
Air Cleaner
V-Charger
TM
Chrome Air Cleaner for Big Twin features air
scoop "blower" design and includes a built-in chrome screen
and filter element. Kits include brackets and/or integral bracket,
breather system except where noted.
VT No.
Type Year
34-0467* S&S 1984-91
Wyatts Air Cleaner Assemblies include integral breather
bracket and related hardware.
34-0471
34-0483
34-0484
34-0474
34-0596
34-0584* 1984-89 Keihin
34-1241
34-1361
*Note: Does not have integral breather bracket
Billet Flame Scoop CV
Air Cleaner includes filter
and mount brackets. Fits
1991-99 Big Twin with
carburetor.
VT No. 34-0703
34-0703
Chrome V-Charger Air Cleaner Units Only include element.
Order brackets and breather kits as required. Fits 1990-16
FXST, FLST, FXD, 1990-07 FLT
VT No. Style
34-0638 Smooth with raised beveled center
34-0640 Engraved Flames
34-0087 Replacement Cover for 34-0638
34-1241 Installed
34-0596
VT
No.
Type
Year
34-1163 CV Backing Plate
34-0700 S&S
34-0623 Electronic Fuel Injection (EFI)
34-0471
34-0483
34-0485
34-0474
Important Note:
Some items on this page may be emission-related parts subject to California or other emission control laws. Please
see note for important information regarding emission control regulatory compliance and warranty information.
34-0638
34-0640
Velo High Flow Air Cleaner
Assembly features cast
mount bracket with built in
breather and filter. Includes
breather bolts and hard-
ware to mount to 1993-07
Evolution and Twin Cam.
Cover not included.
Chrome
Black
49-1449
Early Style Carburetor Breather Snoots feature cover with-
out filter. Bendix Keihin and CV is 3 bolt pattern. CV requires
use of 35-0125 for 2000-up Big Twin or 35-0122 for 1993-99
Big Twin.
Chrome Black Type
Year
34-1331 34-1450 CV Kit
34-1046 34-1449 Bendix-Keihin
34-1045 34-1448 Linkert
34-1081 34-1398 CV
34-0659 34-1332 Cover Only
34-0700
Tourist Trophy Breather
Snoot Kit is Schebler style,
casted of aluminum and pol-
ish, for CV and S&S "E" car-
buretor applications. Includes
the side door installed. Fits
1993-2007 FLST, FXST.
VT No. 34-0487
34-1361
34-1241
34-0623