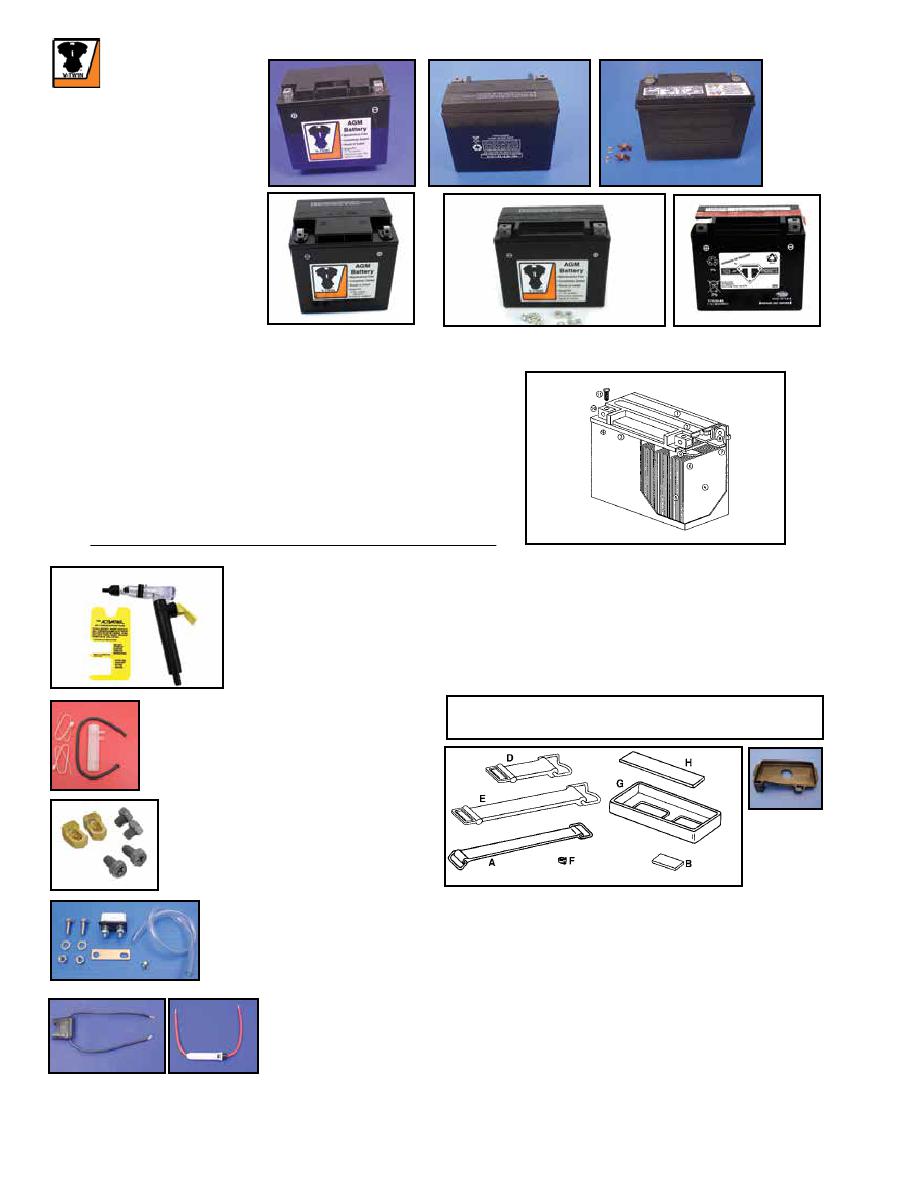 362
"Activator" Battery Filler
attaches to any standard acid
pack tube. Positive thumb
release valve absolutely controls
acid flow. No acid spills, burns or
holes in clothing.
VT No. 16-0037
Battery Acid Catch Tank attaches to battery
vent tube to collect excess acid to protect the
frame and lower rear fender parts.
VT No. 16-1739
Battery Terminal Hardware Kit
includes pieces to simplify battery
installations on FXE and late XL
models.
VT No. 32-0235
In-Line Fuse Holder has
6" long wire leads.
VT No.
Type
32-0410
32-8946
32-8946
32-0410
Brass Terminal Kit.
VT No. 32-1024
Dynaglide Battery Tray and Cushions for Dynaglide Models
VT No.
OEM#
Fits
Item
28-0878 66017-01
28-0218
FXST Battery Hardware for 1984-99 Softail models.
VT No.
# OEM
Item
Year
28-2217
28-0138
28-0136
28-0137
37-8933
28-0423
28-0218
28-0539
• Lock Bonded Plates
• Stainless Steel
Terminal Bolts
• Maintenance Free
• Dry
AGM
Battery
Dry AGM Battery. The "Absorbed Glass Mat" Technology provides higher cold cranking amps, better rechargeablity with longer
overall life.
Note: 1998 and earlier FX models, require battery side cover, VT No. 42-0770 and a top cover, VT No. 42-0785 for
VT No. OEM
Year/Model
53-0547 65991-82B 1973-94 FX-FXR
53-0585 65991-75C 1984-90 FXST-FLST

53-0550 66010-97A 1997-up FLHR-FLHT-FLTR

53-0545 65989-90B 1991-96 FXD-FXST-FLST

65989-90B 1991-96 FXD-FXST-FLST
53-0789 65989-97A 1997-up FXD, FXST, XL, FLST (Dry)
Note: AGM Batteries will require electrolyte and charging before installation.
53-0545
53-0547
53-0536
53-0585
V-Twin Mfg AGM Battery
53-0547
Unique vent system minimizes leakage.
Bonded cover prevents electrolyte leakage and improves dependability.
Positive AGM plate separators ensure long life and improved performance.
Durable AGM plates direct maximum cranking amps to
terminals for quick starts.
Heavy top lead lugs provide improved adhesion to the plates for vibration
resistance and long life.
Large diameter partition connections direct more power to the terminals.
Sturdy diameter bushings resist vibration damage and acid leakage which
causes terminal corrosion.
Durable two position terminals.
Stainless steel terminal screws.
53-0789
53-0550
All Batteries are dry charged and do not include electrolyte.
Electrolyte (battery acid) is available at Tractor Supply stores,
nationwide.