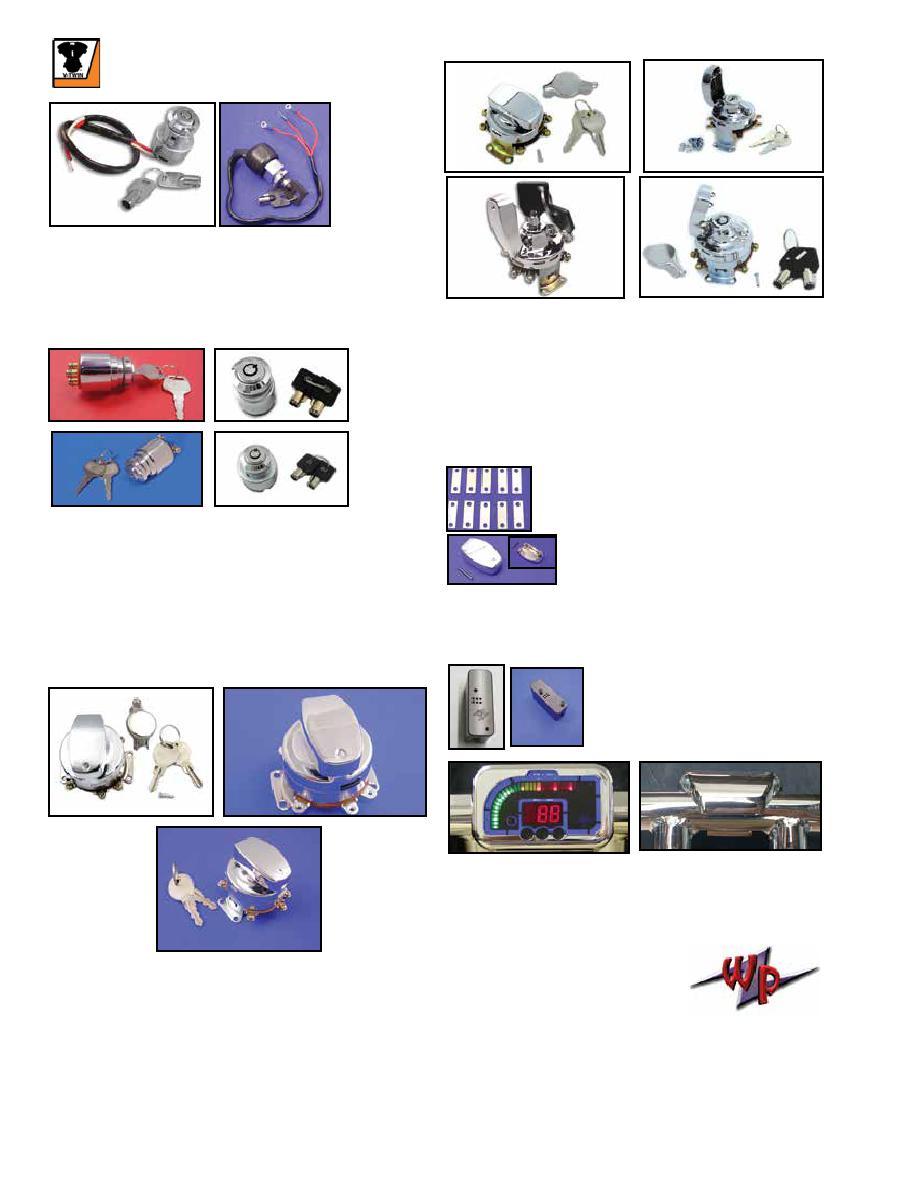 356
6 Post FLH Cast Ignition Switches include cast cover and two
keys. Replaces 71501-73, for 1985-95. Cover installed as noted.
VT No.
Brand
Top
Key
32-0419 V-Twin
32-8078 Replica
32-0480 Contact
32-0482 Rear Hinge
Hardware
37-8916 2589 Terminal wire screw and washer, 24 pack
37-8917 2625 Mount screw, 7015 washer, 24 pack
32-0419
Switch Covers fit 1967-up FLH diecast
dash switch, chrome finish.
VT No. 32-0399
Key Switch Spacers allow switch height to be
adjusted when installing dash cover on FL type
dash assemblies. Spacers are .040" thick.
VT No. 39-0118
32-8078
32-0482
Chrome Electronic Ignition Switch for 1985-95 Softail mod-
els has smooth action and dependability of electronic switch-
ing. It eliminates original pole to bar contacts found in original
equipment switch. This 6 pole switch withstands vibration and
corrosion and it replaces 71501-73. Includes two keys and early
chrome style switch cover.
VT No. 32-9267 features stainless
internal construction.
VT No.
Feature
32-8070 Smooth
32-9267 Stainless
32-8109 Silent
32-9267
32-8109
Ignition Switch
32-0480
32-8070
Barrel Key Ignition Switch features round style keys, featuring
2-position activation with positive detent to retain key in the off
position.
VT No.
OEM
Year
Model
32-9038 71428-90A, Stock
32-9053* Early Type
*Note: Features run position with lights off
32-9053
32-9038
Chrome Stock Key Switch for ignition and light switch for
Super Glide, replaces 71425-77 and 70124-75. Used on all
FX-FXS, 1982-93 all FXR. Includes two keys and mounting
ring.
VT No. Type
Year
32-0161 Replica
32-0416 Stock Type 1977-93
32-1099 As Above Cam Lock
32-0175 Replica
32-1100 As Above Cam Lock
32-1267 Off/On
32-0175
32-1099
32-1100
32-0161
Barrel
Diagnostic Wiring
Wire Plus Anodized Billet Lid for
Mid Frame Mounted Wiring Kit for
FX-FL-FXST models. Optional anod-
ized billet lid sold separately.
VT No. 32-4151
Wire Plus Digital Instrument Panel features chrome billet
construction, digital speedometer, digital bar graph tachometer,
charging system monitor, trip meter, odometer and light sensor
for auto dimming at night. Requires a digital signal from the
transmission sensor and an ignition module with a tach output.
Requires correct bracket for handlebar mounting.
VT No. Item
39-0050 Clamps for 1" Bar
39-0051 Clamps for 1¹⁄₄" Bar
39-0052 Clamps for 1¹⁄₂" Bar
39-0050