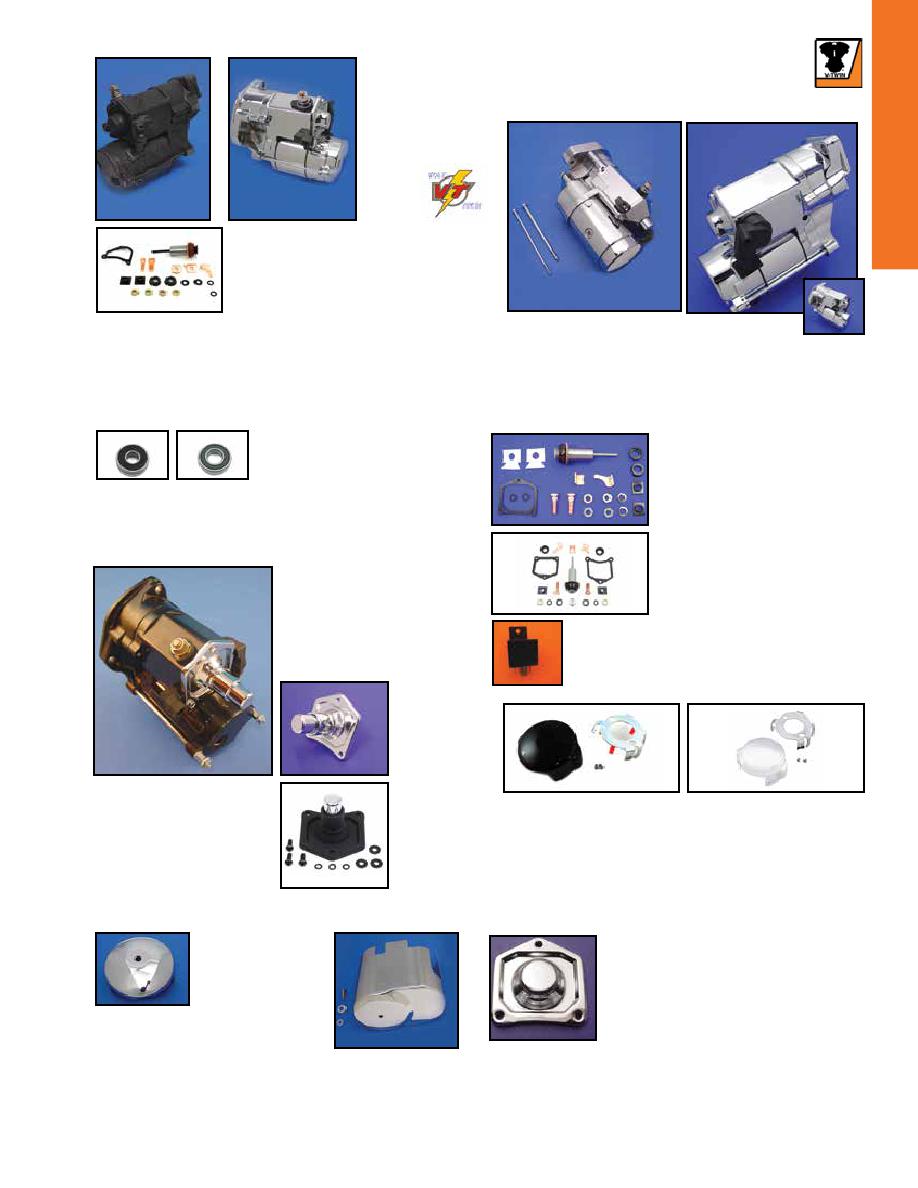 349
BIG TWIN
32-0742
installed on
32-5115
Remote Starter Button
replaces end cover on 1991-
06 Big Twin. Allows starter to
operate directly at the solenoid.
VT No. Item
32-0742 Chrome
32-1195 Black
Starter Motor
1989-up Big Twin
Stock Starter Motors and Parts for all 1989-06 Big Twin
except 2006-17 Dynaglide models.
VT No. OEM
Fits
Item
Finish
32-0242
32-0243*
32-9266 31604-91 1991-up Solenoid Repair Kit
*Note: Provides 15% greater torque over stock starter motor.
Chrome Starter Solenoid Plate replaces
31688-90, 1990-17 FXD, 1991-17 FXST
and FLST.
VT No. 32-7798
Chrome Starter
Cover fits 1991-05
FXD and 1991-94
FXR.
VT No. 42-0152
Starter Motor Chrome
End Cover for 1991-
06 Big Twin.
VT No. 42-0992
Solenoid Repair Kit for 1991-up Big
Twin.
VT No. Fits
32-9266 1991-05 FXD,

32-9345 2006-17 FXD,

32-1427 1989-06 Big Twin
Start Boost Relay provides full battery voltage to
coil during cranking, eliminating the 1-2 volt drop
through the wiring harness in single fire applica-
tions.
VT No. 32-3000
Big Twin Starter Motor Replacement Bearings.
VT No.
OEM Fits
12-9996 8883 1991-up Commutator End
12-9995 8871 1991-up Gear End
32-0242
32-0243
Cover
Chrome Starter Motor is fully chrome plated including the alumi-
num parts. For all 1989-05 Big Twins except 2006-17 Dynaglide
models. 32-0998 includes remote starter button.
VT No.
Kw
32-0998 2.4
32-0248 1.4
32-0248
32-9266
12-9995
12-9996
32-0742
32-1195
32-0998
Starter Motor End Cover
Dresses the end of the starter motor for a clean look on all
2017-up FLT models. Available in chrome or gloss black.
Black Chrome
42-1167 42-1168
32-1427
32-9266
42-1167
42-1168