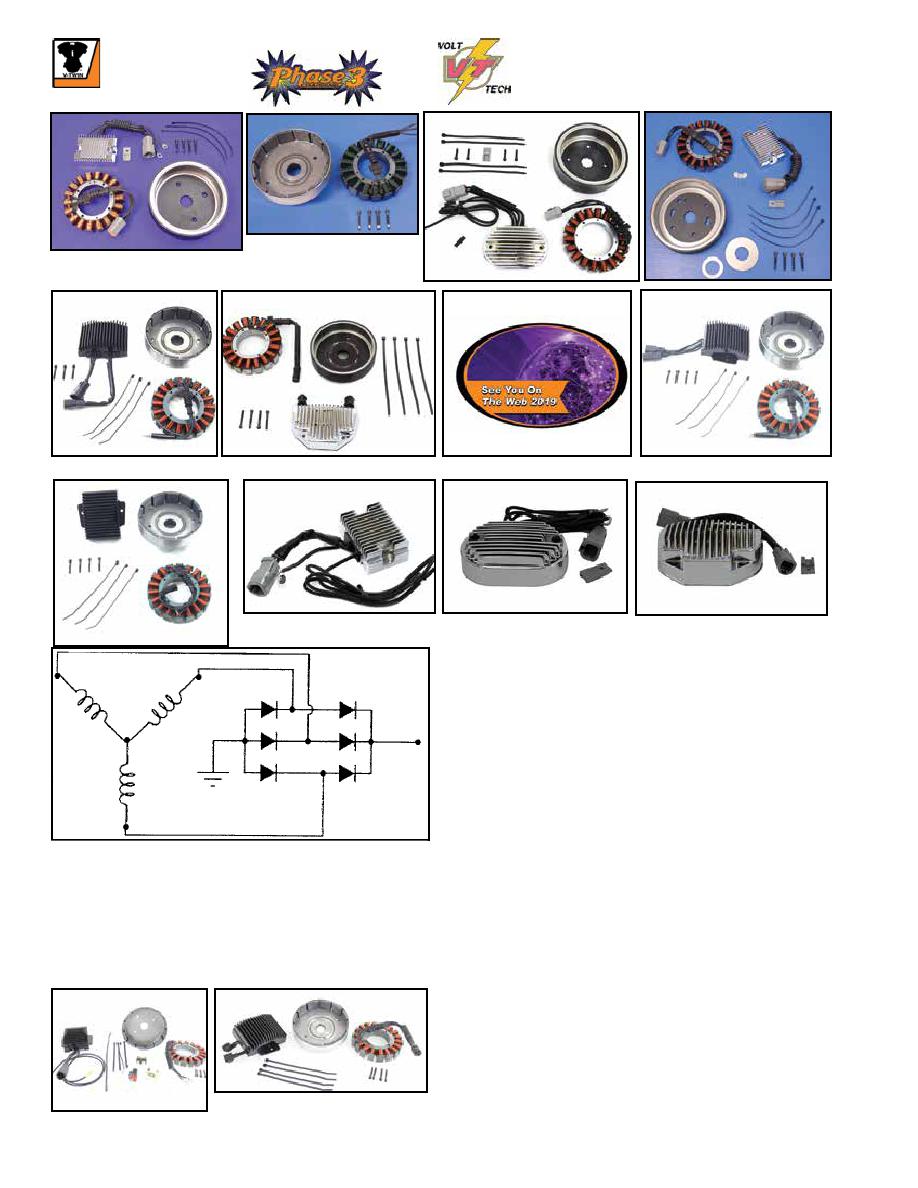 348
Alternator Kit features sealed rotor, stator, regulator and bracket.
All feature Deutsch connectors.
22 Amp Single Phase Kits
1984-88 FXST, 1986-88 FLST, 1984-88 FXR
VT No Repl. Reg Note
32-7500 32-0067
32-0776 32-0667
32-0776 32-0780
32-0796 32-0780
32 Amp Single Phase Kits
32-0775 32-0781
Sealed Magnet Rotor w/chrome regulator
32-7807 32-0781
Sealed Magnet Rotor w/chrome regulator
32-8927 32-9098
Sealed Magnet Rotor w/black regulator
32-7775 32-0781
Sealed Magnet Rotor w/black regulator
38 Amp Softail 3 Phase
Kit
Regulator Year
Model
32-0375 32-0378
1984-99 FLST-FXST, 1991-98 FXD
32-0373* 32-0784
2001-06 FLST-FXST, 1995-05 FLT
32-0388 32-0378
32-0939
FXD (Alternator Stator& Rotor)
45 Amp, 3 Phase
32-1475
32-1476
50 Amp, 3 Phase
32-0773 32-7512
2006-07 FXD stock, 2006 FXD upgrade
32-0774 32-0979
32-1280
32-0839 32-0979
32-0840 32-0381
32-1477
2012-17 FXD, FXDWG, 3 Phase
32-1478
*Note: For 1995-2005 FLT models, use with 31-0166 zinc rectifier
regulator bracket mount.
32-0388
32-0375
Alternator Kit
Some basic factoids about
3 Phase...Most of the electric power in the world is
3 Phase. The concept was originally conceived by Nikola Tesla and was proven
that 3 Phase was far superior to single phase power.
3 Phase power is typically
150% more efficient than single phase in the same power range. In a single
phase unit the power falls to zero three times during each cycle in
3 Phase it
never drops to zero. The power deliver to the load is the same at any instant.
Also, in
3 Phase the conductors need only be 75% the size of conductors for
single phase for the same power output. Therefore, a
3 Phase system provides
more current delivery for EFI and other electrical accessories and provides more
charging power for increased battery life and easier starting. Not really much
more complicated than single phase but much more efficient!
32-0840
32-0839
32-0774
32-0378
32-0373
32-0773
32-0939
32-1280
32-0784
32-7512
32-1475
32-1478