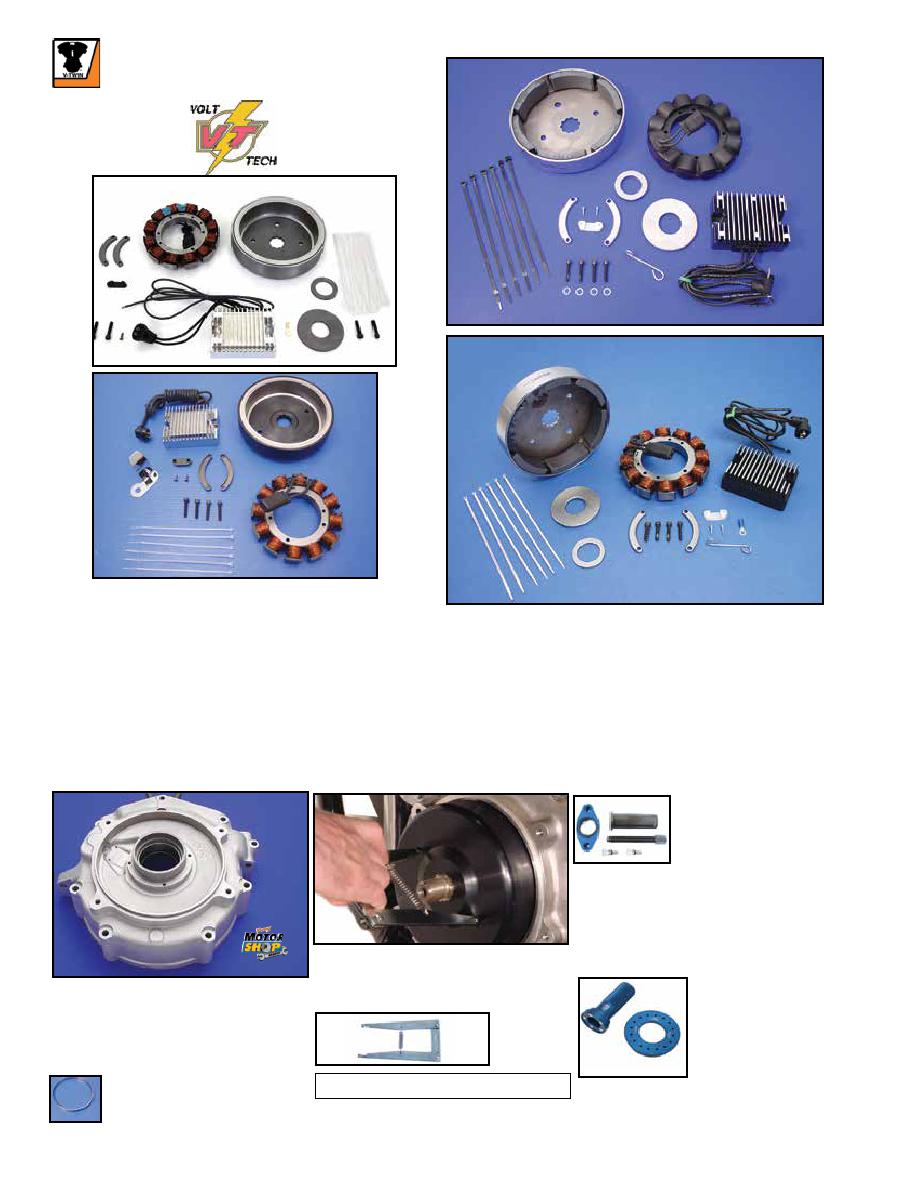 346
Alternator Kit
Alternator Sealing Ring Service
Motor Shop Alternator Sealing Ring
Replacement Service. Ship in 1970-up left
hand case with damaged O-Ring lip and
we will machine out and replace with new
steel sealing ring.
VT No. 60-0164
Big Twin Alternator Rotor Puller uses
the two threaded holes in rotor to allow
removal of rotor.
VT No. 16-0693
32 Amp "Volt Tech" Alternator Kit fits 1984-78 Big Twins
includes stator, rotor with stainless liner "to seal magnets in
place" chrome regulator and mount kit.
*Note: Does not fit FXD
models.
VT No. Regulator Fits
32-0775* 32-0781
1989-99 FXST, FLST, FLT, FXR, FXD
32-7807 32-0781
As Above with reinforced rotor splines
32-8927 32-9098
1989-98 FXST, FLST, FLST, FXR, FXD
32-7775 32-0781
1984-98 FXST, 1989-98 FLST
32-0775
22 Amp Big Twin Alternator Charging System features all
components including stator, rotor, black solid state regulator,
plug retainer and mount kit.
VT No. Regulator
Fits
32-7500 32-0667
1984-88 FXST, 1986-88 FLST
32-7776 32-0667
As Above with Sealed Magnet Rotor
32-8927
32-7500
32-7807
Alternator Repair Ring Only.
VT No. 16-0692
Jims M-8 Alternator
Rotor Remover and
Installer for M-8
engines 2017-up. This
tool will easily remove
the high output rotor
without damage to the
magnets.
VT No. 16-1183
Use on 1971-84 FL, FX, 1979-96 FLT, 1984-94 FXR,
1984-06 FXST, 1986-06 FLST, 1991-06 FXD
Big Twin Alternator
Rotor Puller uses the
sprocket shaft end to
center and the two
threaded holes in rotor
to allow removal of rotor.For use on
all 1997-06 FLT with 45 amp charging
system. Can also be used on 1997-06
FXST, FLST and FXD that have been
graded to 45 amp charging system
.
VT No. 16-1054