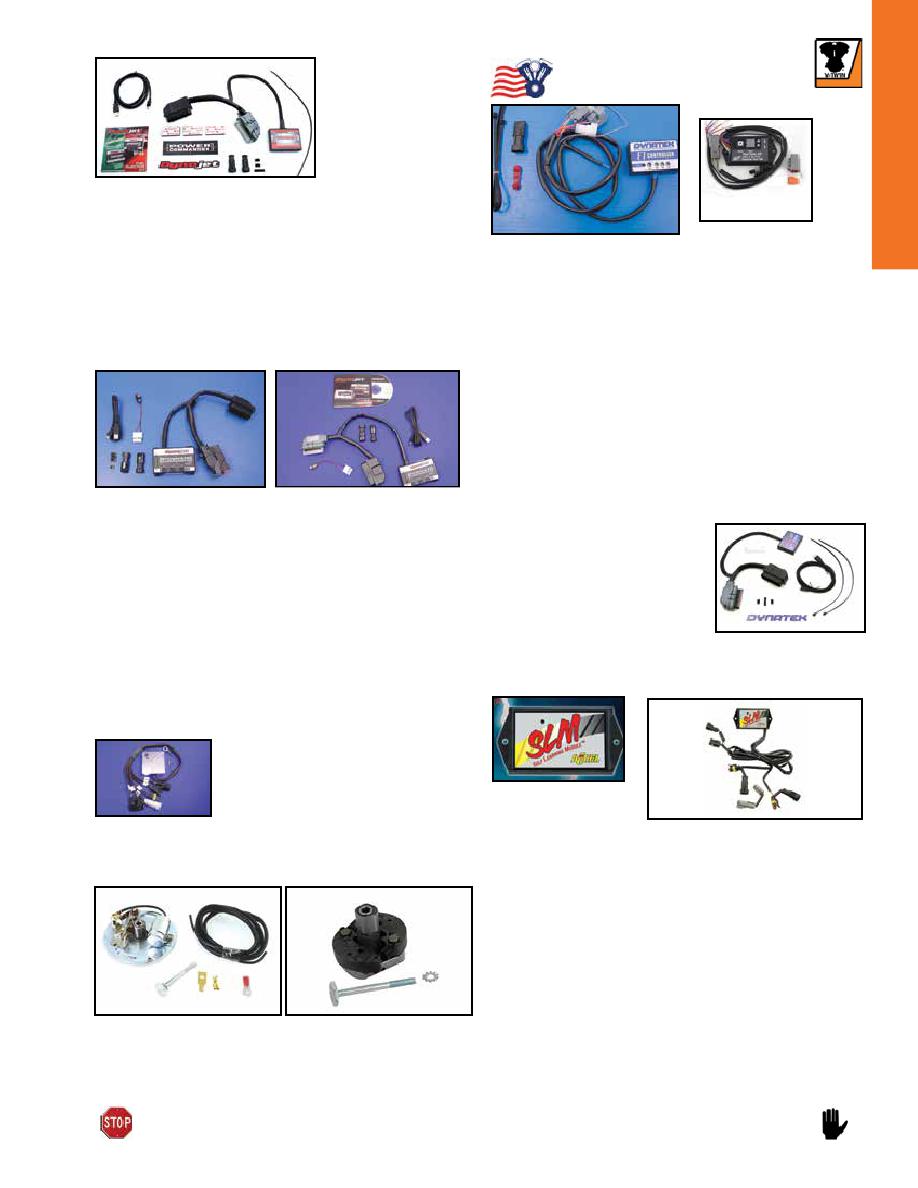 337
BIG TWIN
Important Note:
Some items on this page may be emission-related parts subject to California or other emission control laws. Please see
note for important information regarding emission control regulatory compliance and warranty information.
32-3011
Power Commander III USB Engine Management Systems
are for fuel injected models and allow for both fuel and ignition
adjustments. Each unit includes a specific map, designed to
improve performance over stock. The Power Commander
includes IBM compatible link cable and software package
which allows you to fully map the fuel ignition curves on IBM
compatible computers. If a computer is not available, the fuel
curves can be adjusted by using three touch buttons on the
face plate.
32-3037
VT No. Year
Model
32-3005 2002-06 V-Rod
32-3008 2004-05 TC-88
Dynaglide
32-3011* 2006
VT No. Year
Model
32-3012* 2007
32-3013* 2007-08 FXST
32-3014* 2007-17 Dynaglide
32-3037 2008
*Note: Includes O
VT No. Fits
32-0842 2007-11 FXST-FXCWC-FLSTF
32-0843 2009-11 FLSTC/FLSTN

(plastic mount tray included)
32-1961 2006-11 FXD
32-1039 2012 FXST, FLST
32-1043 2012 FXD
32-1048 2013-17 FXD
Power Commander V
Fuel and Ignition Timing
Control for each cylinder.
Rev Xtend feature increas-
es stock rev limiter. Switch
between two maps "sent on
the fly" can be adjusted on a
"per gear" basis and allows
for one map per cylinder
per gear if required. Adjustment of fuel and timing is based on engine
temperature provided by the cold start feature. Will power up with
USB cable only for programming.
Note: Not legal for use on pollution
VT No. Description
Year
32-0719 Injection Overdrive
32-0730 Includes VTE 2700P and
V-Thunder Fuel Injected Cam
V-Thunder Products for
Evolution Electronic Fuel
Injected models
32-0719
Dyna Tek FI Controller is a plug module that offers 3 user
selectable base fuel curves that are designed to improve
engine operation and can be modified to suit a wide variety
of modifications. Fuel mixture can be enriched or leaned as
required. The Dyna FI controller uses the factory connectors
for easy installation and there is no PC required for tuning or
adjusting the fuel curves. There are no modifications required
to the stock ECU and removing the Dyna. FI controller returns
the vehicle to the factory configuration.
VT No.
Fits
32-3023 2002-05 FLT TC-88
32-3025 2006 FLT
32-3026 2006-FXST
32-3027 2006 FXD
32-3033 2007-09 FXST
32-3034 2007-09 FXD
32-3138 2008 FLT
32-3139 2009 FLT
32-3033
32-3046
Dynatek Fusion EFI Ignition Module
VT No. Years
Model
32-1166 2002-06 FLT
32-1167 2007
32-1168 2008-13 FLT
32-1169 2014-16 FLT
32-1170 2001-06 FLST, FXST
32-1171 2007-11 FLST, FXST
32-1174 2012-15 FLST, FXST
32-1175 2004-05 FXD
32-1176 2006-11 FXD
32-1177 2012-17 FXD
Accel Self Learning Module helps regain control of fuel inject-
ed bike. Automatic recalibration-optimizing modifications gains
expected from performance exhausts, air cleaners and cam-
shafts. Easy installation-direct plug-in connections to factory
throttle position, crank shaft position and oxygen sensors. Self
learning-module seamlessly compensates for changing loads,
weather conditions and altitude.
VT No.
Mfg No.
Fits
32-1700 SLM01
95-04 Touring*,01-04 Softail*
02-04 Dynaglide* ,02-07 V-Rod
Kit includes one O2 sensor and one O2 sensor bung to be
32-1702 SLM03
Kit utilizes factory installed O2 sensors
32-1703 SLM04
Kit utilizes factory installed O2 sensors
32-1704 SLM05
08-09 Touring with "throttle by wire"
Dyna Tek
32-0842
Advance Unit
VT No.
Item
32-7504
Assembly w/ contact point & condenser
32-0178
Weight, spring and stainless steel shaft & plate
32-7504
32-0178