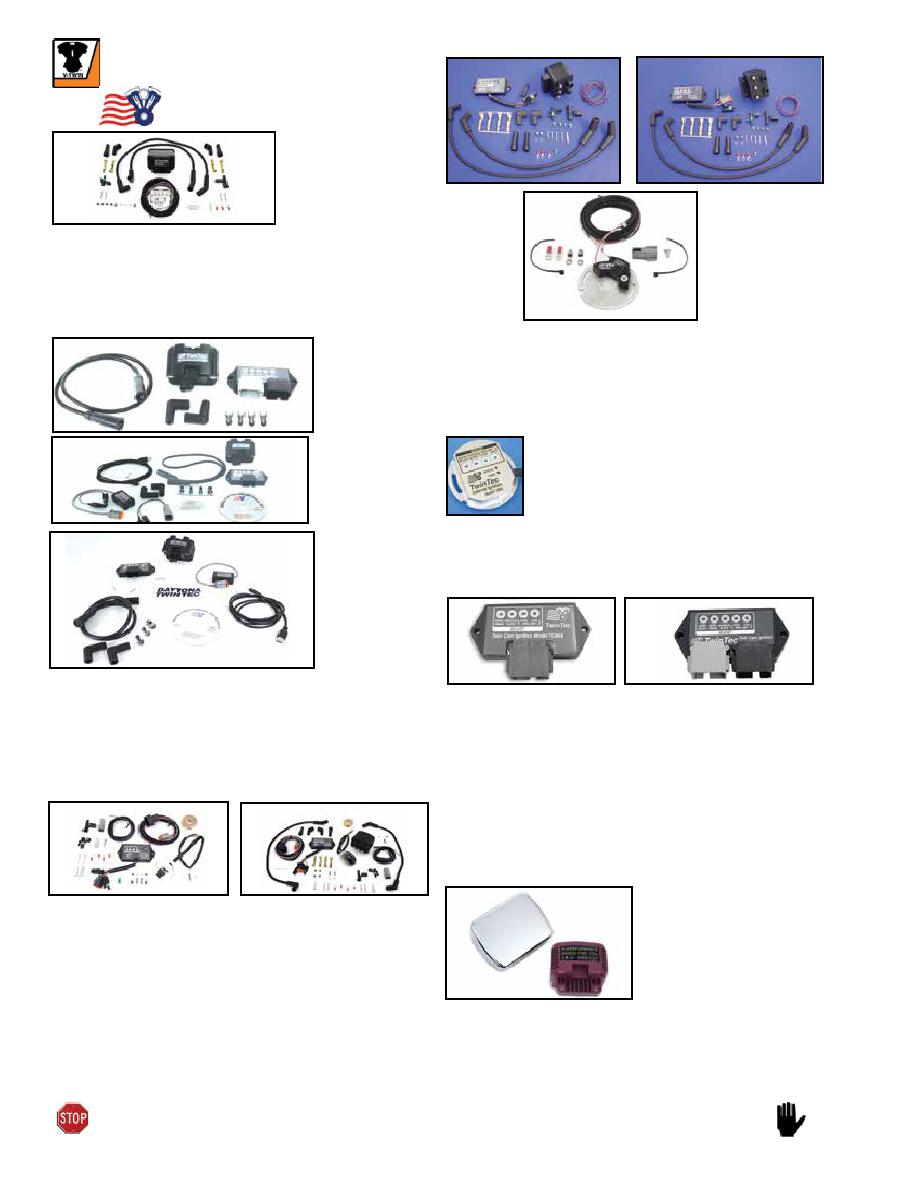 336
Daytona Twin Tec Internal Ignition Kit has a billet aluminum
housing with wide timing advance adjustment range which
accommodates stock to highly modified engines. Kit includes
ignition, coil and spark plug wire set.
VT No. Fits
32-3015 84-99 FXST, 86-99 FLST, 82-94 FXR, 91-99 FXD
32-3054 As Above ARB E.O. No. D-641-1
Daytona Twin Tec
Carb Ignition
32-3018
32-3017
Daytona Twin Tec TC-88 Ignition Kits for all 1999-up TC-88
carbureted Big Twins include module, coil and spark plug wire
set.
VT No. Fits
32-3088 1999-03 (Does not include software and cable)
32-3057 As Above ARB E.O. No. D-641-1
32-3089 2004-06 (Includes software and USB cable)
32-3059 As Above ARB E.O. No. D-641-1
32-3089
32-3088
Twin Tec Internal Ignition for 1970-97 models.
Two advance curve families with adjustable
advance slope accommodate stock to highly
modified engines. Features digitally set RPM
Limit (100 RPM Steps) and selectable single or
dual fire mode. Coil outputs protected against
short circuits.
VT No. Item
32-1005 Ignition
32-2013 3 Ohm Single Fire Coil
Daytona Twin Tec External Ignition Kits for 1990-98
Evolution Big Twin and 1990-97 Sportster models. Kits include
module, coil and spark plug wire set.
VT No.
Fits
Item
32-3017
32-3018
32-1036
32-1036
45 KV Single Fire Coil Kit
includes coil and cover to fit
1984-99 Softail models.
VT No. 32-0749
Daytona Twin Tec External Single Fire Ignition Conversion
Kit includes 50 state street legal selectable ignition module,
sensor plate, rotor cup and adapter harness that allows use of
tachometer and single fire coil. Allows use of external ignition
on all 1970-1999 carbureted only Big Twins and 1971-2003 XL
models. Helps prevent heat related ignition failures by replacing
heat sensitive internal nose-cone style ignitions. Also available
as complete kit with correct 3.0 ohm single fire coil and plug
wire set.
VT No. Item
32-3047 Conversion Kit
32-3048 Complete Conversion Kit with Coil and Wires
32-3047
32-3048
Important Note:
Some items on this page may be emission-related parts subject to California or other emission control laws. Please
see note for important information regarding emission control regulatory compliance and warranty information.
32-3015
32-1008
Twin Tec External Ignition for 1999-06 Carbureted Twin Cam
Models. Wide timing advance adjustment range accommodates
stock to highly modified engines. Features digitally set RPM Limit
(100 RPM Steps). Selectable multi-spark mode for quick starting
and smooth cruise. Coil outputs protected against short circuits.
Billet aluminum housing with black anodized finish. Easy plug-in
installation supports all sensors including theft/security module.
VT No. Years
32-1008 1999-03 TC-88 Carburetor Only
32-3056 As Above, Note: ARB Complaint E. O. No. D-641-3
32-1014 2004-06 TC-88 and XL Carburetor Only
32-3058 As Above, ARB Complaint E. O. No. D-641-1
32-1014
32-3059