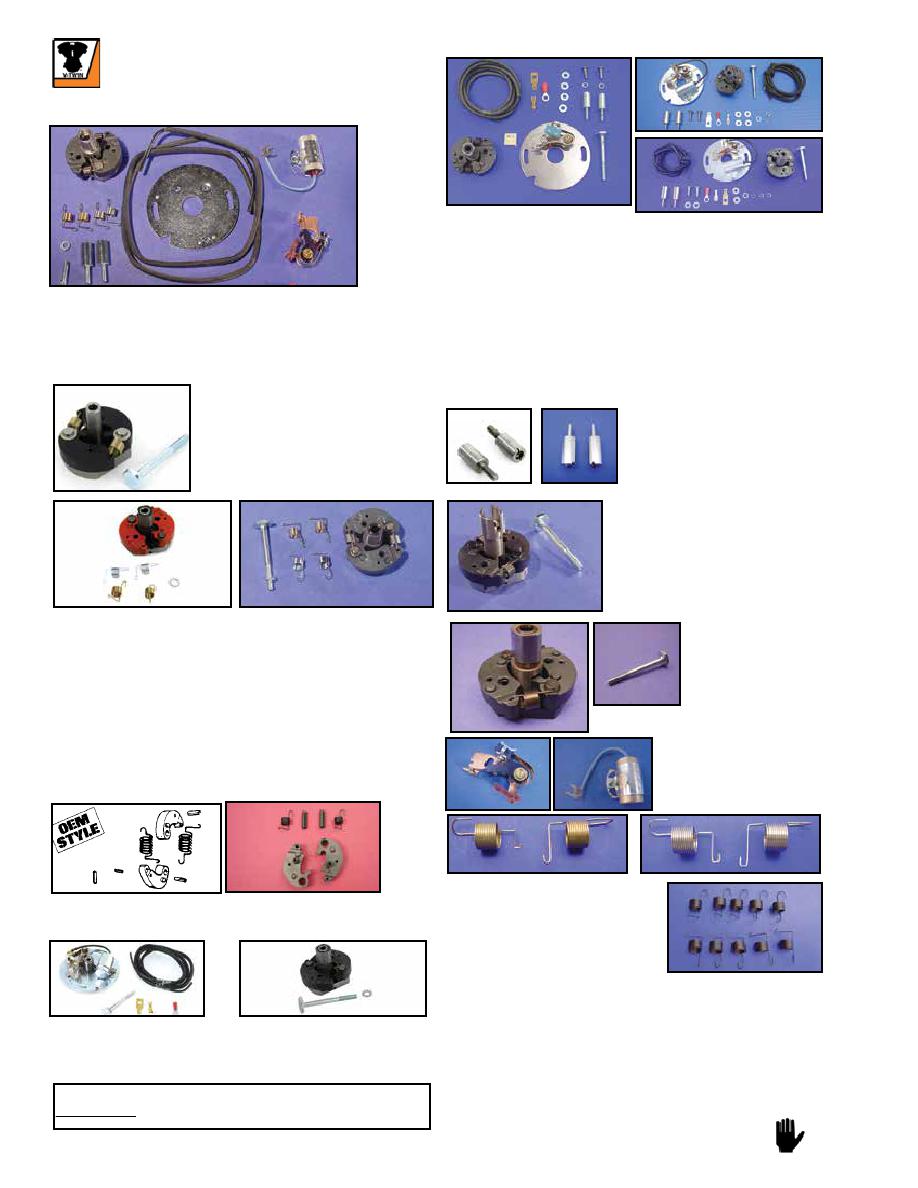 332
Carb Ignition
Advance Unit
Points Conversion Kit. Both brands include everything nec-
essary for direct replacement on 1970-78 Big Twin, 1971-78
Sportsters or for converting late model electronic-type back to
points. Accel type available with microchip points, which will
require a domed shaped points cover such as VT No. 42-0299 to
accommodate taller points. The V-Twin unit includes stock style
points and condenser. 32-0150 available with needle bearing
weights.
VT No.
Item
Type
32-7773 Accel with Microchip
32-0136 V-Twin with Points
32-0150 V-Twin/Points
Advance Unit features machined stain-
less steel shaft and plate, metallic coated
weights and special wound springs for
exact advance. For 1970-84, mechani-
cal advance applications. Center screw
included.
VT No. 32-9037
Stainless Advance Unit features
stainless base, heat treated weights
and cam center screw for 1970-up
mechanical advance ignition.
VT No.
Item
Brand
32-0178
32-0168
Blue Streak Sifton "Tuneable" Ignition Advance Assembly
includes stainless advance base, points plate with "Blue Streak"
points and condenser with hardware and 3 pairs of color coated
springs which allow full advance at 1400, 2000 and 2600 RPM
depending on which spring is selected.
VT No. 32-0713
Warranty
All Electrical Components sold as individual pieces or in kits are covered under our warranty
"Replacement Only" Provision. All electrical related item part numbers begin with a 32 prefix.
No credit will be issued for these items as they are exchange only.
Points Plate Screws.
VT No. Type
32-0760 Stainless
32-0049 Zinc
32-0150
32-0136
32-7773
Tuneable Advance Unit features stainless base, heat treated
weights cam bolt and 3 different color coded spring sets which
allows full advance at 1400, 2000, and 2600 RPM depending
on which springs are selected. Can be used with all ignitions,
points, single or dual fire types which utilize an advance unit.
Springs also available separately.
VT No.
Type
32-9220 Stock
32-9261
13-0121
13-9246 Heavy
13-9247 Severe
32-9220
32-9261
Advance Units feature
heat treated weights
and steelbase. Order
center bolt separately.
VT No.
Type
32-7510 Advance
32-0055
32-7510
32-0055
13-9247
13-0121
13-9246
1970-up Advance Weight Springs.
VT No.
Fits
13-9247 Severe Duty Advance Weight Springs are for all

high compression and heavily modified engines.
Also useful for applications experiencing
detonation (pinging) or very erratic idle,sold as a pair
13-9246 Heavy Advance Weight Springs for slightly

modified stock, low compression or mild stroker
application, helps cure minor idle problems, sold as
pair
13-0121 Original type replacement. Uses premium

grade spring steel, 10 pack
32-0140
32-0156
32-0157
Blue Streak Premium
Parts for 1970-78 Twins.
VT No.
Item
32-0156 Points
32-0157 Condenser
Automatic Advance Rebuild Kit includes two springs, two
weights, and roll pins. For all 1970-78 Twins.
VT No. 32-0140
Important Note:
Some items on this page may be emission-related parts subject to California or other emission control laws. Please
see note for important information regarding emission control regulatory compliance and warranty information.
Advance Unit
VT No.
Item
32-7504
Assembly w/ contact point & condenser
32-0178
Weight, spring and stainless steel shaft & plate
32-7504
32-0178
32-0049
32-0760