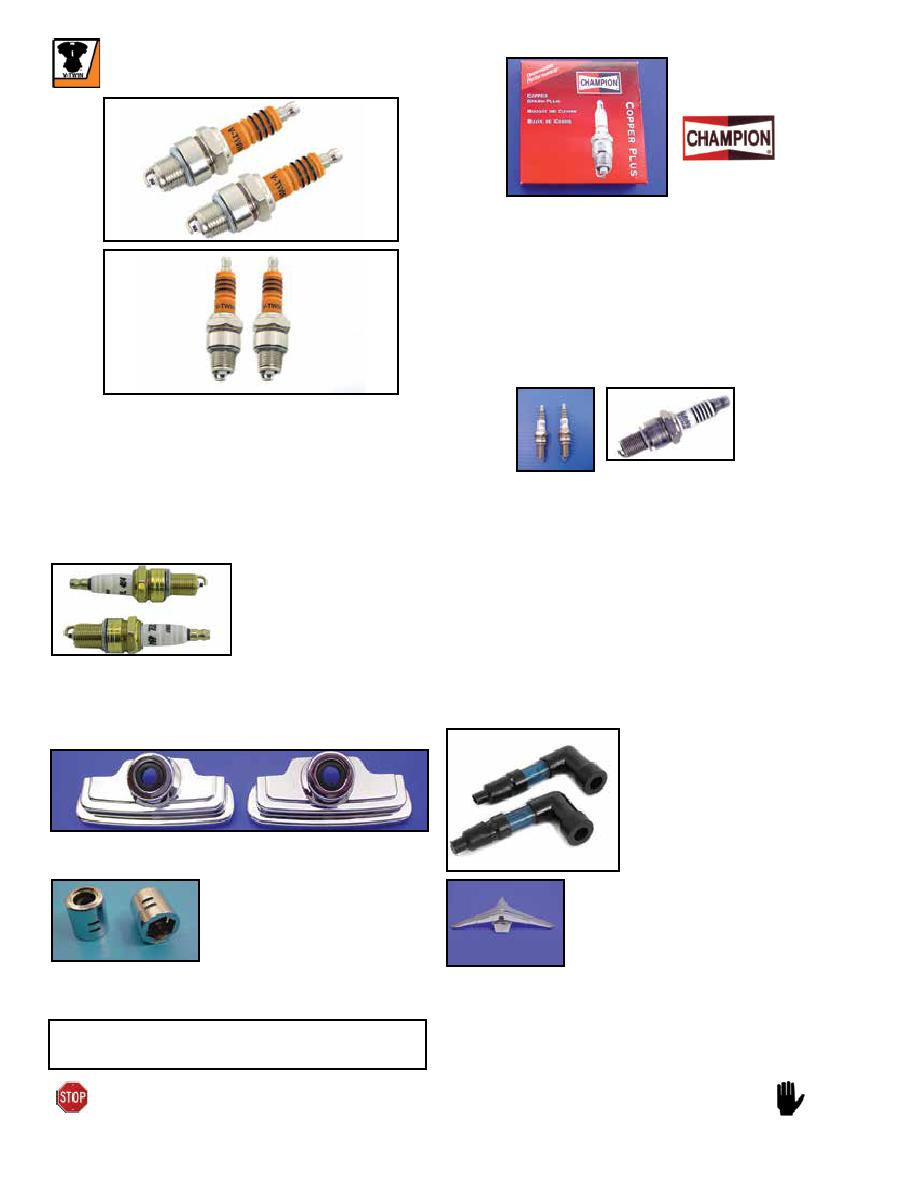 330
Accel Spark Plug Set is
U-Groove features a U-shaped
electrode, sintered alumina
insulator and a copper/nickel
alloy electrode. Gap is .040.
Fits 1975-81 FL-FX Evo.
VT No. 32-0144
Spark Plug
Autolite Platinum Plugs.
VT No. Autolite# Fits
32-9231 AP4265DP2 1984-98 1340cc V-2 Evolution
32-9232 AP4164DP2 1999-up TC-88, 1999-up FXST, FLST,

Autolite Standard Spark Plugs
10 Pack Pair
Autolite# H-D#
Fits
32-9295 —
32-9297 32-9298 4265
Champion Copper Plus. Sold in 4 pack unless noted. Spark
Plug gap measures .040.

Copper Plus
VT No. Engine Fits
HD# Champion
32-7547 TC-88 1999-17 FXST, FLST, 6R12 RA8HC
FXD

32-7540 Evo
32-0160 Shop Pack of 24
32-9232
V-Twin Performance Spark Plugs features a copper core
electrode for a longer service life, nickel plated housing, 95%
pure alumina insulator and a heat crimping process to ensure
a leak free seal.
VT No. Fits
Replace#
32-6691 1999-17 Twin Cam; FXST, FLST, FXD 6R12

32-6692 1984-98 Evolution
32-6693 As Above One Heat Range Hotter
32-6694 As Above One Heat Range Colder
Single Fire: Just the spark plug for the piston that is in its compression stroke
Single Plug: One spark plug in each head. Total of 2 spark plugs in one engine.
Dual Plug: Two spark plugs in each head. Total of 4 spark plugs in one engine.
Blue Lightning Bug Spark Plugs
are neon gas filled and glow as
strobe lights. Fit plugs with screw
terminal fittings only, sold in pair.
VT No. 32-1552
Chrome Head and Spark Plug Cover fits 1986-99 Evolution
models. Covers are held in place by rubber inserts supplied.
VT No. 42-0929
Sparkies are chrome die cast cov-
ers to fit perfectly on a spark hex for
Big Twin 14mm, pair.
VT No. Years
37-8952 1948-1999
32-1670 1999-2012
Chrome Covers
Chrome Big Twin Case Trim fits Evolution
1985-99 1340 Big Twin by mounting to
center case stud. To install adjust stud
length for more length on left side, then
press emblem over nut and attach by
chrome acorn nut which is supplied.
VT No. 42-0746
32-1552
Spark Plug Cover
Important Note:
Some items on this page may be emission-related parts subject to California or other emission control laws. Please
see note for important information regarding emission control regulatory compliance and warranty information.