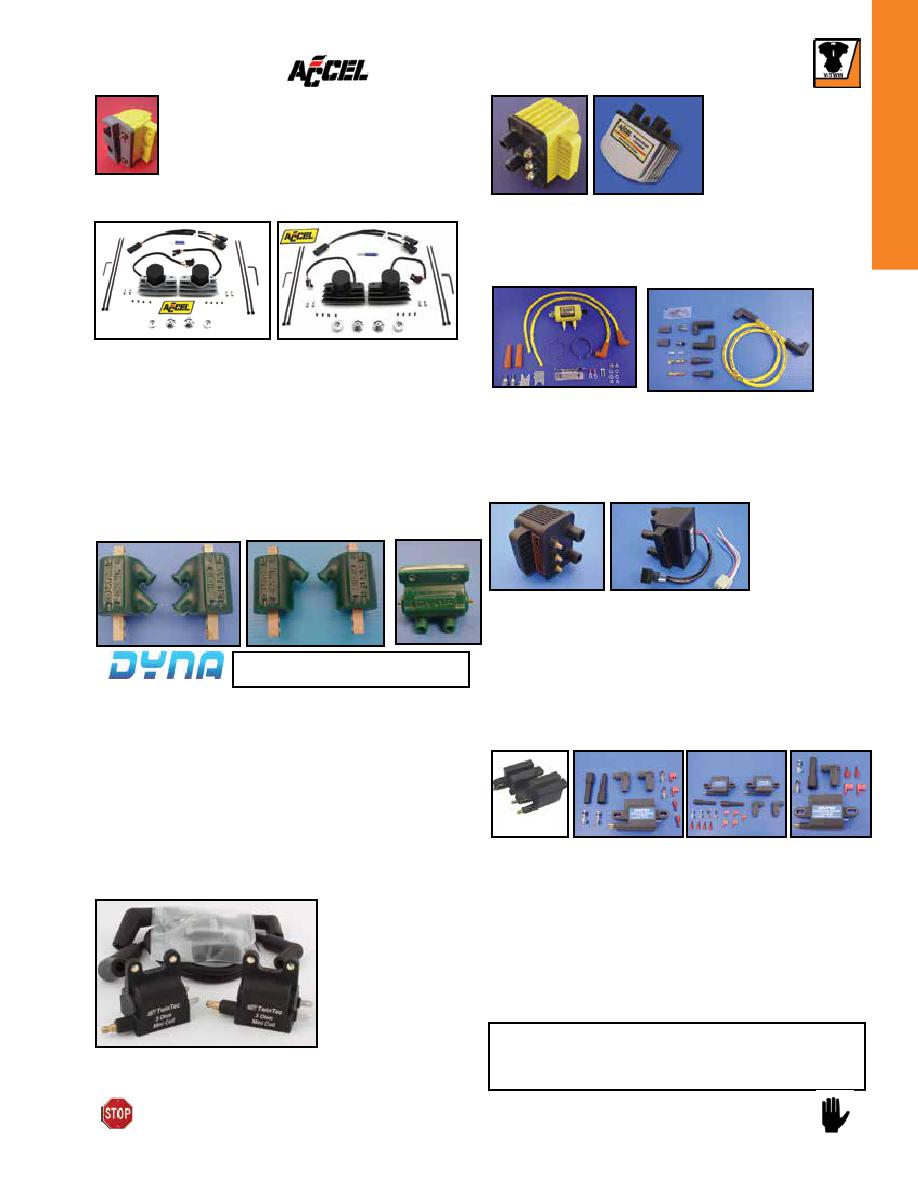 327
BIG TWIN
Single Fire: Just the spark plug for the piston that is in its compression stroke will be fired.
The other piston, being in its overlap position will not be ignited.
Dual Fire: Both spark plugs are fired simultaneously at the time only one piston is in its com-
pression stroke.This is the way the stock motor works on pre TC-88 engines.
Single Plug: One spark plug in each head. Total of 2 spark plugs in one engine.
Dual Plug: Two spark plugs in each head. Total of 4 spark plugs in one engine.
Twin Tec 3 Ohm Single
Fire Mini Coil Kit fea-
tures compact design 2.4"
x 2.3" x 1.6" (not includ-
ing terminals and tower)
and is compatible with
most single fire ignition
systems. Kit includes two
coils, universal wire set
and terminal ends.
VT No. 32-1015
Dyna Coils. 35,000 volt! Works with all points ignitions, after-
market or factory electronic ignitions. Note: 32-7792 is electron-
ic, 32-7793 is for points ignition.
VT No. #
Volt
Ohm Dyna
Type
U/M
32-7789 A
32-7790 A
Use 2 for dual plug heads
32-7792 C
32-7793* C
32-8055 B
32-8086 A
32-9035 B
DC-10-1 Angle, Single Pair
*Note: Use 2 for single fire ignition.
Dyna Application
DC6-5
All FXR-FXST and Dynaglide models
DC6-4
Dual Spark Plug Head Application
A
32-8055
32-7792
Dyna Twin Fire
Ignition Coils are
designed to work
with Dyna 2000
HD-I ignition mod-
ules. Twin fire coils
are slightly larger than stock coils and fit the stock mounting
bracket. Twin fire coils can be used with any electric advance
ignition system that incorporates dwell control, except Dyna
DS6-2 or similar type ignitions.
VT No. Dyna
Ohms/Type
32-9285 DC6-5 3 (A)Twin Fire II Miniature Dual Output

32-9264 DC6-4 3 (B) Four output towers

32-9264
32-9285
Dyna 0.5 Ohms Miniature Coils for TC-88. These coils are
designed for use with Dynaglide TC-88 series ignitions and
should not be used with Dyna S Ignition Systems. TC-88 mini-
coils feature dual or single output towers, .5 ohms primary
resistance, measure 4.2" x 2.3" x 1.6", mounting centers of 2.9"
minimum to 3.5" max and black housing.
VT No.
Output Type U/M
Dyna#
32-9341
32-9342
32-9343
32-9344
32-9342
32-9343
32-9344
Accel Dual Fire H.V. Super Coil.
High performance bolt on for electronic ignition sys-
tems. High-tech molding for exact fit on 1965-99. 2.3
ohms.
VT No. Type
32-7772 Yellow
32-7801 Chrome
Ignition Coils
32-0090
32-7802
The Accel Stealth Coil eliminates the need for ignition wires
forever by mounting the coils directly to the spark plugs for
maximum spark energy to the plugs. An aluminum finned cover
holds the coil in place and acts as a functional heat sink to pull
heat away from the cylinder heads. All wiring is hidden in the
fins of the head for a clean, custom look. Available with nature
or black finned heat sink.
Natural Black Fits
32-1141 32-1140 2002-08 All FLT models with EFI
32-1142 32-1143 2001-17 All FXST models with EFI

2009-16 All FLT models with EFI
2004-17 All FXD models with EFI
32-1140
32-1141
32-9341
Important Note:
Some items on this page may be emission-related parts subject to California or other emission control laws. Please
see note for important information regarding emission control regulatory compliance and warranty information.
Accel High Energy Dual Fire Coil is a very high KV energy
output requires that it be used with our extreme service 8.8mm
silicone racing wires. Each coil is complete with two 8.8mm
wire leads and appropriate chrome brackets.
VT No.
Item
32-0132 Kit 1965-87
32-7536 Wires only
32-0132
32-7536
B
C
32-7789
Accel Single Fire Super
Coil features ultra fast coil
rise time with voltage out-
put 45% higher than stock
stock coil bracket and fits
under stock coil covers on
VT No. Type
32-0090 Yellow
32-7802 Chrome