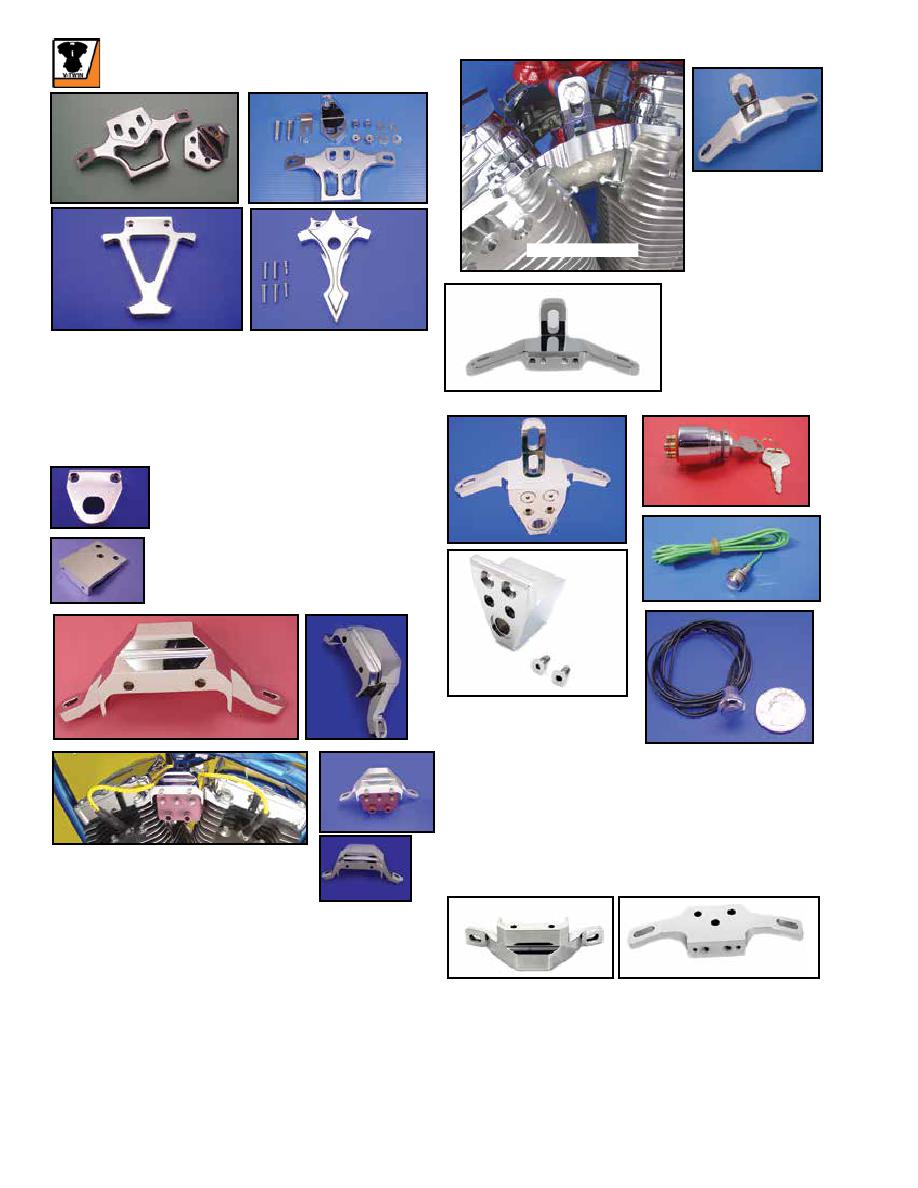 322
Billet Engine Mount
Billet Alloy Coil Mount will attach to three
bolt on 1992-up Big Twin stock motor mount
to mount coil.
VT No. 31-0699
Chrome Billet Top Engine Mount Kit includes key switch/
push-button housing fits 1984-99. Order push button switches
separately and tap existing holes to 8mm x 1 for button installa-
tion.
VT No.
Item
32-0867 Button Switch (2 Wire)
32-0869 Button Switch (1 Wire)
32-0161 Key Switch
31-0812 Switch Bracket
Chrome Billet Top Engine Mount fits 1984-99 ST models.
Order related brackets separately. Coil mounts accept 2-single
fire Crane or Dyna coils.
VT No. Item
Year
Type
31-0664 Top Mount 1984-99
31-0667 Top Mount 2000-05 Carb Only TC-88
31-0665 Coil Mount Without key switch hole
31-0689 Coil Mount With key switch hole
31-0665
Chrome Billet Key Switch Mount bolts to
top motor mounts with 2 holes.
VT No. 31-0726
31-0689
31-0667
32-0867
32-0161
32-0869
31-0812
Chrome Top Motor Mount with Integral Coil Mount provides
a coil mounting that is up and behind the normal top motor
mount. Mounts coil between cylinders for use with coils with
central terminals such as VT No. 32-0090 spacing required for
proper installation. Mounts a style of coil as shown. For Twin
Cam and most Evolution coil applications, spacing maybe be
required. Use cover 42-0962.
VT No. For Motors
31-0747 80-100"
31-0746 101" and up
31-0747
31-0747 without coil
31-0747
31-0664
31-0728
Top Motor Mount
VT No. Item
31-0468 80" - 100" motor
31-1024 1991-98 FXD
31-0468
31-1024
31-0747
Chrome Billet Top
Engine Mount fits 1948-
99 Big Twin motors.
VT No.
Type
31-0709 Smooth
31-1275 With holes
31-0709 Installed
31-0709
31-1275