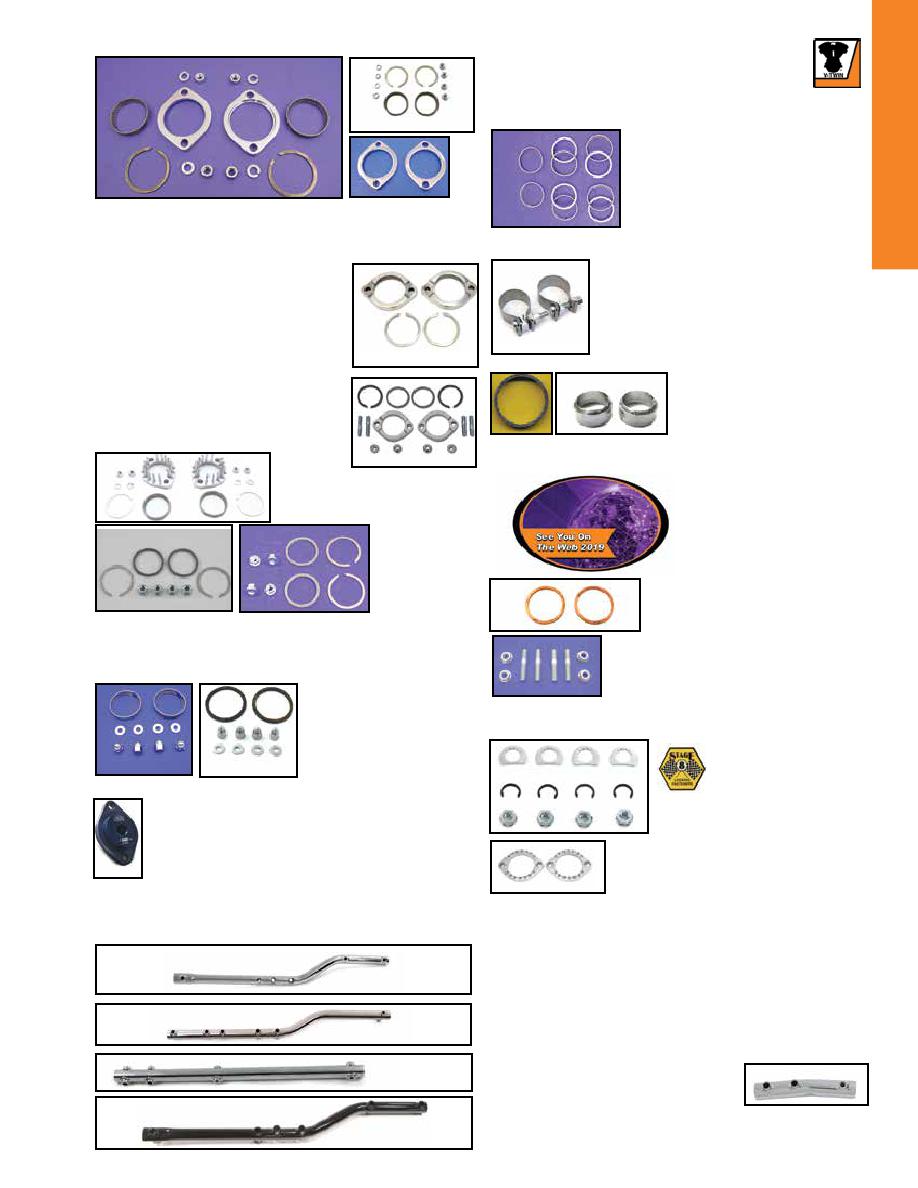 319
BIG TWIN
Exhaust Gasket
for Evo & TC-88
Exhaust Flange Kit fit 1984 Evo and Twin Cam replacing
65328-83. Kit includes snap rings and mesh gaskets.
VT No. Item
U/M
30-0205 Kit
12-0942 Snap Ring
15-0227 Gasket
15-0451 Gasket & Snap Ring
15-0732 Gasket
12-1187 Exhaust Stud
30-0257 Chrome Flange Only
30-0563 Flange Set, Polished
Exhaust Bracket
30-0257
12-2125
Exhaust Port
Gasket Kit
includes two
stainless steel
knitted gaskets,
two snap rings
and four heavy
duty flange nuts.
Fits all 1985-17
Twins.
Chrome Exhaust Finned
Flange Set fits all Evo and Twin
Cam models.
VT No. 30-0857
Exhaust Gasket Installer Tool will correctly install
exhaust port gaskets into cylinder heads, minimizes
gasket distortion and helps heads flow better. For use
on all Evo and Twin Cam models.
VT No. 16-1675 V-Twin
VT No. 16-2112 Jims
Exhaust Kit includes four
chrome cap nuts, four wash-
ers & two mesh gaskets.
For 1984-99 1340 Evo.
VT No.
Type
37-8900
15-0726
Crossover Tube Gasket fits
FXR and FXD models. Each.
GB No. James Type
15-1531 15-1069 1982-94 FXR
15-1530 15-1076 1991-17 FXD
15-1291
Exhaust Port Gasket of knitted stainless
steel fits all Evo and Twin Cam models.
VT No. Type
Qty
15-0227 Tapered
15-0267 Mesh Gasket
15-0712 Tapered, James
15-0732 Tapered
15-1236 James
Exhaust Port Lock Kit.
Special fasteners and
lock tabs secure pipes
for good. Fits 1984-99
Evo.
VT No. 37-0251
15-0732
Exhaust Stud Kit includes 4 studs and 4
flanged nuts. Fits 1984-96 Big Twin.
VT No.
Item
12-2125
12-2527 Kit
12-1187
Solid Copper Exhaust Gaskets fit
Evo models.
VT No. 15-0777
15-1291
Drilled Style Exhaust Flange Clamp Set
fits all Evo and Twin Cam models.
VT No. 30-0724
FXST-FLST Exhaust Support mounts stock or custom drag
pipes to frame. Stock on FXST models, but used on Fat Boy to
mount lower drag pipes. The VT No. 31-4030 can be used on
1995-up models to mount early style Porkster or Cycle Shack
drag pipes.
VT No. Type
Fits
31-3980 Chrome 1984-94 FX-FLST
31-4046 Chrome 1995-99 FX-FLST
31-4047 Chrome 1995-up FXSTF-N
31-0815 Chrome 1997-17 FLSTS
31-4030 Black
31-4047
31-0815
31-3980
30-0205
15-0451
31-4046
31-4030
30-0563
Exhaust Port Flange Kit includes 2
flanges, 2 gaskets, 2 snap rings, 4 nuts,
and 4 studs.
For use on all Evo and Twin
VT No. 30-0420
30-0420
FXST Muffler Clamp and Gasket Kit
includes two chrome clamps and two sleeve
gaskets. Kit is required for correct installation
of stock or accessory type mufflers on all
2017-up FXST and FLST models. Fits 2017-
up FXST and FLST.
VT No. 30-1435
M-8 Muffler Header
Gasket Set fits 2018-
up. Replaces OEM#
65900017.
VT No. 15-0776
30-1435
37-8900
15-0726
VT No Brand
15-1285 Wyatt Gatling
15-1274 James
15-1274
15-1285