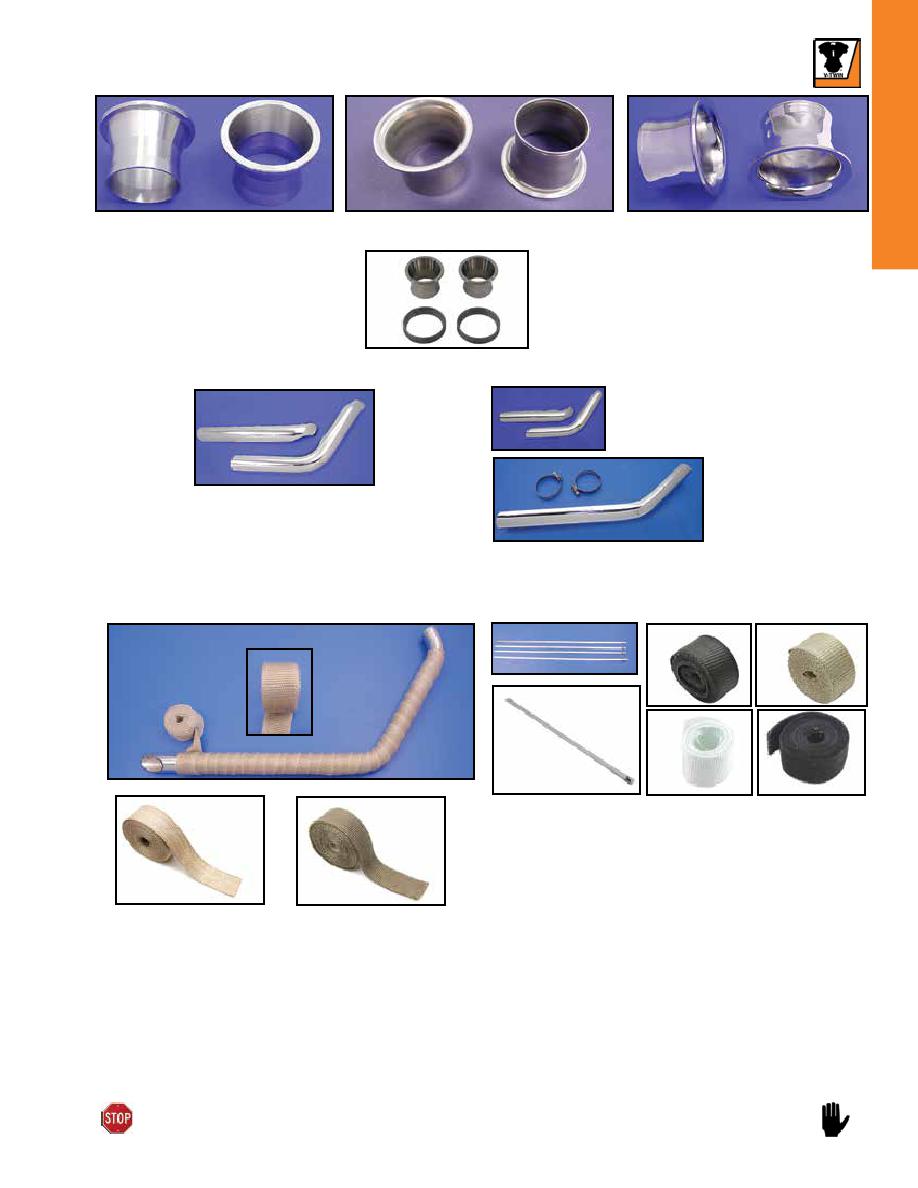 317
BIG TWIN
Chrome Crossover Heat
Shield includes two worm
clamps. Fits 1980-84
FXWG.
VT No. 30-0096
Heat Shield
Chrome Smooth Heat Shield Sets fit 1986-99 FXST, 1
Drag style or one piece muffler pipes, no cut out for cross tube,
clamps included.
VT No.
Type
30-0097 Front and Rear
30-0337 Front
30-0097
30-0096
Exhaust Taper Valve
Stainless Exhaust Taper Valves fit into exhaust between pipe and head to put back the low end torque which is lost when large
diameter or straight pipes are used. Fit Evolution models with factory or aftermarket pipes and are sold in pairs.
VT No.
Type
Material
30-0113 Machined
30-0355
30-0329
30-0355
30-0329
Front Chrome Heat Shield for 1986-95
FXST-FXR.
VT No. 30-0134
30-0134
Stainless Steel Taper Valve Kit includes 2 pure stain-
less extruded sleeves to fit between pipe and exhaust
port, to aid in back pressure when range outside diam-
eter or drag pipes are used. Kit includes solid copper
machined exhaust seals which will not restrict gas flow.
VT No. 30-0119
48-0131
48-0125
48-0126
48-0132
48-0157
Exhaust Wrap
30-0113
Important Note:
Some items on this page may be emission-related parts subject to California or other emission control laws. Please
see note for important information regarding emission control regulatory compliance and warranty information.
48-0127
Fiberglass Wrap.
VT No. Size/Color
48-0137 2" W, 25' L, Light Khaki
48-0139 2" W, 25' L, Taupe
48-0137
48-0139
High Temperature Exhaust Wrap reduce radiated exhaust
heat. Wrap that will withstand up to 2000 degrees. Tie wraps
sold available separately.
VT No. Size
Item
48-0125 14"
Stainless Tie Wraps, 4 pack
48-0157
48-0126 25' x 2"
48-0127 25' x 2"
48-0131 25' x 1.5mm
48-0132 25' x 1.5mm
48-0251 25' x 1.5mm
48-0137 25' x 2
48-0139 25' x 2
Item-2974-1 Transmission Drain Plug